Cabinetdoors.com Now Offers New Painted Cabinet Doors in Contemporary Colors
Nov 19th 2019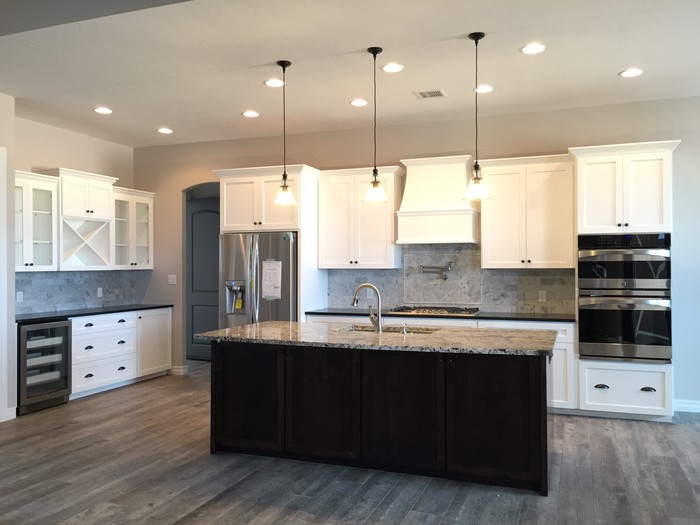 At Cabinetdoors.com, our goal has always been to make it easy and even exciting to order custom-built cabinet doors. That means we have an extensive selection, an easy online ordering process, high-quality materials, top of the line machinery, and a team of cabinet craftsmen to ensure that your doors are built correctly. We are proud of all that we have accomplished over the last 40 years of serving customers, but we have always felt that we could do even more to improve the door-buying experience.
Our latest innovation is arguably our greatest one yet. We will now begin offering all our doors pre-painted in one of five contemporary colors from Sherwin Williams:
Highly Reflective White
Antique White
French Gray
Folkstone
Salty Dog
Each painted cabinet door is finished by one of our paint professionals, then shipped directly to your door. We began by offering just the high-reflective white option, but demand proved so strong that we decided to expand the list of colors available. This is just the latest way that Cabinetdoors.com is transforming how you replace your cabinet doors and achieve the design of your dreams.
Why order painted cabinet doors?
The alternative to ordering painted cabinet doors is to order paint-grade cabinet doors. The "paint-grade" designation means that your doors arrive fully sanded and ready for you to paint yourself. Lots of people prefer this option because it's less expensive, they like DIY projects, or they want to choose their own paint color. But there are also lots of people who would prefer to order painted cabinet doors instead. Here's why:
Style – If you have ever tried to pick out a paint color, you know it's easy to be overwhelmed by all the choices available. Ordering painted cabinet doors lets you instantly narrow the list down to just five color options. Each color we offer was chosen because it reflects contemporary tastes yet has timeless appeal. Basically, these are the most classic and popular colors available, so you know that whatever you choose will look stylish for years to come.
Simplicity – Painting your own cabinet doors is not a huge project, but it can take hours of work and leave you with a lot of mess to clean up. Many people would rather order the doors they want with paint already applied, that way they can hang the doors as soon as they arrive. If you are a homeowner or contractor who wants to finish your project in less time with less effort, ordering painted cabinet doors makes a lot of sense.
Quality – You don't need to be a professional painter to paint your own cabinet doors, but it's not always easy to get a perfect-looking finish. This is especially true on doors with a lot of embellishment and detail. Instead of risking an imperfect paint job that compromises the look of your replacement cabinet, leave the painting up to the pros at Cabinetdoors.com. Our pros can ensure a gorgeous-looking finish that is free of amateur mistakes and accidental imperfections. We even use high-quality Sherwin Williams paint that looks great and stays that way for years.
Cost – While it's true that painted cabinet doors are a little more expensive than paint-grade cabinet doors, the final cost could be close to equal. That's because when you order paint-grade doors that means you also have to buy paint and painting supplies, the cost of which can add up. When your doors are already painted, the cost of the materials is rolled into the price of the door. And since our professional painter buys paints and materials in bulk at a discounted rate, we are able to pass the savings on to customers. In the end, your painted cabinet doors might cost the same or less than painting the same doors yourself.
How to order painted cabinet doors
As always, we make it as easy as possible to order the doors you want with a finished coat of paint already applied. Here is everything you need to do:
Consider your options – There are pros and cons to both paint-grade cabinet doors and painted cabinet doors. Be sure to weigh both options carefully before making a final selection.
Measure the dimensions – Since we custom-build each door to the exact dimensions you give us, you will need to figure the door sizes you need. Measure the height and width of the opening in inches, add in your desired overlay, and keep those figures handy for when you place your order.
Select a door style – At Cabinetdoors.com, we have dozens of door options to choose from, many with unique customization options like the option to build open for glass doors. The paint color you choose is important, but so is the style and shape of the door underneath. Spend some time exploring all that

selection

has to offer.
Pick a paint color – As we said earlier, all the colors we offer are attractive and practical. Find one that complements the rest of the colors in the room, whether that be the kitchen, bathroom, or elsewhere. Most of our colors are light or neutral with the exception of Salty Dog, which is a dark blue.
Decide on hinges – If your goal is to make hanging your doors as fast and easy as possible, order yours with hinge holes already bored and hinges included with your order. That way, when the doors arrive you don't have to make any adjustments other than

putting the hinges in place

. You could have your doors hung in under an hour.
Now that you can buy painted cabinet doors directly from Cabinetdoors.com, it's easier than ever to replace cabinet doors you don't like with doors you love. Let us do all the work! If you have questions along the way, please consult our helpful FAQ or reach out to us through email at sales@cabinetdoors.com .