A do-it-yourself: stain and finish replacement kitchen cabinet doors
Jun 5th 2014
There are as many ways to apply a finish to cabinet doors as there are custom cabinet shops, but this post will focus on a method of finishing that can be applied by an amateur woodworker with limited staining or finishing skills.
Airless spray guns and $10,000 dustless spray booths and not required for this method. A beautiful and lasting finish can be produced with one $50 visit to Home Depot or Lowes.
The first step is to consider the region where the red oak used in your cabinet doors was grown. Southern Red Oak will have the widest color variations and Northern Red Oak will be the most uniform in color.
Wide variations in color, which is common in Southern Oaks, will be made to appear even wider if finished with light stains of lacquer only. If attempting to make wide color variations seem less pronounced, a darker stain will help.
Less pronounced color variations are found in the growing regions of Northern Red Oak, with the "Wheat Color" of Glacial Northern Red Oak being the most color uniform.
Cabinet Doors made with Glacial Northern Red Oak can be given a light stain, or even no stain and simply finished with polyurethane with excellent results.
Glacial Northern Red Oak is used exclusively by Cabinetdoors.com in all our Select Red Oak Cabinet Doors, and this post will focus upon finishing these doors.
Below are examples of a few cabinet door styles made from Glacial Northern Red Oak and stained with differing amounts of Minwax Golden Oak.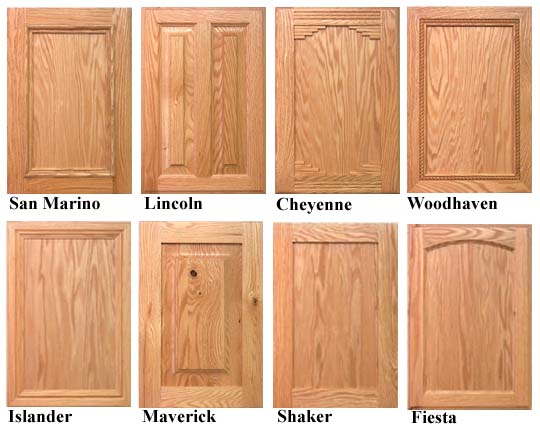 The top row of Cabinet Doors are stained with two coats of Minwax Golden Oak. Each coat was allowed to soak-in for 15 minutes than wiped dry with a clean rag. The first coat was allowed to dry for an additional 6-hours then the second coat was applied.
The bottom row of Cabinet Doors were finished exactly like the top row, with the exception of each coat of stain was wiped off after being allowed to soak-in for only 5-minutes.
Golden Oak, like most wood stains, will provide a darker finish if stain is allowed to soak longer before wiping. It will also provide a darker finish when more coats are applied.
It's very important to not let any stain dry on the surface, and as stain seeps out of the wood, to keep it wiped off.
After 24 hours 2 coats of Minwax Polyurethane (brush on, not spray) was applied following the instructions on the can. In areas of low humidity, the drying time prior to applying the polyurethane can be shortened to as little as 8-hours between coats.
In the sample pictures above the Maverick Cabinet Door is built in Knotty Northern Red Oak (Knotty Oak). All the other doors are shown in Glacial Northern Red Oak (Select Oak).
Minwax Golden Oak Stain is an Oil Based stain that is easy to use and produces exceptional results. It will provide a rich and even finish when used on cabinet doors manufactured with color-matched oak components.
If you are considering Custom Made Cabinet Doors in Oak, you will not find better color matching, higher quality, or better prices than at Cabinetdoors.com. We have been offering our products on the internet longer than any other cabinet door manufacturer,
Visit our website at www.cabinetdoors.com and get instant pricing, including shipping costs on any of the hundreds of door styles we make. We are America's supplier of Custom Cabinet Doors!