What is Cabinet Refacing?
Dec 15th 2020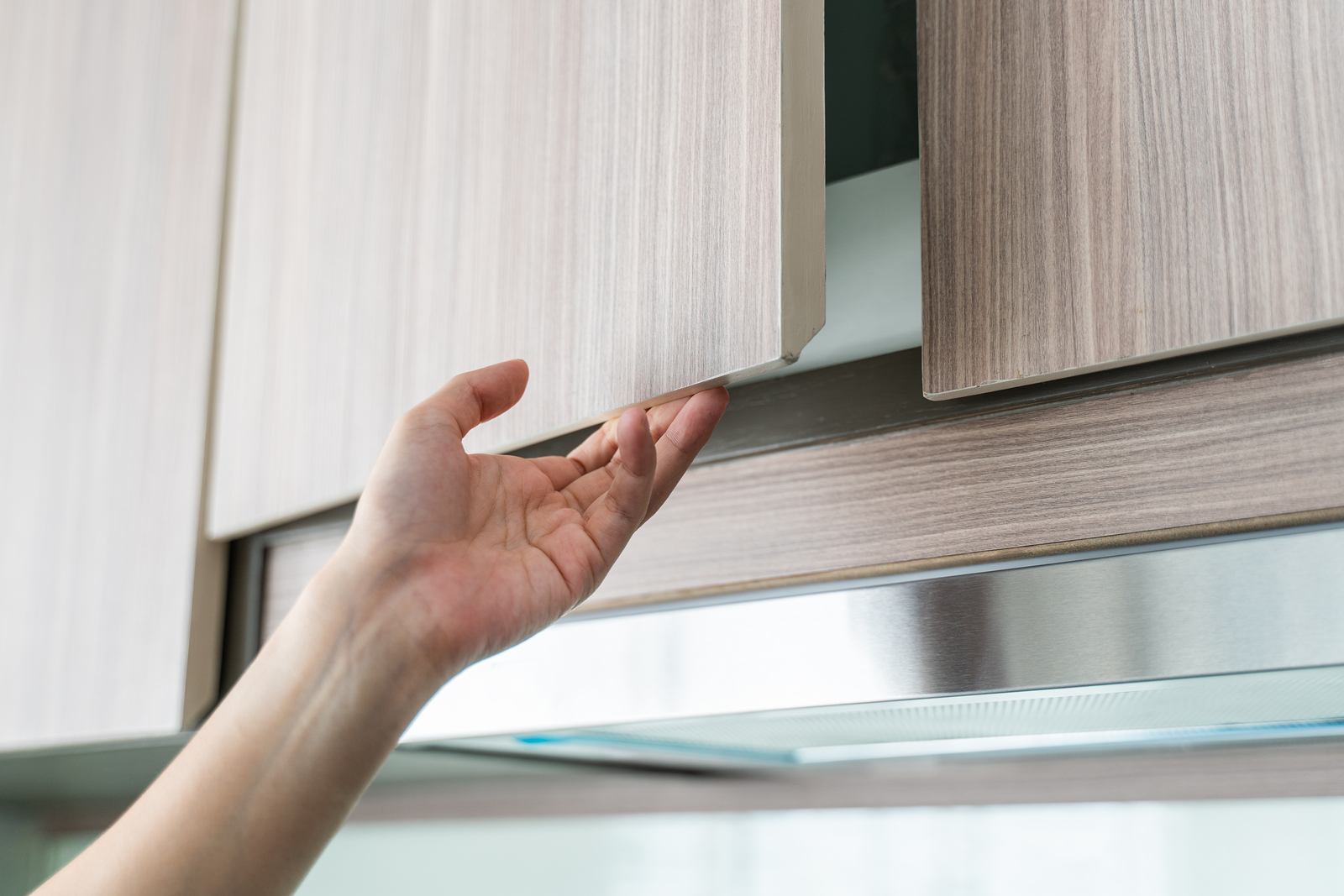 Here's a conundrum many homeowners face: Often, your cabinets can start to look dated and your cabinet doors can look worn due to their age, yet the cabinets themselves continue to perform perfectly from a functional perspective. Many homeowners believe they have to choose between getting rid of good cabinets or making do with yesterday's looks. Luckily, thanks to cabinet refacing, there is also a third option that can allow homeowners to update the look of their cabinets, while saving them time and money. Read on to learn more about the impact cabinet refacing can make in your home and how to reface cabinets at a price you can afford.
How Does Cabinet Refacing Work?
The concept of cabinet refacing is simple. Instead of replacing all of your cabinets, you just replace the faces of them – the parts that people can see and that typically experience the most wear and tear. Thanks to cabinet refacing, cabinets can get an upgrade and look new even though most of the internal materials are the same. Because of this, refacing cabinet doors can save you a lot of money during a renovation.
Refacing cabinets involves replacing a number of elements. Most importantly, you need to replace the cabinet doors and drawer fronts with new versions sized to fit your current cabinets. You will also want to replace the cabinet hardware, including hinges, plus handles and drawer pulls if you want them, to ensure that the look is properly updated and sturdy. Lastly, to round out the look of refaced cabinets, you need to cover the visible parts of the cabinets, including the spaces around doors and on the sides with a veneer that matches the doors and fronts.
Once finished, the cabinets look entirely different. Unless you told someone the project was merely cabinet refacing, they would think you installed completely new cabinets.
What Are the Benefits of Cabinet Refacing?
Refacing your cabinets is an alternative to replacing the cabinets entirely. Installing new cabinets costs a lot of money, which is why it takes up so much of the average renovation budget. It also takes a lot of time to rip out old cabinets and hang up new ones. Beginning to end, the project could leave you without a functional kitchen for weeks. Completely replacing cabinets is a big decision for homeowners, which is why a lot of people put up with kitchens they don't like for years and years.
Kitchen cabinet refacing offers the look and feel of a complete kitchen renovation at a fraction of the cost. By some estimates, it costs about half as much for refacing cabinets compared to opting for a full replacement. It also only takes a couple of days to complete your cabinet refacing project compared to dozens of days for a full replacement. Best of all, if you're a DIY enthusiast, this is a project you can complete on your own if you feel motivated.
Most people decide to reface their kitchen cabinets because they want to make a big upgrade on a small budget. Since cabinet refacing is so affordable and accessible, homeowners can update their style almost whenever they want. If your kitchen feels like it's from another era or there is a particular style of cabinetry you've always wanted to feature in your home, kitchen cabinet refacing puts the updates easily within reach.
Is Cabinet Refacing Always an Option?
Many people wonder if cabinet refacing is an option for their cabinets, and it's a great question. Cabinet refacing is possible with most cabinets. However, there are some exceptions, so it's helpful to know what you need to look out for to ensure that your cabinets are good candidates for cabinet refacing. Don't be concerned with the age of your cabinetry—often older cabinet construction is sturdier than newer builds, so you just need to make sure that the bones of your cabinets are in good enough shape to accept the refacing veneer and the hardware for replacement cabinet doors.
You can evaluate whether your cabinets are good candidates for cabinet refacing optionsby looking at the overall construction of the cabinet box. If it's made of plywood or MDF, and you have panels that have smooth texture and no obvious damage, they can probably hold veneers. If the surfaces are not smooth, however, you could experience problems with the veneers adhering correctly.
Next, you need to inspect the face frames. Solid hardwood frames that do not show any signs of rot or damage are fine to continue using as they will hold veneers and provide a firm anchor when you screw in new cabinet hardware. If you have a few damaged frames, it may be possible to replace just those cabinets and reface the rest. However, don't attempt to use damaged face frames, no matter how tempting it may be. Using damaged frames will result in being unable to anchor the cabinet doors properly and the veneer will be unlikely to adhere properly.
The internal hardware in your cabinetry is the last thing to evaluate, which includes the drawer tracks and the shelving equipment. If the drawers don't work as they should, the hardware is worn out and cannot be replaced, or the internal shelving is damaged or insufficient, it may not be worth going through with cabinet refacing. Even if the cabinets will look great, it's probably not worth the cost if they function poorly. However, if all of your hardware and shelving is in good shape, and your cabinets are smooth, solid, and undamaged, you're ready to move forward with your cabinet refacing.
How Do I Get Started With Cabinet Refacing?
The first thing to do is spend some time in the room you'd like to evaluate for cabinet refacing options. Whether you're interested in cabinet refacing in your kitchen, your bathroom, your office, or in any other room with cabinets, try to figure out what you like the least about the existing cabinets. If you're most unhappy with the look or the style of the cabinets overall, cabinet refacing is definitely an option to give your existing cabinets a much needed facelift. If you're unhappy with the size or the layout of your cabinets, however, you will want to consider replacing the cabinets completely.
Next, take a closer look at the cabinets themselves, examining them carefully. Look at the insides, outsides, and underneath. Evaluate whether your drawers work correctly and whether the wood of the cabinets is in adequate shape to properly hold new cabinet doors. Take the texture of the cabinet box into account when making this decision to ensure that you have the cabinet refacing options you want.
What Are My Cabinet Refacing Options?
Once you know your cabinets are good candidates for refacing, spend some time exploring all the different styles of cabinet doors, drawer fronts, and hardware available. There are almost no limits to how you can transform cabinets using new doors, fronts, hardware, and veneers. Pick the style you like – modern, classic, cozy, etc. – as well the color scheme that catches your eye. Think about what kind of wood species you prefer, as well as whether you would like solid wood, or glass-ready cabinet doors. You have tons of options to consider when it comes to the style of your cabinet doors and drawer fronts, and you'll have many decisions to make before making the final transformation in your space, so don't hesitate to spend some time selecting each piece of your cabinet refacing project carefully.
If you're looking for kitchen cabinet refacing ideas, or ideas for refacing in other rooms, it can be helpful to take note of different cabinet styles that have caught your eye in friends' homes, in magazines, or even on television shows and movies. Take pictures of cabinets you love or keep a file handy to help you keep track of the cabinet styles that create the design feel you're after. Having a solid sense of your kitchen cabinet refacing ideas and style inspiration will help you narrow down your cabinet refacing options so you end up with a final product you love. From there, you can decide whether you want to hire a professional to come in and reface your cabinets for you, or whether you're more interested in doing affordable cabinet refacing yourself. Whether you choose to learn how to reface cabinets and DIY your own space or choose to hire a professional service to do it for you, cabinet refacing can make a huge impact in your room.
How to Reface Cabinets
When you're deciding how to reface cabinets in your space, it's best to start with the design inspiration, then move on to more concrete steps. As soon as the design is in place, you're ready to start ordering materials. The cabinet doors and drawer fronts are the biggest and boldest part of your cabinet refacing project, and it's likely that the cabinet door design you choose will set the stage for the entire cabinet refacing project. As such, it's a good idea to start there. Choose a cabinet door design you love, and make sure it's available in the wood species, finish, and size you want. Next, measure the height and width of all the cabinet doors and drawer fronts you want to replace.
Depending on your cabinetry and the age of your home, you may find that some of your cabinet doors and drawer fronts aren't a standard size. If this is the case, you will likely need to order custom built cabinet doors and drawer fronts. Ordering custom built pieces for your cabinet refacing allows you to get a custom look, no matter what the size or shape of your existing cabinetry, without the cost of entirely new cabinets.
While the cost can differ significantly depending on where you order them, custom cabinet doors and drawer fronts are probably not as expensive as you would expect either. This is especially true if you order directly from a manufacturer like The Door Stop. Ordering directly from the manufacturer means you can skip the retail middleman, saving you a lot of money. In fact, when you order from The Door Stop, you can save 30-50% on big box store prices, so you can keep the cost of refacing as low as possible. After that, you just need to purchase your matching veneers for the cabinet faces, and you have affordable cabinet refacing that makes a big difference in your space.
Choose The Door Stop for Your Cabinet Refacing
Wondering where to go for an affordable cabinet refacing project? We have you covered. The Door Stop has been a trusted source for custom built cabinet doors and drawer fronts for over 40 years, so you can rely on us to know how to build a high quality product at a great price. When you order from us, you get wholesale prices, because you're ordering factory-direct. Even better, when you make an order, we build your order to your exact specifications, then ship it from our factory directly to your door in a little over two weeks. When you choose to include The Door Stop in your kitchen cabinet refacing project, you could have brand new cabinet doors and drawer fronts shipped in 10 business days. (Please note that it will take 20-25 business days if you choose to have your order professionally finished in our durable Sherwin-Williams conversion varnish.)
You can choose to get your new cabinet doors and drawer fronts from any number of retailers, but ordering directly from The Door Stop means you can get affordable cabinet refacing with a high quality, custom look you can be proud of. Even if you want to hire a professional to come in to do the work on your cabinet refacing project, ordering from The Door Stop will save you money on your cabinet doors and drawer fronts.
Find out how to create a brand new look and design in your space without having to replace all of your cabinetry. With cabinet refacing, you can make a big impact, without the big price tag. The Door Stop can help make your affordable cabinet refacing project even better with custom built cabinet doors and drawer fronts at wholesale prices.
Find out more about how we can help you with your kitchen cabinet refacing today. When you're ready to make progress on your project, explore your design options by looking at our extensive variety of cabinet door and drawer styles at cabinetdoors.com, or get more information about our reliable service and excellent reputation by contacting us at 1-800-342-1010. When it comes to cabinet doors and drawer fronts for your cabinet refacing project, The Door Stop always delivers.