Guide to Choosing Concealed Hinges
Jun 22nd 2021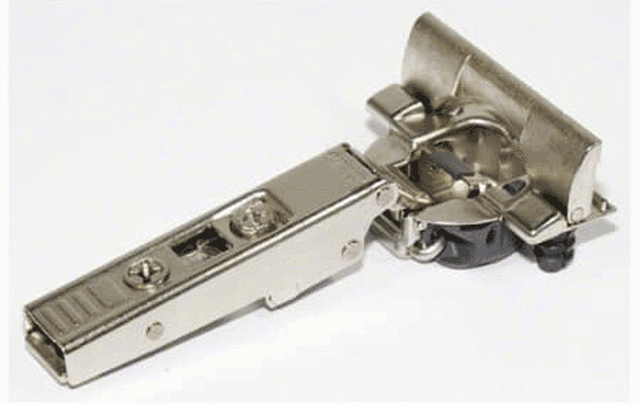 When it comes time for you to order your replacement cabinet doors, don't forget about the hardware! You'll need hinges to connect your cabinet doors to your cabinet faces, but how do you know what kind to use? If you choose concealed hinges, how do you know they'll be installed correctly? Are you confident enough to bore hinge pockets into your brand new cabinet doors? If you're not sure about any of it, or if you just want to save yourself some time and worry, Cabinetdoors.com can make the hinge installation process easier. With any cabinet door order, we can bore the hinge cups for concealed cabinet door hinges for you before delivery, ensuring they're in the correct location. And we can save you even more time and money by supplying hinges with your order too.
Why Should You Order Concealed Cabinet Door Hinges?
When you order new cabinet doors for your space, it's often a good idea to order new hinges for your cabinet doors as well. If your doors are out of date or worn out, chances are that your hinges are as well. Additionally, older hardware might not work as well—functionally or aesthetically—with your brand new doors. So why not replace them with top quality, modern soft-close concealed hinges?
Blum Soft-Close Hinges are ideal for installation by professionals and homeowners alike because these hinges don't require tools or screws. The hinge is simply placed in the hinge pocket and aligned. The expansion mechanism expands inside the door to lock the hinge securely into the hinge pocket.
Typically, two hinges are used per cabinet door, though larger cabinet doors may require three concealed hinges. Any cabinet door over 48″ tall may have a third hingepocket bored in the door center point as three hinges are recommended for doors over 48″ in height.
To mount the door onto your cabinets, you'll use one mounting plate per hinge used on your cabinet door. These mounting plates, included with your hinges, can be installed using the provided screws to attach the mounting plates to your cabinet face frame. An adapter plate can be provided for face-frame cabinets with an 1/2″ overlay.
Once your cabinet doors are installed, you can enjoy the soft-close function of the Blum concealed hinges. You won't ever have to worry about family members slamming cabinet doors or get frustrated by doors that won't close properly again. Instead, these hinges will catch the door as it closes to bring it slowly and softly into contact with the cabinet frame face.
Cabinetdoors.com Makes Installing Concealed Cabinet Hinges as Easy as Possible
To make your life easier and ensure that the hinge pocket is properly aligned, Cabinetdoors.com will bore the hinge pockets in your cabinet doors for you. For a small fee, your cabinet doors will arrive at your front door ready for your hinges and for installation on your cabinets. We can also supply you with the precise number of top quality, American-made Blum Soft-close Hinges you need and include them with your order.
Once your cabinet doors arrive, you can install them with ease and enjoy the silence of using soft-close hinges. You'll also be able to enjoy the peace of mind that comes with concealed hinges that extend the life of your cabinet doors by keeping them from banging against the cabinet frame. Unlike some other concealed door hinge types, these Blum concealed hinges open and close easily, without requiring significant force or leaving a gap once closed.
Order Concealed Hinges From Cabinetdoors.com Today
Blum concealed hinges are a high-quality product, and these concealed door hinge types aren't available everywhere. When you order Blum concealed hinges from Cabinetdoors.com, you can be sure you're getting the real thing, and have them delivered right to you along with your doors. Even better, because you can have us bore the hinge cups for you, you'll be certain that the hinges will fit your doors correctly, for secure installation. On top of that, when you order directly from us, you'll save money on the cost of your concealed hinges.
These hinges are now used by most high-end cabinet makers across the country. This is because concealed hinges are not only easier on your cabinets and cabinet doors, but they also make for a sleeker look. Because the concealed cabinet hinges aren't visible from the outside like overlay hinges, they create a more modern look. Rather than focusing on overlay hinges, concealed cabinet hinges let the cabinet doors speak for themselves.
To see the pricing for individual hinges, and to get more information about how to install Blum concealed hinges and align your cabinet doors, head over to the order page for our concealed cabinet door hinges.
In addition, the hinge boring and/or the hinge purchase options can be selected from the drop-down menus on the door order page for each door style. When selected, the hinge boring charge and/or the hinge purchase charge will automatically be applied to the price of the door being ordered, and the itemized charge will show on your Cabinetdoors.com shopping cart. If you order hinge boring, your doors will have 35mm holes bored 3.5 inches from the bottom and top of the door.
The Blum Hinges we supply are Blum Inserta Clip-Top 120 degree all-metal, nickel plated hinges. The Blum part number is 71T5590B.
The Blum Face-frame adapter we supply is Blum part number 175L6030.21, zinc die-cast, nickel plated, and does require #7 x 3/4″ wood screws (not supplied).
Get a custom look at a phenomenal price by ordering your cabinet doors to your exact specifications from Cabinetdoors.com today. Get the size, wood species, and finish you want, and then let us take the guesswork out of boring the hinge pockets. Add hinge boring and soft-close Blum concealed hinges to your order and be ready for installation the moment your order arrives at your front door.
Contact Us With Questions About Concealed Hinges
Are you ready to get started? Explore our most popular cabinet doors or check out our Cabinetdoors.com Blog to get inspired today. If you have any questions, feel free to contact us by phone at 800-342-1010 or via our website contact page. We're confident we can help you get the look you want in your space. When it comes to cabinet doors and Blum concealed hinges, Cabinetdoors.com always delivers.