How to Sort Through Cabinet Door Options
Apr 30th 2021
Let's be honest—there are a lot of different options when it comes to styles and designs of cabinet doors. It can be overwhelming to try to sort through all of the available choices if you don't know what you're looking for to begin with. However, selecting from the almost unlimited number of cabinet door designs doesn't need to be a time-consuming and frustrating process.
In order to help you begin your search for the perfect cabinet doors for your space, we'll give you an overview of cabinet doors in general. Then we'll dig a little deeper into the specific design features that go into creating the thousands of different cabinet door styles. Once you have an understanding of the various cabinet door design categories and how to narrow your cabinet door options, the selection process becomes significantly easier.
Understanding Cabinet Door Styles and Construction
Usually the consumer has at least a vague idea of the appearance they desire when it comes to cabinet door styles. However, verbal descriptions of this vague mental image don't always get the consumer, the cabinet maker, and the home builder on the same page. To avoid this problem, it can be helpful to start with enough knowledge about your cabinet door options to help you quickly evaluate the options and accurately convey what you like or dislike to the cabinet maker or builder.
One way to quickly hone in on what you like is to separate your cabinet door options by the frame design, or the way the frame fits together. There are two methods of joining the four pieces of the frame together: cope and stick and mitering.
Here is a picture of a mitered frame before assembly.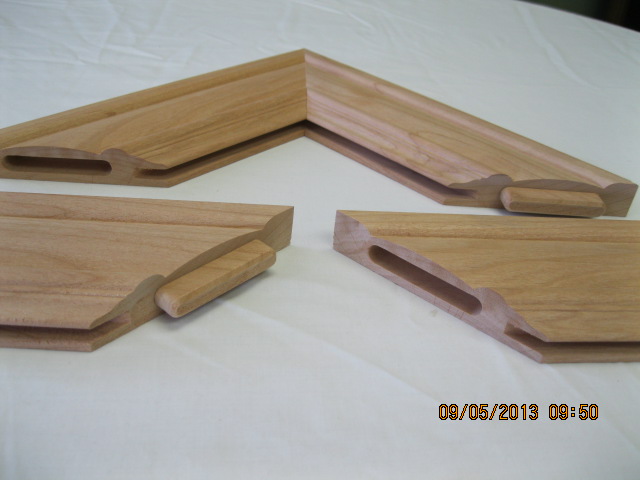 A little industry terminology will make describing the components of a cabinet door more understandable. The frame components are called stiles and rails. The stiles are the vertical pieces and the rails are the horizontal pieces.
In cope & stick construction, the ends of the rails are coped with a mirror-image of the design on the edge of the stiles. This allows the frame to be tightly joined together as the rails and stiles are clamped.
Mitered frame construction is a bit different. While cope and stick doors are joined at a 90-degree angle, mitered doors are assembled by cutting the stiles and rails at a 45-degree angle. Modern cabinet doors have a mortise and tenon (a hidden tongue and groove) machined into the ends of the stiles and rails like the picture you see above. Not only is this computerized joining method significantly stronger than older methods of doweling or biscuit joining, but it guides the mitered stiles and rails into perfect alignment.
How to Narrow Your Cabinet Door Options: Raised vs. Inset Panels
Now that you understand the differences between a cope and stick and mitered frame, decide which design you prefer, style-wise, and you can cut the size of your search in half. To reduce your kitchen cabinet choices search by half again, let's look at the different panel designs.
Cabinet doors are sometimes called 5-piece doors. The 5-pieces are the two stiles, the two rails, and the panel. The panel is the center piece of the cabinet door, inside the frame, which is secured in place when the frame is assembled.
The panels in cabinet doors can be either raised or inset. Raised panels are usually strips of solid wood which are edge-glued and machined with a given panel-cut detail around the perimeter. Inset panels, also called recessed or flat panels, are usually 1/4" veneer sheets.
In order to help you visualize the difference between a raised panel cabinet door and an inset panel cabinet door, take a look at the pictures below. These doors are the same design, but with different panels within the frame. The two mitered doors on the left are sister doors with the same frame. The Delaware Cabinet Door (far left) is a raised panel, while the Wilmington Cabinet Door (2nd from left) has an inset panel. The two cope and stick doors on the right the same. Our Heritage Cabinet Door (3rd from left) features a raised panel and its sister door, our Adobe Cabinet Door (far right),has an inset panel.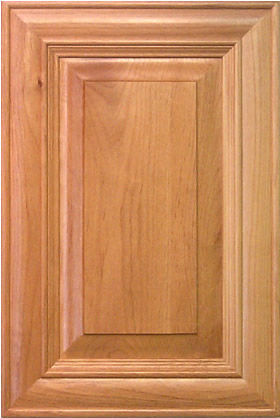 As you can see, the visual difference between mitered and cope and stick construction designs is clear. However, the different panel styles also make a significant difference. That helps narrow your choices quite a bit when choosing cabinet door styles. That said, there are still more design details to consider that can help narrow your kitchen cabinet choices.
Narrowing Your Cabinet Door Options Further: Arched vs. Square Cabinet Doors
Another common design feature is a square versus an arched cabinet door. An arched door brings graceful lines to the space, while a square cabinet door provides clean lines. Raised panels give both square and arched cabinet doors a rich and sturdy appearance that will enhance the look of any cabinet.
Take a look below at an assortment of cope and stick raised panel cabinet doors, featuring both square and arched designs. Pay attention to which styles draw your eyes to them more.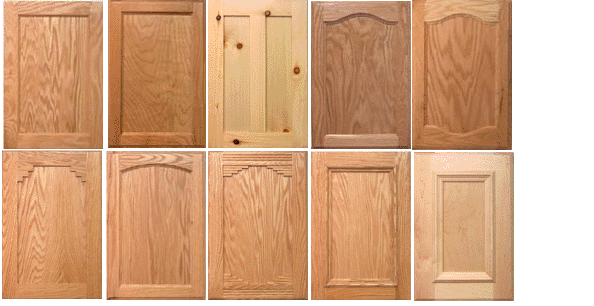 Similarly, here is an assortment of cope and stick inset panel doors, again in both square and arched designs. Note the difference in the way the inset panel looks when compared to the raised panel in both a square and arched design. Cope and stick inset panel doors offer a simple, clean look. In addition, they're often less expensive than raised panel doors while offering excellent reliability and durability.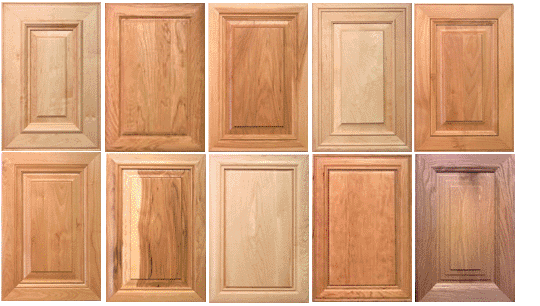 If you find that you prefer an arched design to a square one, you'll be choosing from cope and stick cabinet door styles. Mitered Cabinet Doors are only manufactured in square designs. However, because of the almost limitless design possibilities for stile/rail options, Mitered doors have been steadily gaining in popularity. Below are some examples of mitered raised panel cabinet doors.
To compare, these are some examples of mitered inset panel cabinet doors below.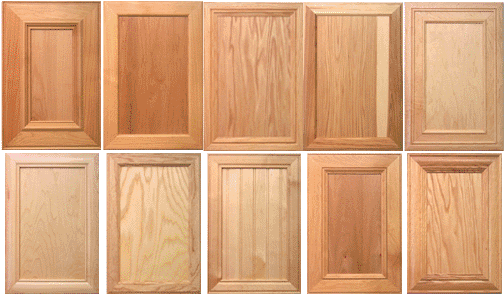 Again, take note of how each panel design offers a different look to the door, and pay attention to the styles that you're drawn to most. With a basic understanding of the differences between cope and stick and mitered doors, and a grasp of the differences between raised panels, inset panels, arched doors, and square doors, you can quickly simplify your search through the many cabinet door possibilities.
Choosing Cabinet Door Styles for Your Space with Cabinetdoors.com Makes Choosing Cabinet Door Styles Easy
You should have your search significantly narrowed by this point, and should be choosing cabinet door styles from a much smaller pool. Whether you love arched cope and stick raised panel doors, or square mitered inset panel doors, there's a perfect cabinet door style for you. From there, you'll be choosing the wood type, finish, and cabinet door color.
If you want to search from an excellent selection of high quality cabinet doors, we invite you to explore our selection at Cabinetdoors.com. We have divided our selection of cabinet doors into several different categories to help make choosing a cabinet door style easier for you. Even better, all of our doors can be custom-sized and made to your exact specifications, so you'll be sure they fit your cabinets exactly.
Cabinetdoors.com has been manufacturing high quality cabinet doors since 1980, and we are proud to be one of the most experienced cabinet door manufacturers in the country. With over 40 years of experience and a loyal customer base, you can trust us to provide you with a great product. But beyond that, you'll also get a great price. Because we are the manufacturer, you don't have to pay the retail markup you'd find in big box stores. In fact, our prices are 30-50% lower than prices at big box retailers, but our quality is always top notch.
Find out how to get beautiful, custom cabinet doors in exactly the design and style you want by checking out Cabinetdoors.com today. We're confident we can help you find a cabinet door you'll love. Choosing cabinet door styles can be easy when you start with a great manufacturer. When it comes to custom cabinet doors, Cabinetdoors.com always delivers. Contact us today for more information.