How to Style Glass Kitchen Cabinet Doors
Jun 25th 2021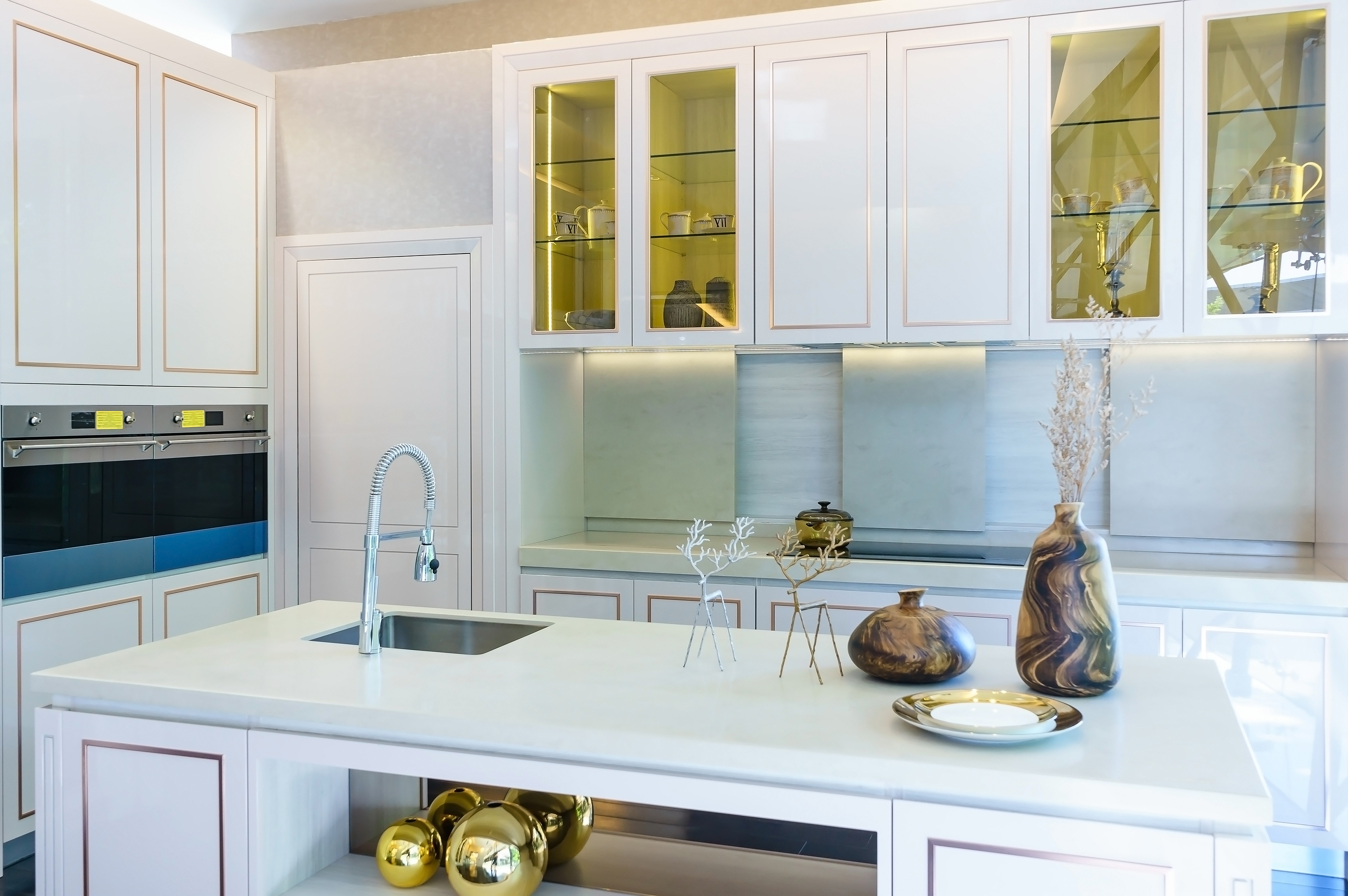 If you're looking for a way to incorporate visual interest in your kitchen, glass kitchen cabinet doors are an excellent way to allow you to highlight some of your favorite decorative items or dishes. The glass door cabinet will help keep items from getting dusty, while you can enjoy seeing your favorite cookbooks, grandma's china, or collectable servingware each day. If it breaks your heart to shut all those crystal goblets away behind solid cabinet doors, consider using glass kitchen cabinet doors on some of your kitchen cabinets instead.
Finding the Right Glass Door Cabinet Design for You
Designing a kitchen is exciting, and the type of cabinet doors you choose will set the stage for your style aesthetic in the room. A kitchen is a utilitarian space, so it can be a little more difficult to bring your style personality into your kitchen. Still, it's not impossible. One of the best ways to integrate your style is by choosing cabinet designs that give your kitchen the feel you want. Solid cabinet doors are the standard choice, but if you want to bring an extra sense of lightness, even in an all-white kitchen, glass kitchen cabinet doors allow you to create a well-defined style in the space.
Glass kitchen cabinet doors can come in a variety of styles and designs. You can opt for doors with a single open glass panel or doors with decorative style mullions that create the look of several smaller panels within a single cabinet door. You can get mitered, cope and stick, or arched glass cabinet doors. When it's time to choose glass doors for the front of your cabinets, you may quickly realize just how many different styles there are to choose from. So how do you decide what style is right for you?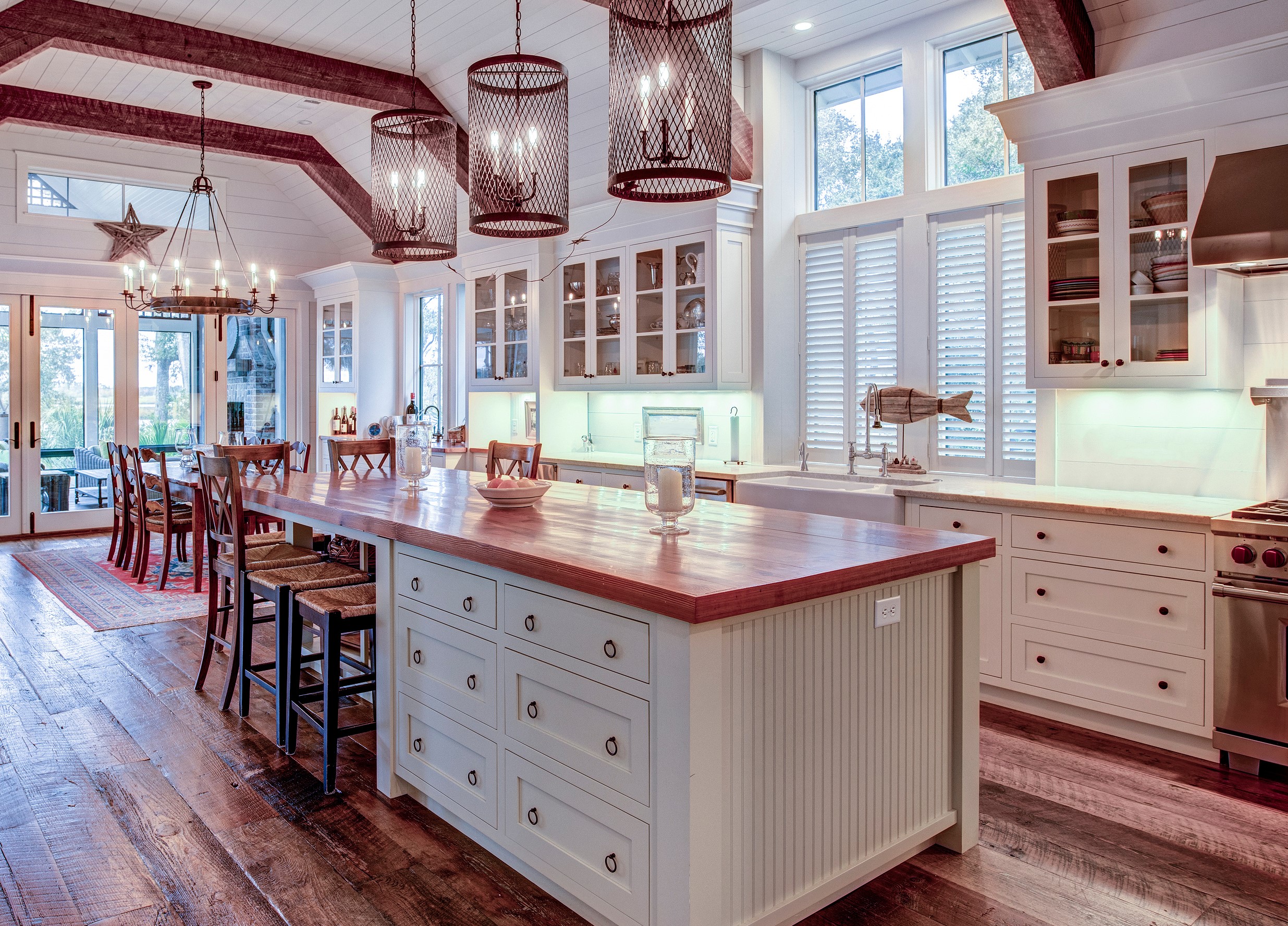 How to Choose Glass Kitchen Cabinet Door Styles
First, consider the general aesthetic you're after. If you want a kitchen that feels light, bright, and open, glass cabinet doors with a single large pane might be perfect for you. With this style, the contents of the cabinets can do the stylistic heavy-lifting, while the cabinet doors serve as a sort of frame. If you're looking for a style that's a little less open and instead allows the glass door to be the star of the show, try cabinet doors with mullions that give the appearance of smaller panes of glass. From there, it's just about deciding what type of detailing you like the most in your frame.
You can also choose the type of glass you want to use in any wooden cabinet with glass doors. Clear glass obviously allows for the clearest view of the contents of your cabinets, allowing your cabinets with glass doors to also serve as display cases for your favorite things. However, they can be harder to keep clean of smudges and fingerprints, so they might be the ideal choice for families with younger children or lots of pets. Frosted glass still gives you a peek at the silhouette of what's inside, but may offer a bit more of a sleek look for modern style glass kitchen cabinet doors. Mirrored glass is another great option if you still want that spacious, expansive feeling glass kitchen cabinet doors, but don't want to showcase what's inside your cabinets. Mirrored glass can be especially beautiful across from a window, where it can reflect the outdoors.
How to Style Glass Kitchen Cabinet Doors
If you have chosen a design with a large open glass panel, you'll want to be particularly thoughtful about styling whatever you want to highlight inside the cabinets. Consider the colors of the items you want to place in those cabinets and how those colors work with the rest of your kitchen design colors. You may want to opt for mostly neutral colors, like clear glassware or white dishes, with a few pops of color here and there. You can get creative with what you incorporate, too, integrating cookbooks, vases or pitchers, and interesting knick knacks that work within the space.
Think about how to ensure that things look neat and tidy, too. A stack of plates can look surprisingly lovely, but try stacking them neatly and centering them within the glass panel. Also consider that if you have a wooden cabinet with glass doors that meet in the center, you'll have a solid piece of wood to work around where the two frames meet in the middle. As such, you'll want to create a sense of balance when choosing the sizes and shapes of items inside the cabinet. Make sure there's balance from top to bottom, as well.
Finally, as you're figuring out how to style glass kitchen cabinet doors, make sure you're thoughtful about where you place items that you use frequently. If you stack all of your everyday plates on the top shelf, you might be making your life more difficult. Keeping your special occasion glassware on the top shelf, however, makes a lot of sense. It's not only beautiful up there, but you won't need to reach for it as often.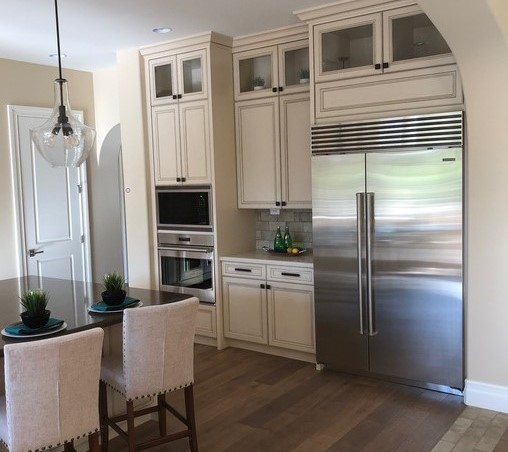 Get Replacement Cabinet Doors With Glass at Cabinetdoors.com
If you're ready to find your replacement cabinet doors with glass, Cabinetdoors.com has an excellent variety of glass-ready cabinet doors for you to choose from. Our cabinet doors are built ready for you to install the glass of your choice. We build the frames for you to your specifications, and you install the glass upon arrival. As such, you'll be able to fully customize your glass kitchen cabinets so that they fit your cabinets exactly and create the precise look you want. Just order any style in the size, wood species, and finish you want from us, then once they arrive, you can install clear, frosted, or mirrored glass. Whether you prefer modern style glass kitchen cabinets or a more classic feel with mullions that create the look of multiple panels, we have a style that fits your aesthetic.
You can feel confident ordering glass kitchen cabinet doors from us because we have been creating high-quality cabinet doors for our customers since 1980. When you order your cabinet doors from us, we manufacture them and then ship them directly from our factory to your door. That means you not only get to skip the process of having to deal with a retail middleman, but you also get to skip the retail markup as well. Since you'll be ordering factory-direct from us, you'll find that our prices are 30-50% below the prices at big box stores. And since many big box stores sell our products, you'll be getting an identical product for a much lower price.
Ready to get started with your replacement cabinet doors with glass? Let Cabinetdoors.com provide you with an excellent, custom product at a fantastic price. We guarantee our workmanship and we're confident you'll be extremely satisfied with our products. Still not sure what kind of glass kitchen cabinet door styles to choose? Explore our selection of our most popular cabinet doors to get inspired and see what designs capture your eye. If you have any questions or would like more information, contact us via our website or by calling us at 800-342-1010. When it comes to glass-ready cabinet doors, Cabinetdoors.com always delivers.