12 White Kitchen Design Ideas & Cabinet Door Trends
Mar 23rd 2022
If you're looking for a clean, classic design aesthetic in your kitchen, it's hard to go wrong with modern white kitchen cabinets. This long-running timeless kitchen trend is holding strong, and it's not hard to see why. Whether you're interested in an all white modern kitchen or white kitchen ideas for a traditional home, white design elements make a serious impact. Consider incorporating big swathes of white throughout your kitchen in your cabinetry, counters, tiling, floors, or all of the above. The end result brings a lightness and brightness to your kitchen that might surprise you. Let's take a look at different white kitchen ideas and discover how to create a kitchen you love, even when the majority of it is all white.
Modern White Kitchen Ideas
If you're interested in exploring modern white kitchen ideas in your home, there are a variety of ways to incorporate bright white into your room. From a kitchen that's all white from floor to ceiling, to modern white kitchen elements to lighten up your space, bringing more white into your room, no matter the layout, creates a brightness that's hard to beat.
1. Try Barely There Background Color
Sometimes, the faintest of colors can give life to a white kitchen design. Take a look at this modern white kitchen. The pale sea blue-gray backsplash adds just a touch of color, which is reflected in the stainless steel appliances. This barely-there color emphasizes the effect of the white cabinetry, white countertops, and white paint on the walls, creating an airiness in the room. As this example shows, one of the benefits of incorporating white kitchen ideas throughout the kitchen is the sensation of space. Even with dark flooring, this kitchen feels light, bright, and roomy because of the lighter elements.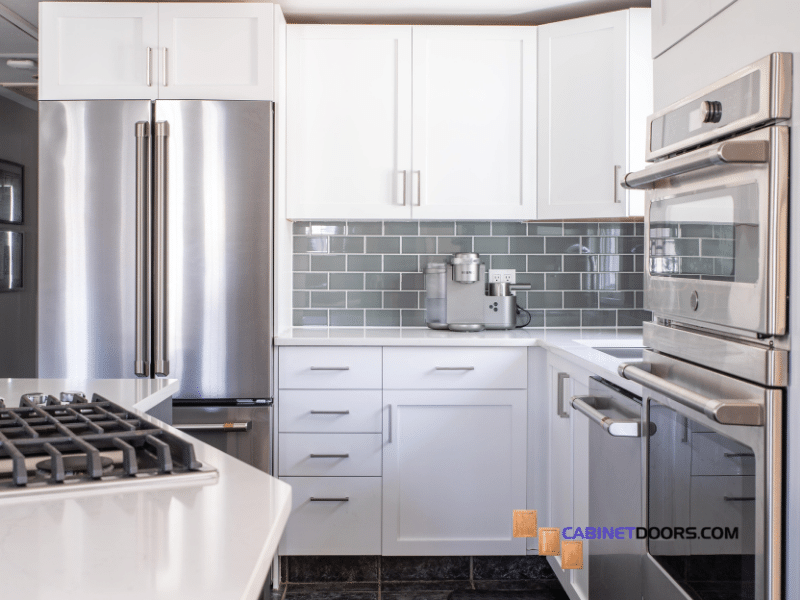 2. The All White Modern Kitchen
If you're interested in an all white modern kitchen, consider something similar to the kitchen below. Because the floor, walls, countertops, and fixtures are all light as well, the white kitchen cabinet designs blend with the rest of the room, creating a uniform space that still has plenty of visual interest. With an all white modern kitchen, you can incorporate color elsewhere in any way you want, whether it's via carpeting, decor, or even fresh fruit. Even better, you can change it out anytime you want to play with the color scheme. An all white modern kitchen is also a great way to make a small kitchen feel much roomier. In a room like this, even the littlest details make a big difference.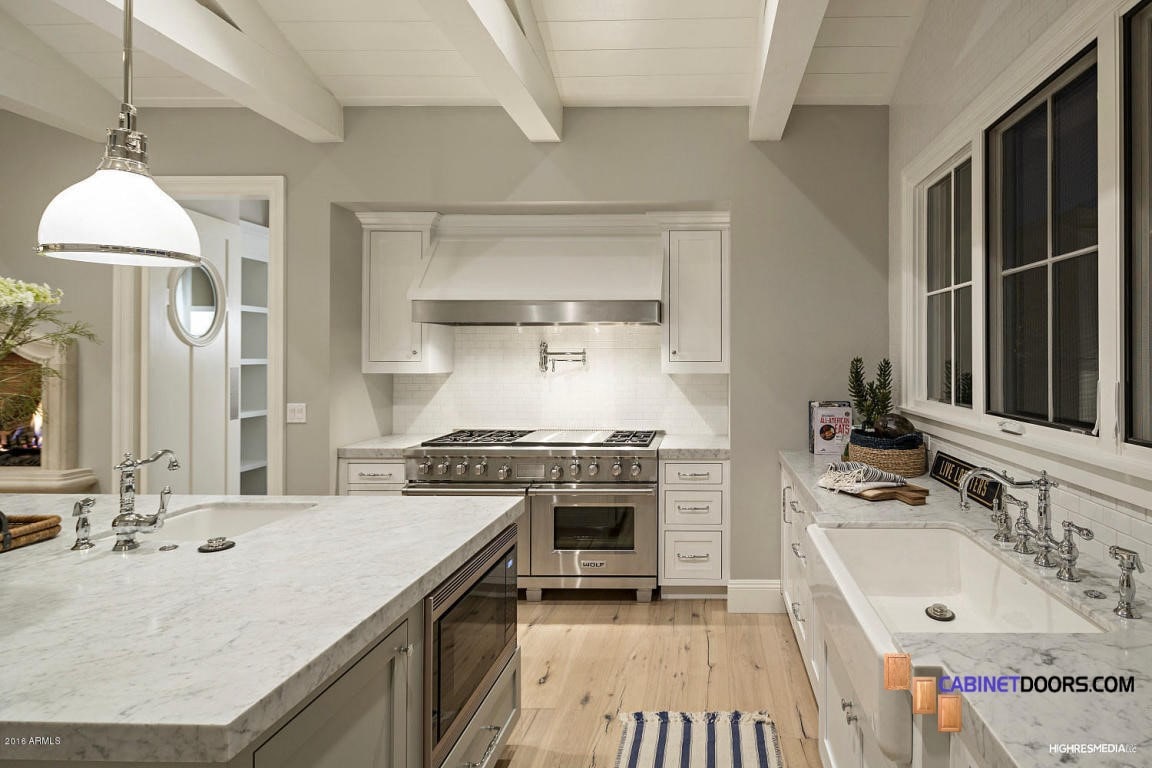 3. Add Modern White Kitchen Cabinet Doors
One of the most impactful ways to incorporate white into your kitchen design is with modern white kitchen cabinets. Since your kitchen cabinets are a major feature in the room, the color of your cabinets will dominate the space. Painting your kitchen cabinets white keeps your kitchen feeling fresh and light, even when there are other dark elements in the room. White cabinets also feel clean, keeping your kitchen from feeling sloppy or cramped.
4. Use Bright White Kitchen Cabinets to Lighten Up Darker Features
The room below, for example, features gray wood floors and a black island, which could feel dark and heavy. However, because of the contemporary white kitchen cabinets, the room still feels bright and clean even with the prominent dark design elements. For this reason, white cabinets are also an excellent solution for kitchens without windows. If your kitchen doesn't have much natural light, incorporating modern white cabinets can make the room feel vivid and lively, even with minimal lighting.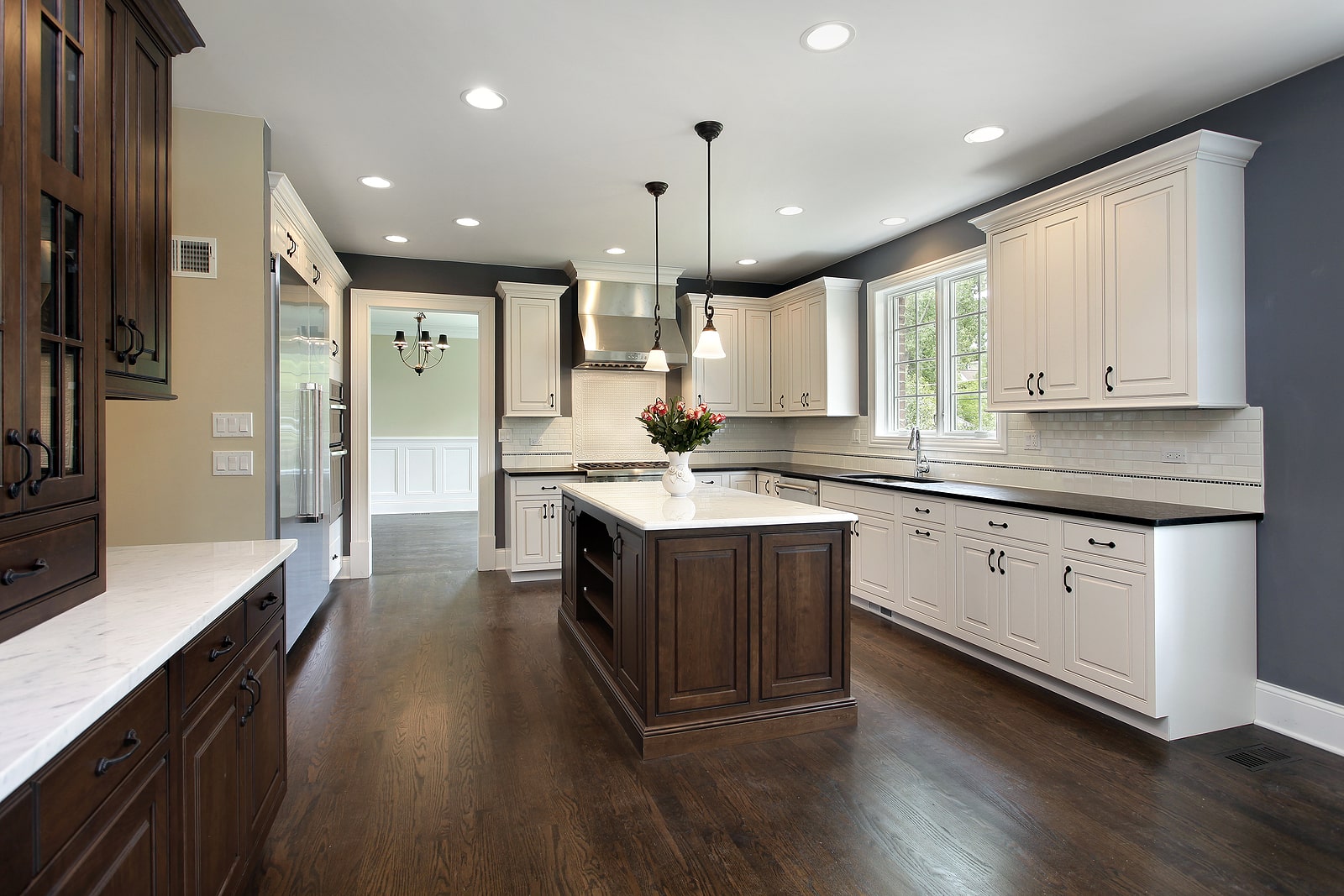 5. Paint Traditional Kitchen Cabinets White
If you're looking for white kitchen ideas, white cabinets are a great place to start. Even if you have a fairly traditional room currently, traditional cabinets can be painted white, making them suddenly look fresh and modern. Because a white painted cabinet looks clean and bright, painting any style of cabinet white can change the look and feel of a design completely. Just painting your kitchen cabinets white can be a great way to update a traditional kitchen.
6. Replace Wood With White Kitchen Cabinet Designs
Take a look at this kitchen below. With natural wood cabinets, this kitchen design would read more traditional and less contemporary. But, because of the white kitchen cabinet designs, it feels fresh and modern instead. Keep in mind that, as long as your cabinets are in good shape, painting or refacing even older cabinets in white can give them an entirely new look and feel, giving your kitchen a more modern style. If your cabinet doors have seen better days, you'll get the look of brand new cabinets by just replacing them!
7. Create Unique White Kitchen Designs for Your Unique Style
Don't underestimate the impact that white kitchen designs can have in your space. If you think white is boring, think again! Incorporating white kitchen ideas can actually reinvigorate your space, allowing you more room to play with color in your accessories, pattern and texture, or giving you the opportunity to add a single bold pop of color. Because white leaves room for other ways of experimenting with your style, you can get even more creative. There are so many ways to add interest in white kitchen design ideas, there's no limit to what you can do.
8. Feature Pops of Color With Modern White Kitchen Cabinets
Look at this charming modern white kitchen below. The white walls, white counters, contemporary white cabinets, and light wood floor combine to create an airy space. This allows the beautiful blue island to pop, so it takes literal and figurative center stage. While it doesn't necessarily read this way, there's actually very little color in the room, making it a nearly all white modern kitchen. However, the vibrancy of the blue island and the colorful carpet, along with the wood elements and modern light fixtures and hood, bring warmth to the room. And, should you get tired of a pop of color like this, you'd simply have to paint the island any color you choose, while the remainder of the room could remain unchanged. That's the beauty of white kitchen ideas—color trends can change, and a mostly-white kitchen leaves so much room for you to change up your space.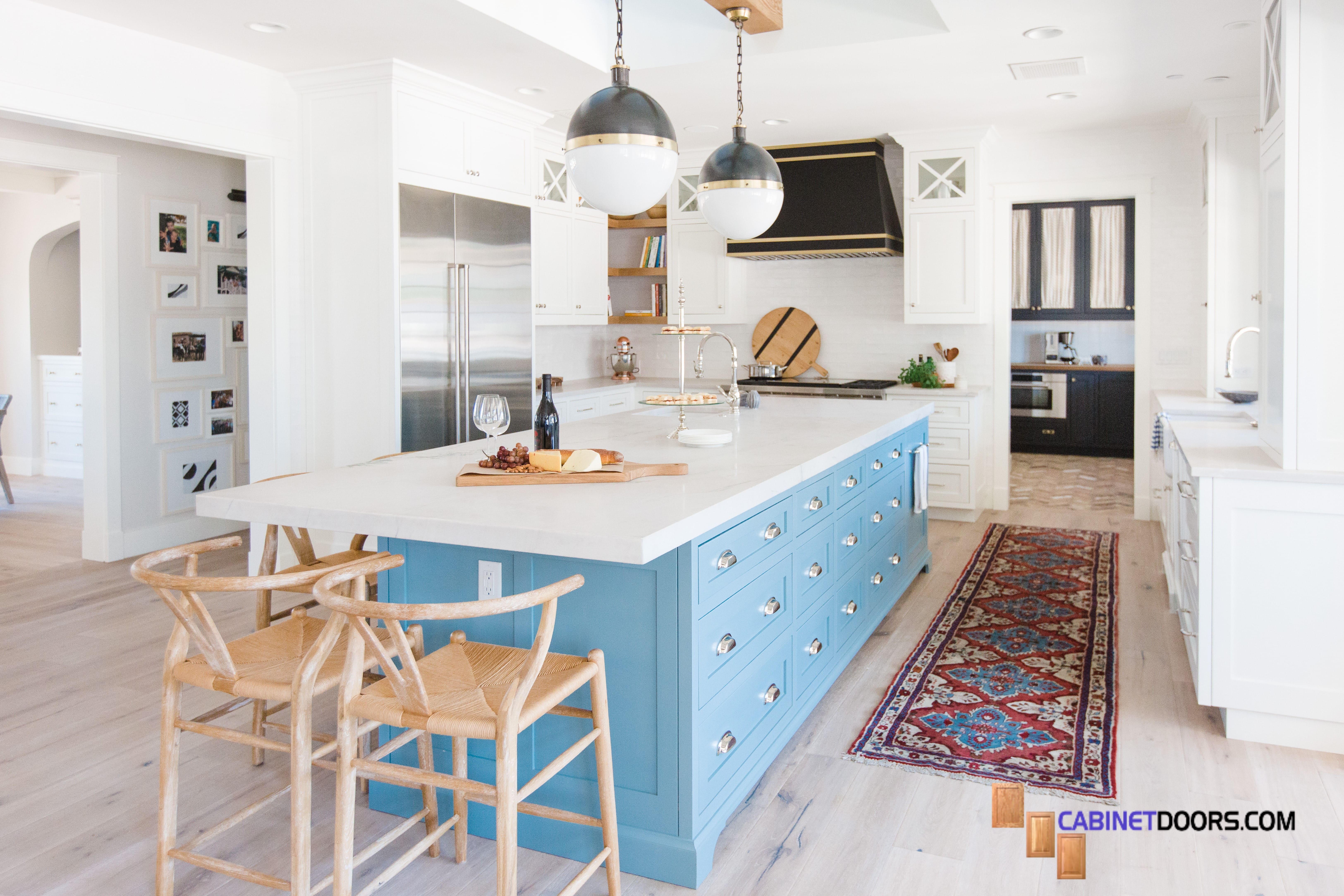 9. Consider Rustic Meets Modern White Kitchen Ideas
This next unique modern white and wood kitchen, seen below, features both rustic design elements and contemporary colors and materials to create a modern feel in the space. Here, the white cabinets ground the room, which has a high vaulted ceiling with exposed, rustic wood beams. For an all-around rustic look, the cabinetry could have been made with a knotty or distressed wood like the beams, but the contemporary white kitchen cabinets offer a more refined look. The rustic wood elements, metal hood, and mixed metal fixtures combine with the contemporary subway tile and steel gray-blue island and chairs to provide visual interest. The result is a modern look, without feeling stark. All white kitchen cabinets can help bring together multiple design aesthetics in one space, creating a beautifully unique modern white and wood kitchen.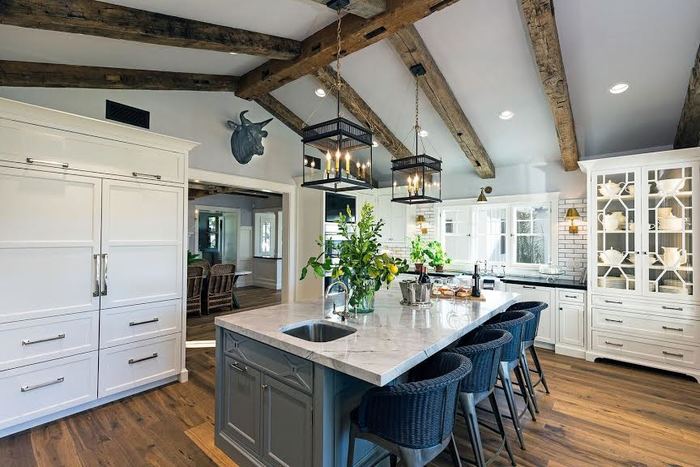 10. Keep It Contemporary and Classic with Black and White Kitchen Designs
Use classic black and white to create dimension and interest in your kitchen. White cabinet doors pair beautifully with even the smallest black elements in the lighting, seating, or hardware throughout the room. The two neutral colors look bold together and balance each other in the space. For a more dramatic look, incorporate larger swaths of black to balance out the modern white cabinets. Try black flooring, a black backsplash, or even black countertops to create dramatic contrast in your space.
11. Try Modern White and Gray Kitchen Designs
For a softer version of the classic, contemporary black and white look, consider swapping the black for gray. Gray feels less severe, allowing the room to maintain a softer feel than rooms with black design elements. You can choose from warm or cool grays to set the stage in your kitchen, allowing you to create a subtle contrast in the space that still feels current. Modern white and gray kitchen designs still feel light and airy, but the gray grounds these designs beautifully.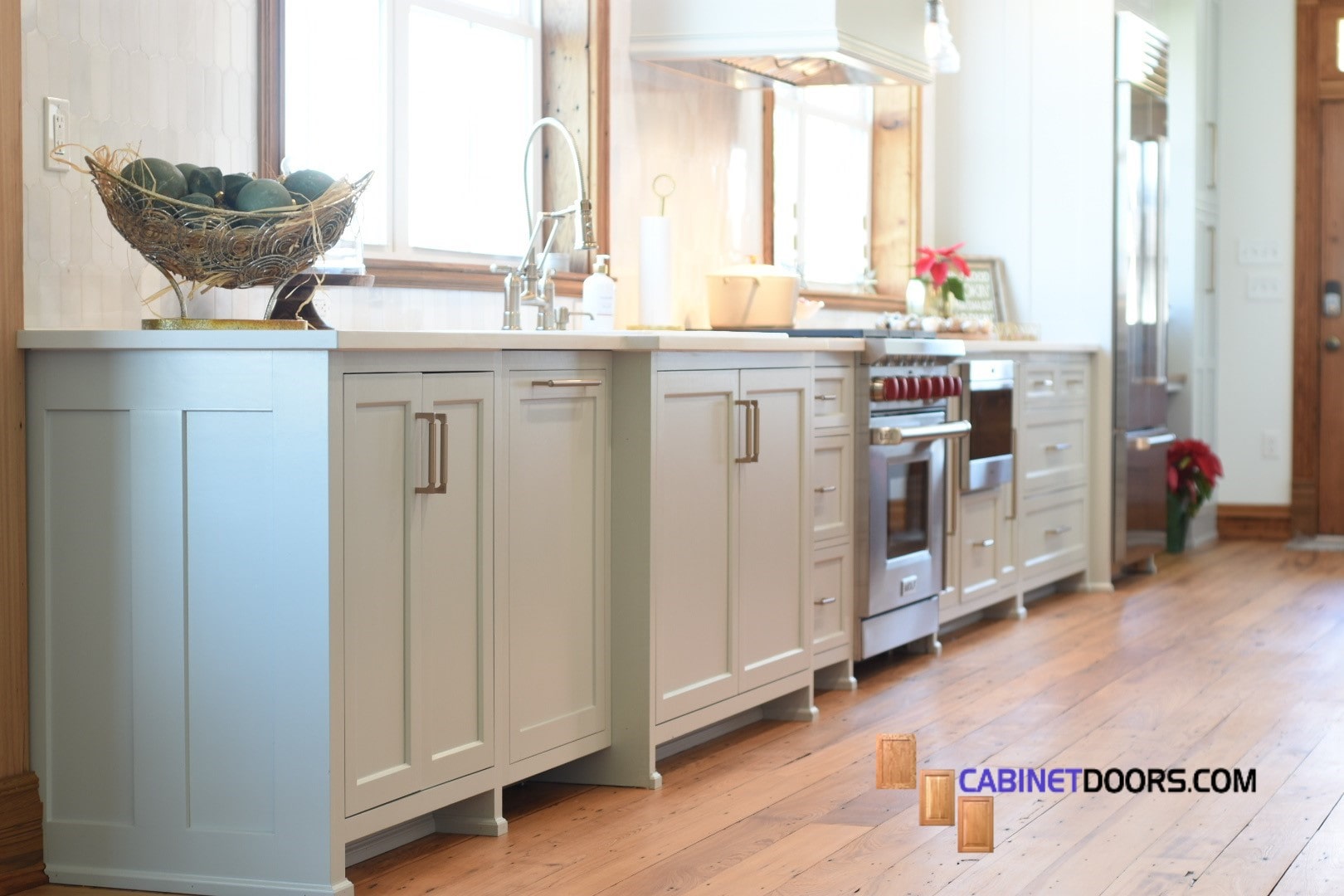 Incorporate White Kitchen Design Ideas With New Kitchen Cabinet Doors
If you're concerned that an all white kitchen design could become monotonous, make sure you incorporate plenty of different textures. Choose tile and flooring with interesting textures, and opt for kitchen counters that aren't one single flat tone of white. Incorporate window treatments and rugs that bring in visual interest, and add lighting that shows off all these varied textures. Even alternating finishes, so that there are matte and glossy elements throughout the space, can ensure that the room feels sleek and clean, but never one note.
Get Your Modern White Kitchen Cabinets at Cabinetdoors.com
Need kitchen design ideas, white cabinet doors, or white drawer fronts? Get started with white kitchen cabinets and drawer fronts for your home by searching Cabinetdoors.com We have hundreds of available styles, including modern cabinet door designs, as well as more traditional designs.
We offer kitchen cabinet doors in paint grade wood so you can paint them yourself in any shade of white you choose. We also offer painted door styles that are professionally finished for you in white Sherwin-Williams conversion varnish. In addition, we also have white drawer fronts in styles and finishes that work with the kitchen cabinet doors you choose. Whether you're drawn toward the popular white Shaker Cabinet Door style, seen here in the modern white kitchen image below, or prefer cabinet door styles with a bit more detail, like the Delaware Cabinet Door, Cabinetdoors.com has the right style for you.
Give Your Kitchen a Modern Makeover in Bright White
Updating your kitchen may sound intimidating, but it doesn't have to be as expensive as you might think. Start with your kitchen cabinets to make the biggest change, but work with Cabinetdoors.com so incorporating all white kitchen cabinets doesn't break the bank. If you're looking for high quality products at warehouse prices, we have you covered. We've been in the cabinet door business for over 40 years and we take great pride in our loyal customer base. We provide cabinet doors to individual homeowners, retailers, builders, contractors, and craftsmen, and our experience means you can trust us to provide you with a fantastic product at a great price. Plus, because you get to skip the middleman, you get warehouse pricing every time.