Kitchen Cabinet Color Trends for 2021
Jan 4th 2021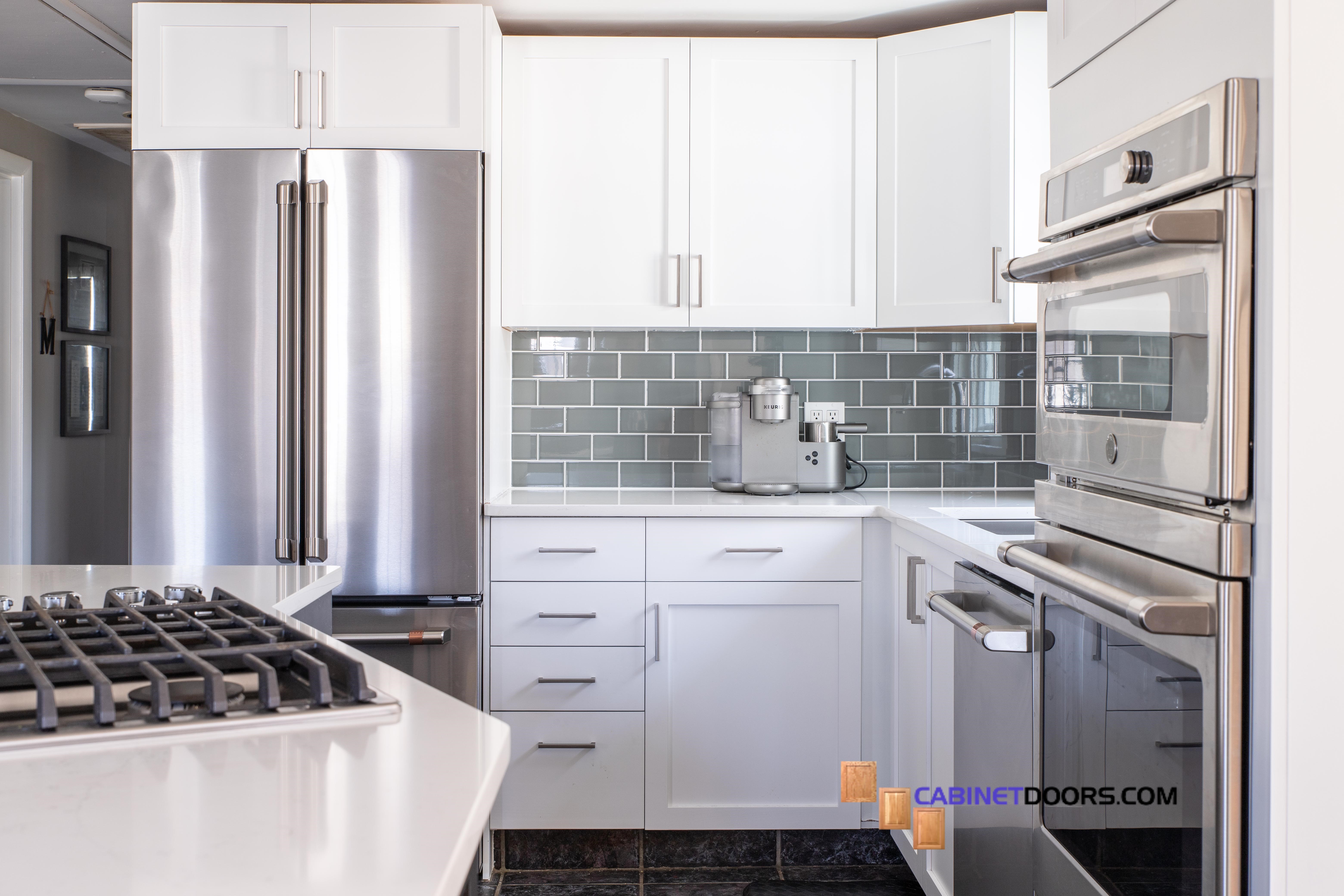 The start of a new year inspires the desire to update and change, and that goes for your home, too. If you've been looking around your kitchen and thinking things could use a little update, now is a great time for it! One of the quickest and easiest ways to update the look of your kitchen for 2021 is by exploring new kitchen cabinet color trends. Whether you choose to go with a new neutral, or venture into brighter colors, trying new kitchen cabinet paint colors is a great way to update the look of your kitchen for the new year.
Bright Kitchen Cabinet Paint Colors
If you're looking for a big change and want to brighten up your kitchen, incorporating vibrant paint is one of the standout 2021 kitchen cabinet color trends. After a year like 2020, everyone could use a little extra joy, and it's hard not to feel joyful when cheery colors greet you in the kitchen each morning. Whether you go for a bright, lemon yellow, a rich red-orange, or a lush peacock blue, painting your cabinets in an unexpected color instantly brings excitement to the room. And the best news about bright kitchen cabinet color trends? If you don't like it as much as you expected, all you have to do is repaint! Make sure you have neutral appliances and countertops to balance the brightness, and incorporate accessories, like throw rugs or decor, that make the kitchen cabinet paint colors shine.
Muted Kitchen Cabinet Color Trends
Another of the latest trends in kitchen cabinet colors are soft, muted colors that offer the brightness of white, with a hint of color. Pale blue tints, the palest mint greens, or creamy buttery yellows all bring just enough gentle color to the room while maintaining the same lightness as white. If you're craving color, but aren't quite sure it'll work in your kitchen, these muted, quiet colors are ideal. Additionally, because these trending kitchen cabinet colors in 2021 are so soft, they work in the same way that a neutral would, without feeling blah or boring. Choose your color by looking around your home to find the colors that inspire you the most. Even if they're brighter than you want, you can add white and mute them down. Try looking through paint chips to get a feel for how even the brightest colors can be muted to become soft and neutral.
Black and White Kitchen Cabinet Paint Colors
If you want a modern look, it's nearly impossible to go wrong with black or white—or a combination of the two! All black or all white cabinets have been among kitchen cabinet color trends for a while, and for good reason. These classic neutrals create a sophisticated look in any room and offer a blank slate for incorporating pops of color in your room. White cabinets create a bright, open feeling in a small room and can lighten up a darker space that's short on natural sunlight. Black cabinets, on the other hand, ground the room and can feel both minimal and luxurious, depending on the style of cabinetry. If you want to try one of the new trends in kitchen cabinet colors, but still want to stick with neutrals, consider trying a combination of black and white kitchen cabinet paint colors. Whether you choose to paint the top cabinets white and the bottom cabinets black, or instead opt to paint the different colors side by side, a mix of black and white in the same room offers a classic, sophisticated look that's a little more adventurous.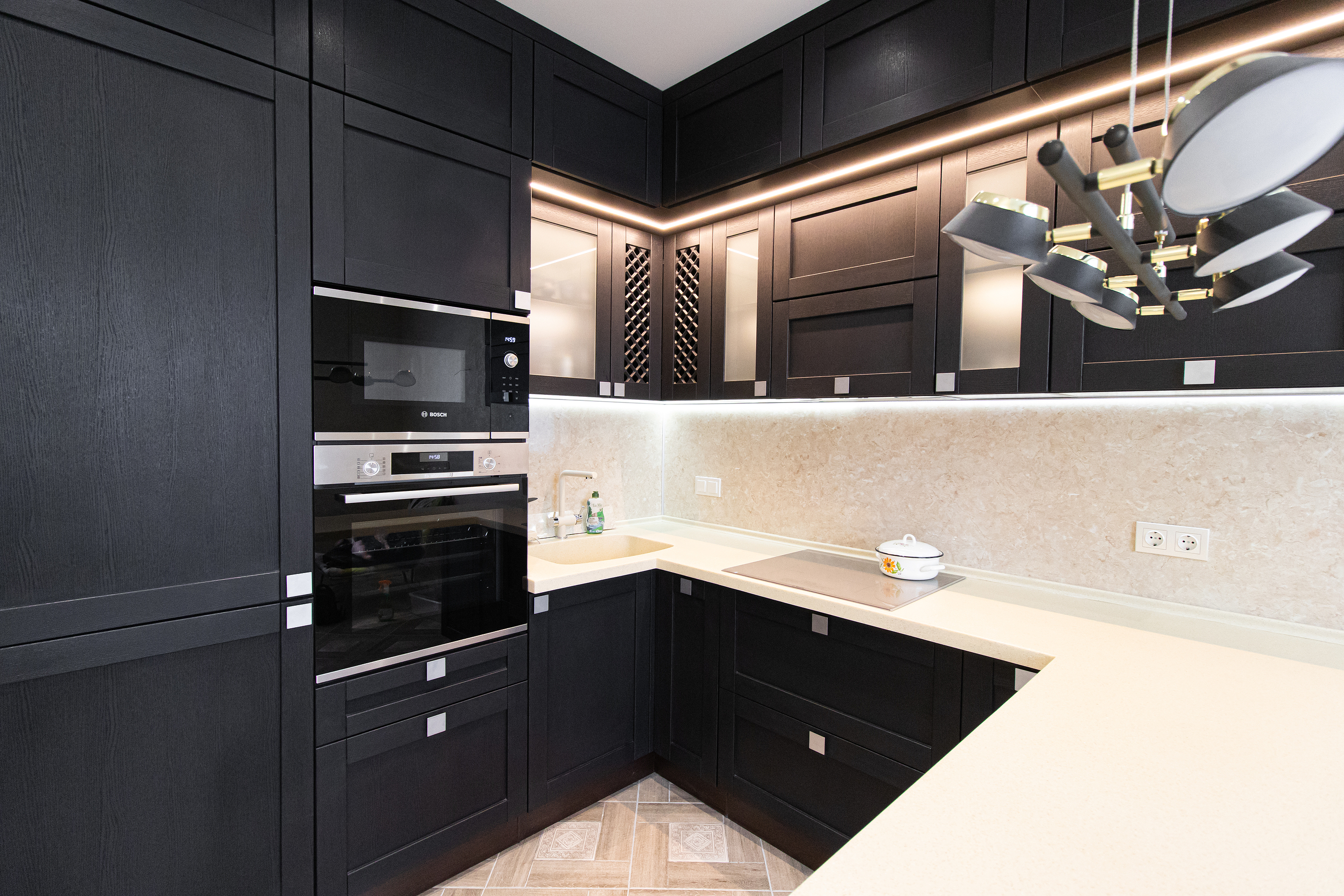 Moody Blue Kitchen Cabinet Color Trends
Just like your favorite pair of jeans, blue is one of those colors that works like a neutral, which is probably why it tops trending color lists year after year. Soft, barely-there blue tints are one of the top 2021 kitchen cabinet color trends, covering kitchen cabinets with a gentle wash of color. More saturated and rich deep blues, like navy, peacock, and steel blue, offer a restorative feel and comforting color without becoming overwhelming. If you're feeling adventurous, you can even try incorporating a mix of blues for more visual interest in your kitchen and a range of color that grounds your room. Keep your blues leaning toward grey for the most modern, chic look, or ease them toward green for a lush feel—either way, you're right on the mark for trending kitchen cabinet colors in 2021.
Palest Pink Kitchen Cabinet Paint Colors
Nothing says fresh and youthful like pale pink, and candy-colored cabinets are among the trending kitchen cabinet paint colors for 2021. Whether you commit to painting all of your cabinetry in the palest, barely-there pink, or want your kitchen island to pop with a bolder, brighter pink, adding pink to your kitchen can warm up the room and works well with any number of other style elements. Incorporate pale pink into an all-white kitchen for a clean, feminine touch, or allow a slightly bolder soft pink to act as a contrast to dark floors and rustic cabinetry. Pale pinks always feel gentle, and they can be a great way to add softness among more modern touches like stainless steel or minimalist cabinetry. Even the barest hint of pink makes a stylish statement as one of the latest trends in kitchen cabinet colors.
Finishing Touches for Kitchen Cabinet Color Trends
Once you've chosen which 2021 kitchen cabinet color trends you want to incorporate into your kitchen, it's time to make the next decision—hardware, or no hardware. The finishing touches can make all the difference. When you take a look at trending kitchen cabinet colors in 2021, they're all about making an impact in the room. The way you incorporate hardware on your drawers and cabinets is one more way to express your design personality. Kitchens completely free of handles and hardware are amongst the cabinet trends for 2021. This look offers a more sleek and minimal style, allowing the kitchen cabinet paint colors to truly shine in the room. On the opposite end of the spectrum, luxurious hardware is having a moment in 2021, too, as gold pulls offer a rich, luxe look and bring a certain warmth to a room, even in all-white kitchens. Or, meet in the middle and try the other cabinet hardware trend for 2021—mixed hardware. Whether you try dainty, round knobs on cabinets and substantial metal pulls on drawers, or play with mixed metals by incorporating both brass and stainless hardware, 2021 is all about mixing it up and making your kitchen work for you.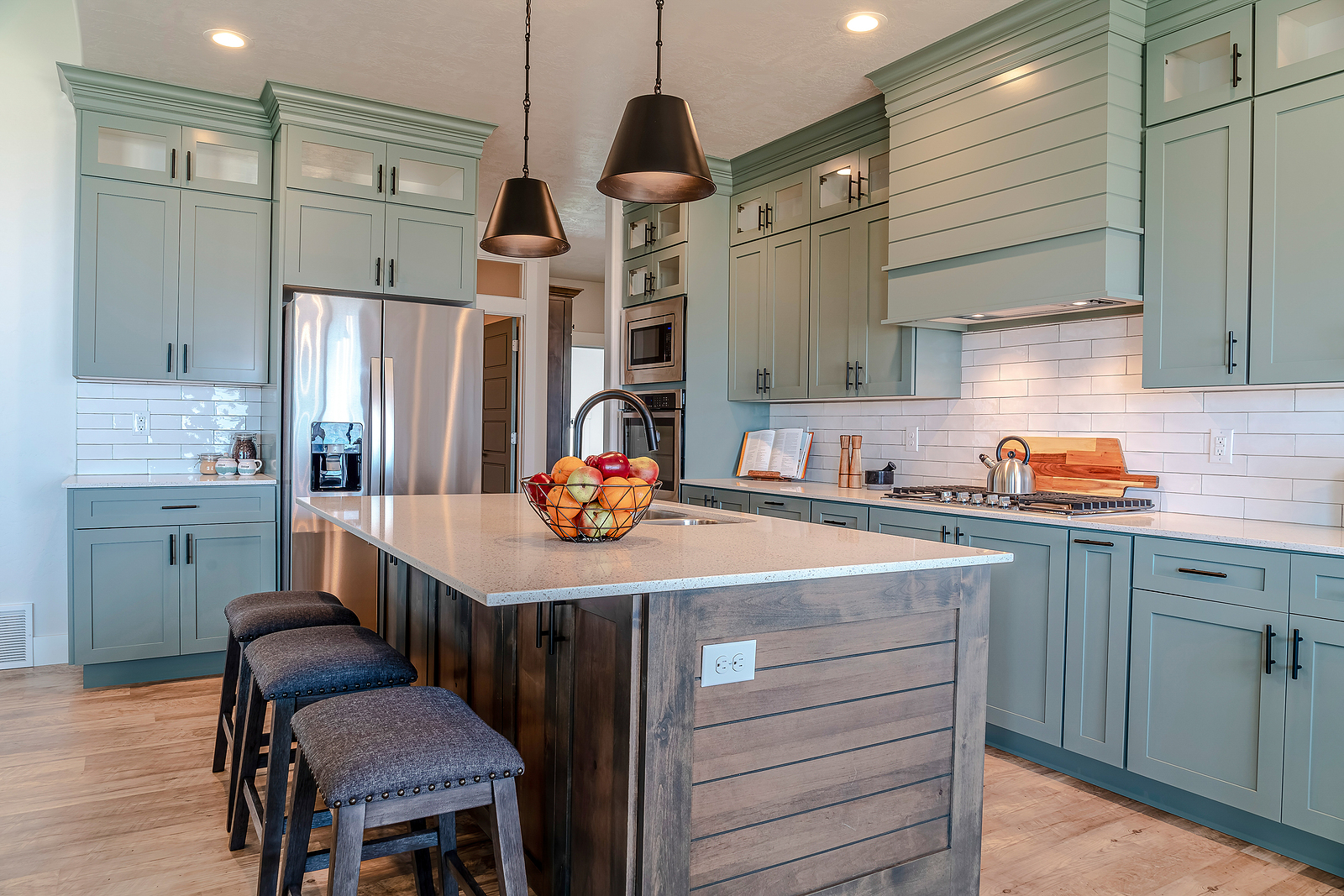 The Door Stop Can Help You Incorporate Kitchen Cabinet Color Trends for 2021
Ready to update your kitchen cabinet paint colors by incorporating some of the biggest trends for 2021? Look around your home and take note of what you love, and what you're tired of to help you decide what trends to incorporate in your kitchen. If you're ready for more color in your life, think about whether you want to go big or small, bold or soft. Choose one small statement section in your kitchen for brighter, more exuberant colors, or paint all of your cabinetry in a soft wash of gentle color. Looking for a more subtle, minimal look? Incorporate neutral kitchen cabinet paint colors in 2021 for a look that is both modern and grounding. Want to up the chic factor? Try mixing neutrals in the same space. And don't forget about hardware—it's another great way to experiment and update your kitchen since it's so easy to replace. Whether you opt for hardware-free cabinetry, or go full luxe with bold, gold cabinet and drawer pulls, using hardware as the finishing touch in your kitchen can make a big difference, regardless of cabinet color. 2021 is all about renewal, so don't be afraid to try the latest trends in kitchen cabinet colors in your home. Even the subtlest hints of color can renew your room.
New trends in kitchen cabinet colors only look as good as your cabinet doors, however, so if you need to update your cabinet doors or drawer fronts, CabinetDoors.com is here to help. Over time, regular daily use can cause your cabinet doors and drawer fronts to look a little worse for wear. Rather than tearing out your cabinetry and starting from scratch, consider replacing just the cabinet doors and drawer fronts for a brand new look at a fraction of the cost. The Door Stop can provide you with custom cabinet doors and drawer fronts in exactly the size that you need. Just pick your design, and color and wait for them to arrive!. To try out one of the 2021 kitchen cabinet color trends, just order paint grade to do your own painting, or order one of our professionally finished Sherwin Williams conversion varnish paint colors. Find out how you can get brand new kitchen cabinet doors and drawer fronts at wholesale prices by contacting The Door Stop today at 1-800-342-1010 or exploring your options at CabinetDoors.com.