The Do's and Dont's of Staining Maple Cabinet Doors
Sep 8th 2021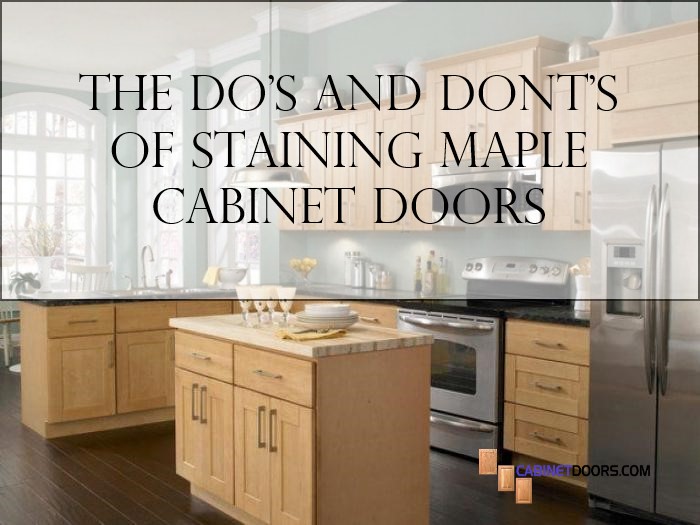 If you're looking for help staining maple cabinets, Cabinetdoors.com is here to help you. We provide high quality unfinished maple cabinet doors for your kitchens and bathrooms that are ready for finishing upon arrival at your door. This post will help you choose the right stain or dye and show you how to stain maple cabinets to get an even finish.
How to Stain Maple Cabinets
Staining maple cabinets can be a little trickier than you might anticipate because of the nature of maple wood. Overall, maple is a tight-grained, denser wood, which means stain does not absorb particularly well. To make things even more complex, you will also find that maple has some density variations throughout the wood, so that there are some areas with a more open grain. Because of this, staining can sometimes end up blotchy or uneven because the stain absorbs readily into areas with a more open grain, while the tighter-grained areas do not absorb as much. So, what's the solution?
Below, you'll learn the difference between maple wood stain and maple wood dye, and why you might choose one over the other. You'll also see a number of videos discussing various solutions for how to stain maple cabinets and achieve a more even finish. It's important to note that getting a nice even stain on your maple cabinets is going to take a little more work than staining oak, for example, but with careful work and thoughtful preparation, it is doable.
The Best Finish for Maple Cabinets: Stain vs. Dye
Staining tight-grained woods like hard maple can be a problem for even experienced wood finishers. For DIY homeowners the best advice is often to avoid staining maple, birch, and cherry altogether. This is because staining maple cabinets and other tight-grained woods without blotches is difficult. Not impossible, just difficult.
Additionally, achieving darker maple cabinet stain colors can be particularly tricky on these types of woods. Choosing the right finish can help, however. If you still want to get a darker finish on your maple cabinet doors, here are two helpful tips:
1. Do not stain! If you want a darker finish on maple, use a wood dye rather than a stain. Wood dyes have smaller particles and are better able to penetrate dense wood like maple. Aniline wood dyes show off the grain of the wood and impart color in the same way a stain would, but is less likely to be blotchy and uneven.
2. Start on the back! Ideally, you'd always test your finish on a scrap of the same wood that your cabinets are made of. However, if that option isn't available, always start staining on the backs. Preferably on the drawer fronts if possible. That way, if you hate the stain experiment, you won't see it every day.
If you're hoping for stained maple cabinets, wood dye offers a solution that provides similar results to a stain, but works much better with dense and tight-grained woods. Because wood dye is able to penetrate the wood and dye the wood cells themselves, rather than just sitting on top like a stain can with denser woods, you'll get a more even appearance. It will also highlight the beautiful wood grain in your maple cabinet doors. As such, it's often the best finish for maple cabinets.
Maple Cabinet Door Staining Problems & Solutions
Although staining maple is possible, it can certainly present some challenges. As such, we've addressed some of the more common staining problems and solutions below to help you troubleshoot maple wood stain.
How should you prepare maple properly to help avoid an uneven finish?
If you are going to attempt stained maple cabinets on your own, ensure you've prepared your wood properly and apply the right finish. This will give you the best chance of getting an even result. Here's how:
1. Moisten the wood with a slightly damp cloth to raise the grain.
2. Sand to 120, 180, 220 to prep an even and smooth surface, knocking down all the raised grain.
3. Coat thinly with Zinsser sanding sealer cut 50% with denatured alcohol.
4. Mix aniline wood dye with water, apply by rag with a light hand. You have some protection from oversaturation from the shellac sanding sealer, but even with dye you can get slight blotching with maple. You're unlikely to get the color you want in the first coat, and for darker applications you'll need more like five to ten coats.
5. Once you've achieved the hue you want and the dye is dry, apply a tinted dewaxed shellac (2lb) using a slightly warmer shade than used in the water based dye to warm the color. Again use a light hand since the dyes will react with the alcohol.
6. Top coat with your preferred finish. Oil and urethane will provide a very durable finish, poly will also work if you want a bulletproof finish.
Can you prevent the problem of uneven stain on maple, particularly on end grain, and promote a uniform acceptance of the stain?
If you are staining maple cabinets and end up with a blotchy, uneven finish because too much stain soaks into the cross cuts, there are a few things you can do to even things out in the future. If you use oil based stains, try MinWax Wood Conditioner on maple. It helps eliminate the blotchyness and makes the color very even. Additionally, you can try the following tips:
Sand the end-grain to one or two grits higher than the rest of the piece. So if the piece is sanded to 180, you should sand the endgrain to 220 or 320. The finer sanding will help prohibit stain absorption.
Apply a glue to the end grain. Make a 10:1 mixture of water and yellow or white glue. Brush this solution onto the end grain and give it several hours to dry. Once dry, sand lightly and proceed with staining. The embedded glue will prevent excessive stain absorption.
Use a light coat of diluted shellac or any sealer the same way you would use glue..
Always test your stain on scrap or inconspicuous areas first to ensure you get the look you are after.
If you don't see your maple staining problem above and still have further questions about maple stain cabinets, feel free to contact us by phone at 800-342-1010, or via our website.
Get Your Maple Cabinet Doors from Cabinetdoors.com
Getting a great result from your staining process starts with top quality cabinet doors made with high quality wood. Cabinetdoors.com is your source for top notch custom-sized maple cabinet doors. We make your doors to your exact specifications and ship them right from our factory to your door. Our unfinished doors are sanded and ready for you to finish as you choose with stain, dye, or a clear finish coat. If you decide you don't want to attempt to stain your maple cabinet doors, and prefer to have us finish your doors for you, we offer painted cabinet doors in a variety of durable Sherwin-Williams conversion varnish colors.
To price and order high quality custom cabinet doors online from the internet's leading manufacturer, visit our website, Cabinetdoors.com. You can explore our most popular styles and get helpful information and advice for ordering, finishing, and installing your cabinet doors. Ready to get started? When it comes to maple cabinet doors, Cabinetdoors.com always delivers.