Choosing Your Cabinet Door Color
Oct 16th 2020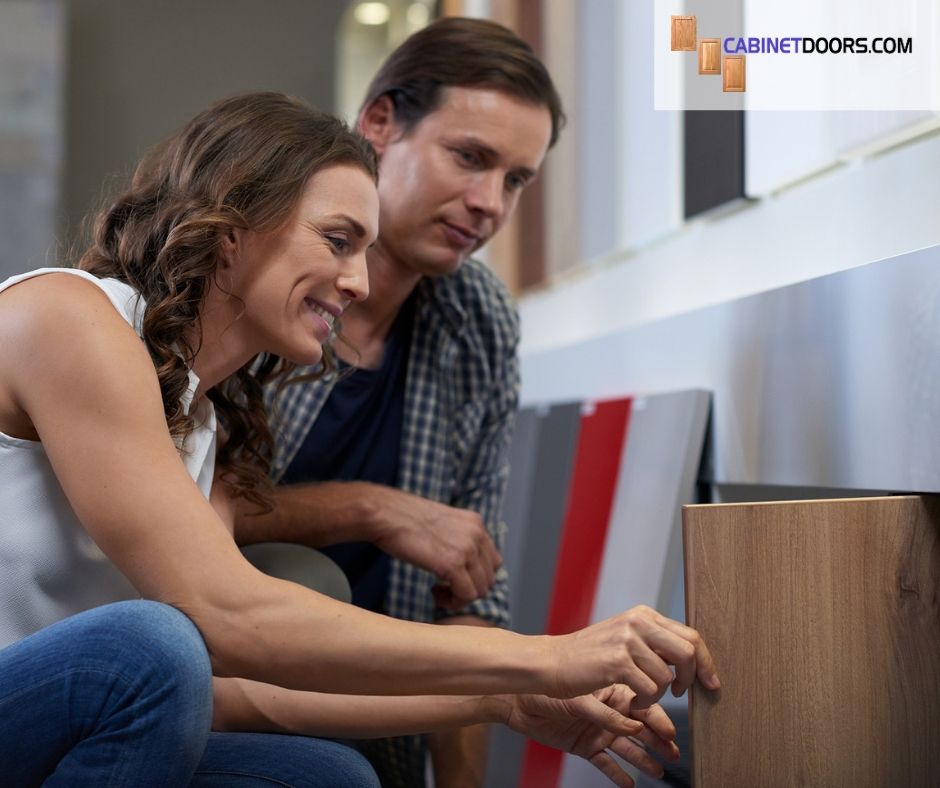 When you order replacement cabinet doors, you have lots of options to choose from, so many that finding the perfect one can feel overwhelming. As always, we aim to make things easy on you. Explore this guide to help you pick the ideal color for your cabinet door replacements.
Choosing Cabinet Door Colors Based on Wood Species
The wood you choose for your replacement cabinet doors may determine how it can or should be finished. Oak, for example, is almost never painted because it has large pores that soak up the paint and leave a rough-looking finish as well as visible grain. Maple, or Alder, by contrast, takes well to both paint and stains. And gives a much smoother finish. If you have questions about how well a specific wood species will finish, reach out to one of our experts at 800-342-1010.
Choosing Cabinet Door Colors Based on Cabinet Style
Cabinet door styles range from the classic's like the Liberty, Heritage, or Revere, to the contemporary Shaker, Artesia, or Auburn. There are no strict rules about what colors pair with what styles, but there are combinations homeowners have returned to time and again. Cabinet doors with minimal design are often painted solid colors that give off a clean and polished look like a Bright White, or light gray. The more ornate doors are often stained or painted to a darker color, or have decorative finishes like glazing.
Choosing Cabinet Door Colors Based on Surface Covering
The two most common ways to add color to cabinet doors are by painting or staining. Paint delivers a smooth, flat finish, especially if it's sprayed. Whereas stain soaks into the wood and colors it without covering up the texture and grain. Both options are available in hundreds of different colors, but each has colors the other does not. A cabinet door painted red, for example, will look different than a cabinet door stained red. Neither option is especially difficult to apply yourself, so make your decision based solely on the look you're after.
Choosing Cabinet Door Colors Based on Interior Design
How the area around the cabinet doors looks tells you a lot about what color to choose. Ideally, your new doors should perfectly complement the room they are in whether that be the kitchen, bathroom, or office. The cabinet door color can complement the color on the walls or contrast it. You can aim to make the cabinets the focal point of the space with a bold color or have them blend in with more subtle hues. Whatever you do, make sure your cabinet door color is one element within a cohesive whole.
One way to get ideas and inspiration is to think about the cabinet doors you're replacing. What did you love or hate about these doors? Do you want the replacements to be the same or different? Once you answer those questions, you can narrow down the number of color options significantly.
Choosing Cabinet Door Colors Based on Practicality
If you have a high-traffic home, perhaps with little kids around, you want the color you choose to be practical. For instance, a color that shows stains or scratches easily might not be the best option. Regardless of the color you chose, be sure to apply a finishing product that offers superior durability and washes easily. You may also want to finish lower cabinets (that see more abuse) a different color than upper cabinets.
Choosing Cabinet Door Colors Based on Future Owners
How long do you plan to live in your current home? If the answer is only a few more years, you need to think about what cabinet door colors the next owners might want. Obviously, no one buys a house based on cabinet colors alone. However, spaces like the kitchen do have a huge influence on buying decisions, and the cabinets are a prominent element within the kitchen. You are unlikely to alienate anyone with the cabinet colors you choose but beware of picking something too bold like lime green.
Choosing Cabinet Door Colors Based on Personal Preference
The best color for your replacement cabinet doors is whatever color you like the most. Maybe you have always wanted to have an orange kitchen or to paint every door a different color. It's your space and the decision on cabinet colors is entirely up to you. Don't be afraid to get creative, buck tradition, or pick colors based on whatever catches your eye. As long as the color makes you happy, it's the perfect choice.
Today's Best Colors for Kitchen Cabinets
Before you change anything in your home, it helps to know something about the popular styles and trends of the present. Even if you plan to go with a design that's entirely your own, looking at popular styles can help get your creative juices flowing and help you put your look into context. With that in mind, here are some of the top kitchen cabinet colors according to designers and homeowners:
White- White cabinets are the most popular these days. With a white kitchen it makes your home feel open, clean and very inviting.
Walnut/Dark stains- Dark stained wood is always something that will be around, especially when you're working with a knotty wood, like Knotty Alder. It can be pricier, but the rich tones make it worth it.
Black - Black cabinets have never really gone in or out of style. The bold look of black paint on cabinets appeals to some but not to all. Be sure to pair black cabinets with a warmer tone so that the kitchen doesn't feel dark or cramped.
Light Sea Foam Green - Fill the kitchen with color that doesn't overwhelm the space. Light Sea green is popular right now because it's versatile, complementary, and unique without feeling wacky. It's also neutral enough to use in almost any kitchen.
Muted Shades - After years of all-white kitchens, designers are starting to incorporate muted shades that maintain the clean, neutral look of white without being quite so blank and boring. Popular muted shades include navy blue, ivory, and charcoal.
Peacock Blue - If you want to make a statement, few colors command attention like peacock blue. Use it on all your kitchen cabinet doors to fill the space with vibrant color, or use it sparingly - on just a few doors or the kitchen island - to give some visual flair to an otherwise neutral space.
Blush Pink - Red is a hard (but not impossible) color to pull off in a kitchen. A light rose color, on the other hand, blends tastefully into any space while giving it a warm, welcoming life. Varions on rose have been popular for going on a decade, and this trend shows no signs of slowing down anytime soon.
Ordering the Finish You Want
When you order from The Door Stop, you have a few finish options. You can order your replacement cabinet doors "unfinished," meaning they come shipped to you pre-sanded and ready to paint, or stain. Or you can order them 'prefinished," meaning they already have a color, or a clear finish applied from our list of available options. Either way, we make it easy to find the exact doors you're looking for.
The Door Stop is your source for custom-made Replacement cabinet doors that look amazing in our 5 selected Sherwin William colors. Contact us at 800-342-1010 to speak to our helpful staff and discuss your cabinet door project today!