Top Kitchen Cabinet Color Trends for 2023
Posted by Donovan Thornhill on Sep 5th 2023
Over the past few years, interior design colors have shifted toward embracing the colorful beauty of nature, and the kitchen cabinet color ideas for 2023 continue to reflect that same passion. This coming year, the most popular color trends blend admiration of the outdoors with the versatility to work with a range of colors and themes. Calming and comforting hues invoke the outdoors, but they also tend to work nicely with neutrals and other colors, making them great picks for your kitchen.
Alex Yacavone, Kohler design studio manager, told Architectural Digest, ""The best way to modernize your kitchen inexpensively is with your color palette." The new year always brings the perfect opportunity to start fresh, but it can be challenging to figure out how to do it. One look at the kitchen cabinet color trends for this upcoming year will give you the perfect encouragement to refresh your kitchen and provide an idea of how to bring a new sense of life into your space. We put together a list of the top 10 best kitchen cabinet colors for 2023 - so you can elevate your space with expert color palettes that compliment your design preferences.
If you're ready to elevate your space, here are the 2023 kitchen cabinet trends you can use as inspiration for your next project.
The Best Kitchen Cabinet Colors for 2023
Your kitchen cabinets have a strong impact on the appearance of your kitchen and home as a whole. Whether you plan on ordering painted cabinet doors or you want to order paint-grade cabinet doors for a DIY project, it helps to have an idea of where to start when choosing a cabinet door color. The following are some of the popular cabinet colors for 2023:
1. Earthy Tones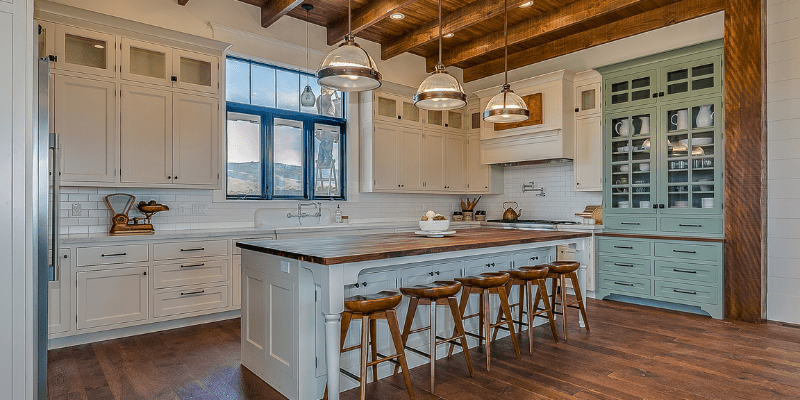 Earthy, natural colors continue to remain popular as they have become more and more common in recent years. Some excellent examples of earth tones include sandy beige colors, charcoal grays, silvery gray greens and light colors with green undertones. These colors are so popular because they not only give you a taste of the calming sense of being outdoors, but they are also easy to pair and blend with other elements in the home. They also fit in well with most farmhouse-style kitchens, as they present a bright, lively look. Designers and homeowners alike love these neutral colors.
Because your cabinet doors are such a powerful element in your space, replacing your doors with these versatile colors helps to transform the energy of your entire home. Depending on your preference, you can choose between either lighter or darker hues to completely change the emotion in your space. If you want a vibrant, energizing color, choose lighter hues of these natural colors, whereas darker hues will give you a warmer, calming feel. The best part about these neutral colors is that you can mix and match however you like.
2. Clean, Neutral White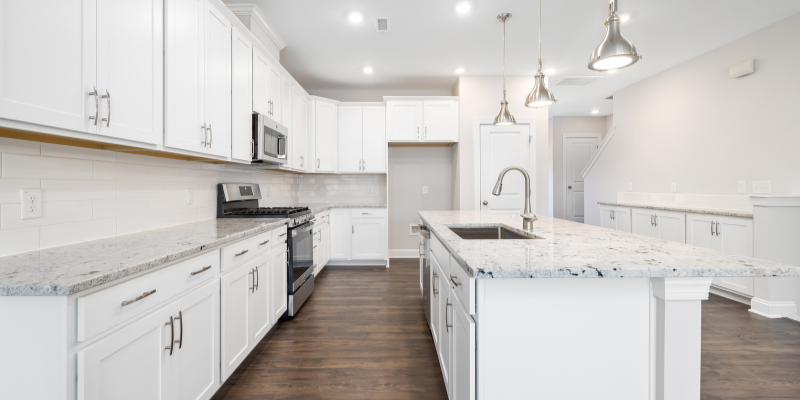 If you're looking for kitchen cabinet color trends that will never go out of style, white is a strong contender. The all-white kitchen trend has been going strong for several years now, but it's also one of those cabinet color trends that seems to stand the test of time. Because white is such a bright, clean hue, it lends a sense of airiness and light to the kitchen.
Even better, white is very easy to compliment, and it will pair nicely with any other color you choose to bring into your kitchen. In doing so, white kitchen cabinets become a canvas for almost any color scheme you want. Plus, if you want to refresh your kitchen cabinets down the road, white is easy to paint over and allows you to change the colors up whenever you want.
3. Timeless Black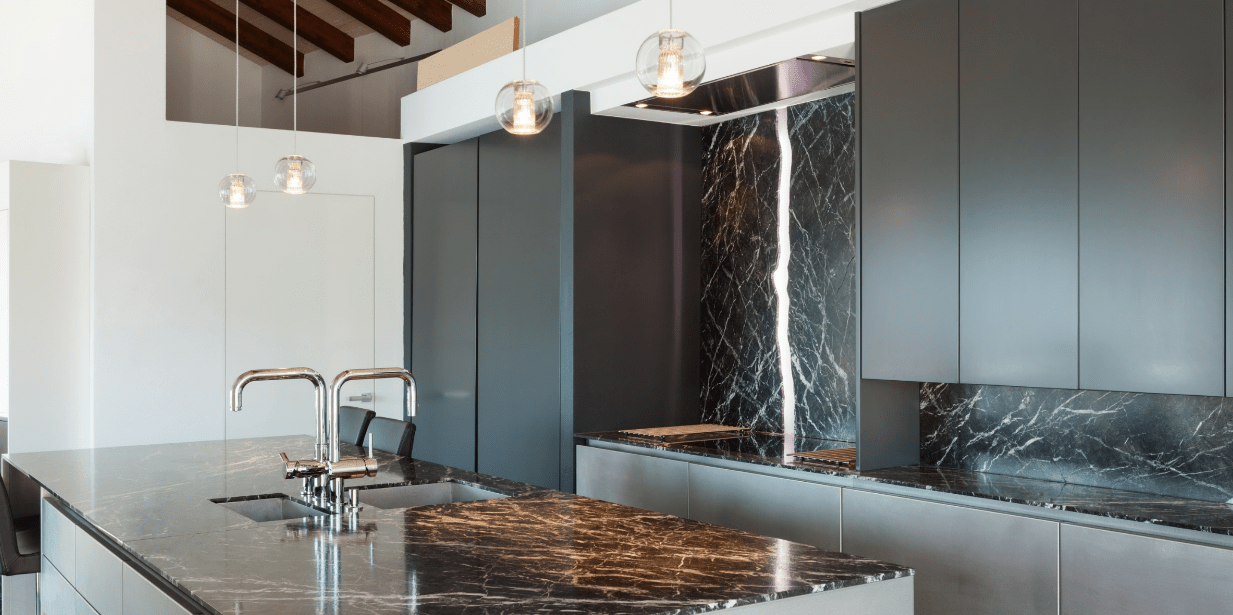 For a more minimalist and modern look, black is a strong choice among trending kitchen cabinet colors, and it may never get old. Black cabinets lend depth and weight to the space, and they can even help make mismatched cabinets look cohesive and intentional. Black also lends seriousness to brighter colors and can help ground tones that might feel too exuberant on their own.
For an especially classic and bold look, try using both black and white to create a timeless kitchen color scheme. Two-toned cabinets are increasing in popularity for how they can transform the look of a kitchen. Having black cabinet doors in one area of the kitchen and white cabinets in another can really stand out and create a unique look. Try painting the bottom cabinets black and the top cabinets white to keep the room feeling open, or paint different sections of the room in each shade to suit the layout.
4. Deep Blue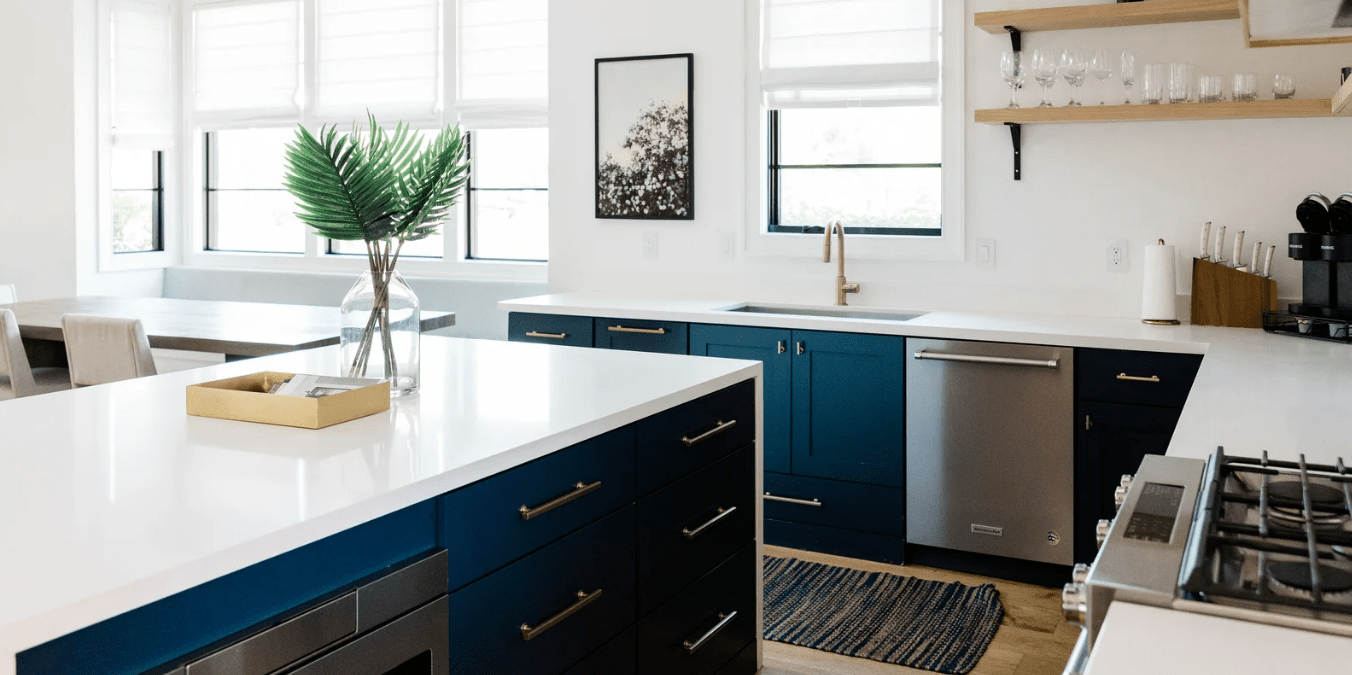 There is plenty to love about bringing the outdoors into your home, but why not bring the whole ocean in? Designers love dark blue tones for their ability to bring a blend of mystery and comfort, making you feel like you are wading amongst the waves. Shades of dark blue on your cabinets accomplish two things—they are warm and inviting while also being incredibly eye-catching. Few other colors can do both at the same time.
Deep blue tones are also great for working with other elements in a kitchen. For example, blue cabinet doors and gold cabinet hardware create a sense of elegance. You also have the option to stick with neutral earthy colors to blend with the blue tones or lean into the extravagance with other vibrant, eye-popping complementary colors like orange or red.
5. Natural Wood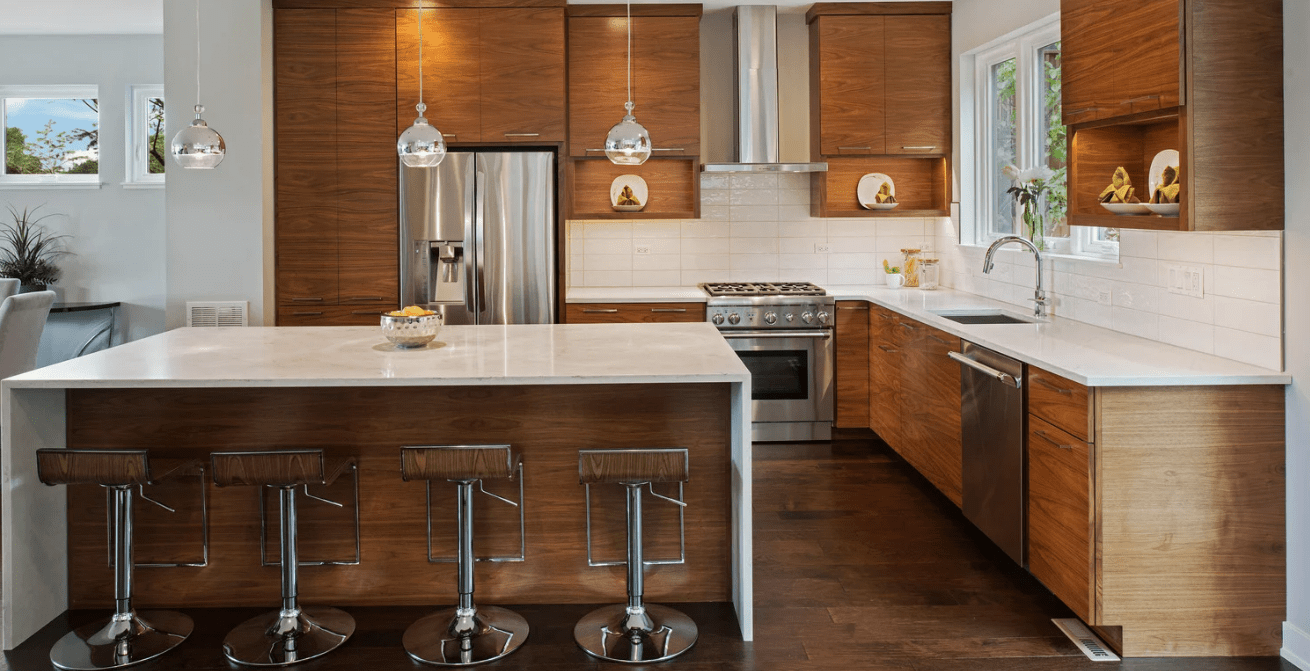 There is no better way to bring the outdoors inside than to refresh your cabinet doors and highlight the natural wood. Natural wood brings a perfect balance of minimalism and complexity into your home. After all, natural wood is a basic addition to your home, but the natural grain patterns are detailed and eye-catching.
Embracing natural wood also gives you an impressive amount of versatility. Not only can you pair plenty of colors and decorative elements with wood cabinet doors, but you can also finish the wood however you'd like. You can opt to coat the wood with a clear finish that highlights the natural grain pattern, or you can use a stain to darken the color. Of course, the wood species you choose will also allow you to decide between a simple grain pattern and a more complex one.
6. Redend Point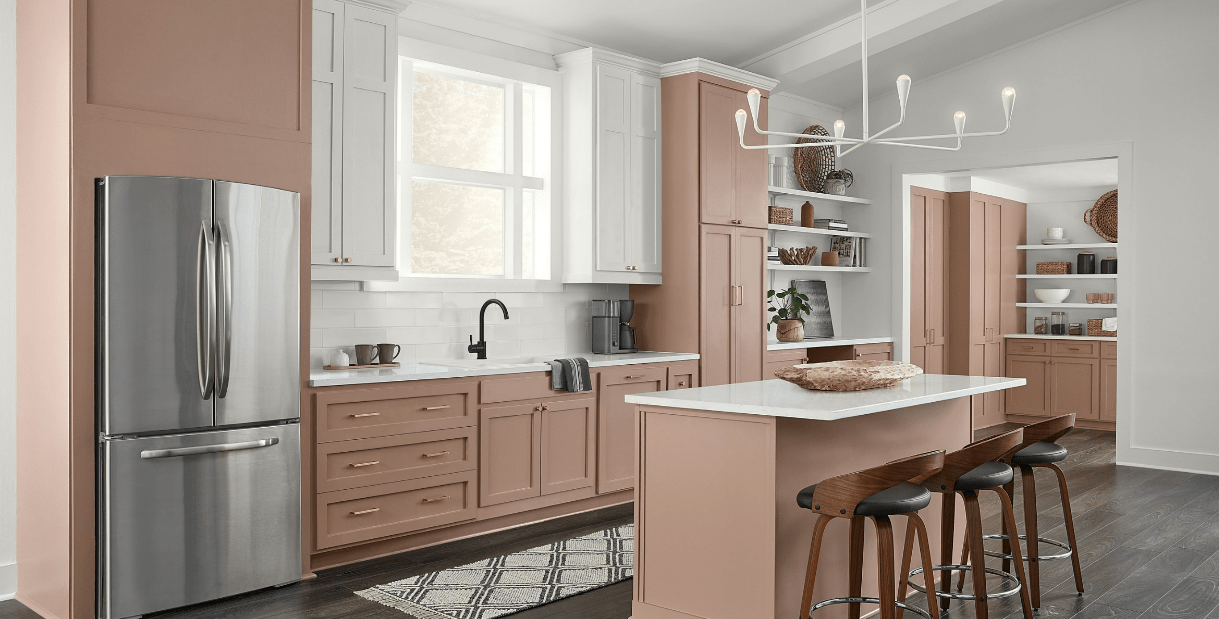 Illustration from Sherwin-Williams
Last but certainly not least is the Sherwin Williams Color of the Year for 2023. Redend point shares the same reddish tones of natural clay and shifting sands in the center of a canyon. Its striking but subtle hue provides a sense of minimalism while still transforming your space into a calm, comforting and inviting one. This natural color pairs nicely with other warm, earthy colors, like beige, deep greens, and charcoal colors.
Redend point also works well with other shades of red and allows you to feel like you are standing amongst canyon walls right in the center of your home. When you embrace this color for your cabinet doors, you can enjoy its spectacular soothing effect while also enjoying its versatility as you mix and match decorative elements. At CabinetDoors.com, we are happy to offer this great color on our professionally painted cabinet doors this year.
7. Warm White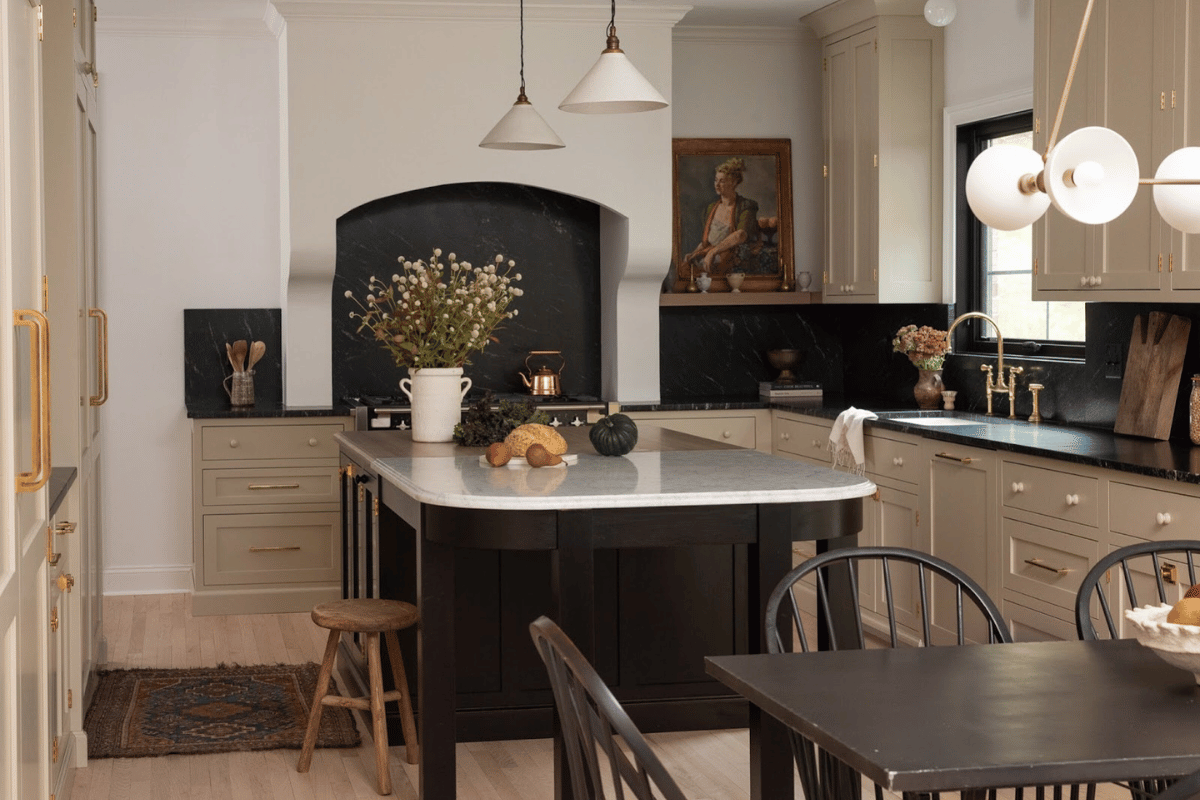 Illustration From Whitney Parkinson Designs
Warm white is a trending kitchen cabinet paint color you can't go wrong with. It's incredibly versatile and can make a space feel more homey and inviting.
Warmer white shades like eggshell, ivory, and beige work as a warm neutral base in your kitchen. They add warmth to your space and can be great for traditional and vintage kitchen designs. The elegant nature of warmer kitchen cabinet colors for 2023 pairs well with contrasting wall colors, stainless steel appliances, and decorative backsplashes. When pairing the warmer tones with dark appliances and countertops, you can create stunning contrast and dimension in your kitchen.
If you aren't a fan of the mute or pale neutral whites, warmer white shades may be the better kitchen cabinet paint color for your 2023 project.
8. Navy Blue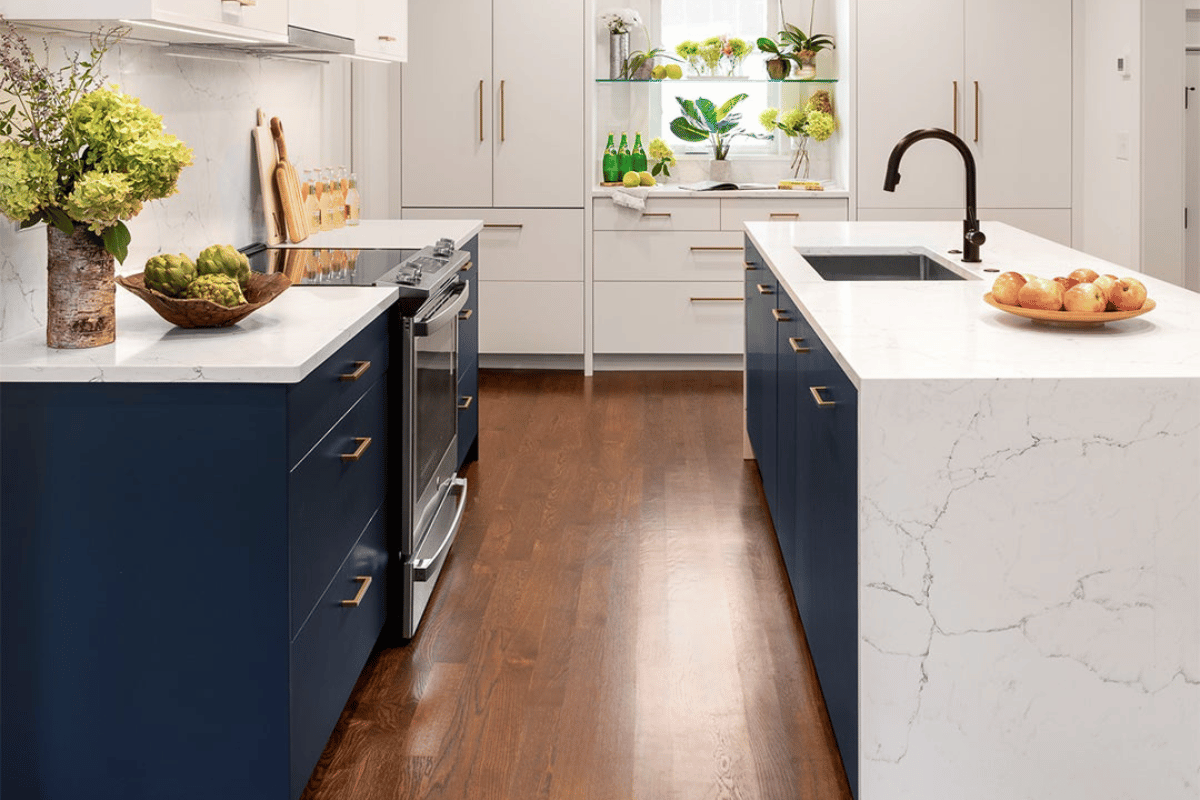 Illustration from Joy Architecture
Navy blue is elegant, timeless, and sophisticated - making it one of our top choices for Kitchen cabinet colors in 2023. Any shade of navy is the perfect option for individuals who crave a pop of color in their kitchen but don't want to sacrifice the refined nature of their kitchen design.
Navy blue kitchen cabinets pair well with natural textures like wood, brass, and metal. It's also a great kitchen cabinet color for modern and minimalist kitchen designs.
9. Dark Green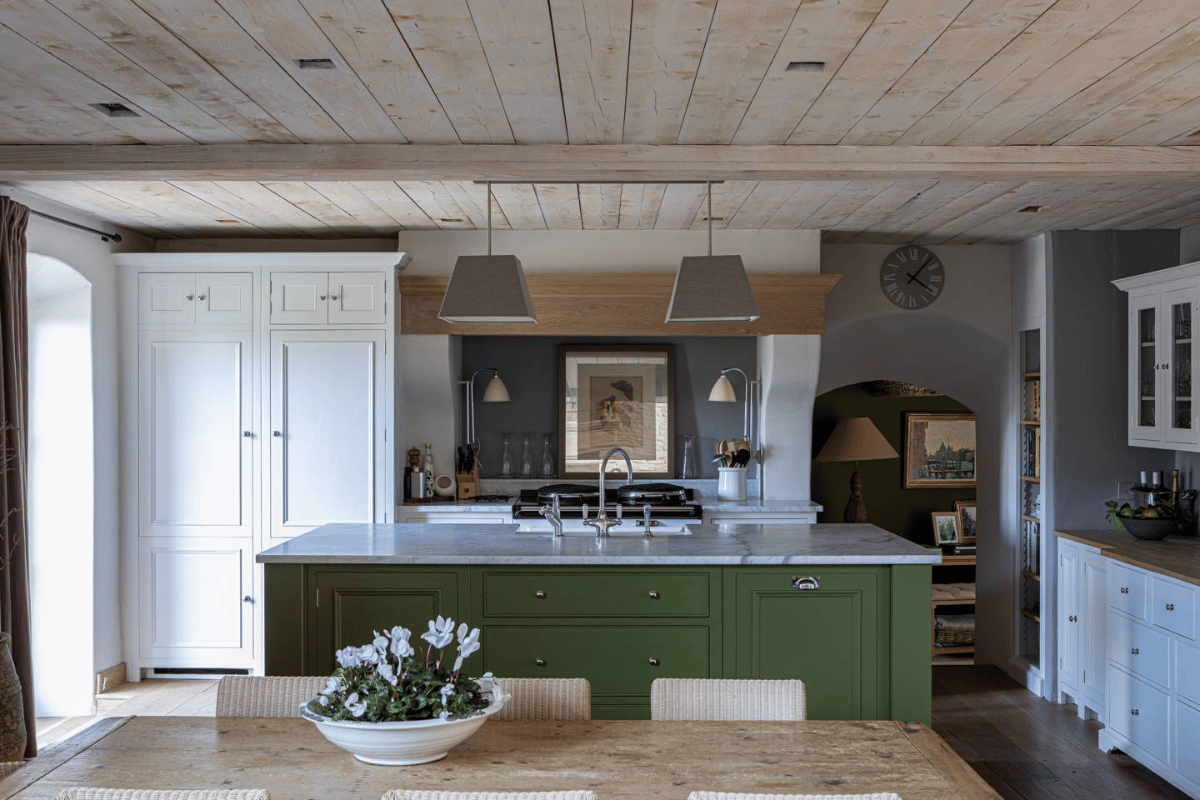 Illustration from Sims Hilditch
When choosing a kitchen cabinet trend in 2023, dark green may not be at the top of your list. However, darker shades of green are captivating in nature. Inviting earthy tones into your space is a great way to add depth while still maintaining a level of sophistication.
The beauty of this kitchen cabinet color is its versatility. Dark green kitchen cabinet doors come in a range of stunning shades. Whether it's sage, hunter green, or forest green - every shade will pair elegantly with white marble counters, colorful backsplashes, and minimal kitchen designs. It also pairs well with different wood grains and other natural elements.
10. Neutrals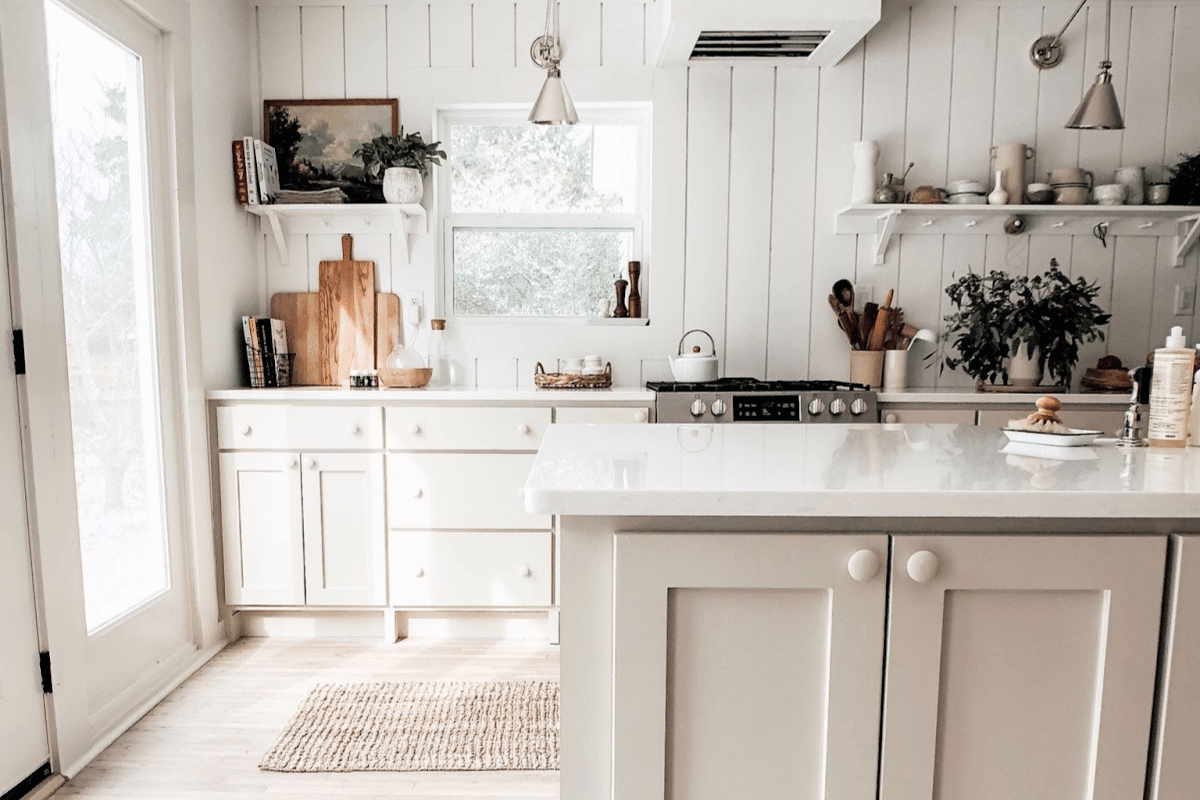 Illustration from Emily Sue
Neutrals are a kitchen cabinet trend in 2023 that will never go out of style. Whether it's grey, beige, cream, or white - you can feel confident any of these colors will withstand the test of time with kitchen trends from 2023-2024.
Sticking with neutral colors doesn't mean your kitchen needs to be boring or overly simple. Instead, think of a neutral as your canva. You can invite pops of color through the cabinet hardware, wall colors, backsplashes, and the details you add to your home - that leave your home feeling like a home.
Get a Head Start on Kitchen Cabinet Color Ideas for 2023
The kitchen cabinet color trends of 2023 share a common focus of bringing a sense of calm and comfort to your home. Embrace fresh-painted custom-made cabinet doors to help update your kitchen space and give it brand-new energy. When you update your cabinet doors and drawer fronts with CabinetDoors.com, you can choose from a wide range of colors and finishes to give your home a rejuvenating appearance you will love.
On top of completely refreshing your kitchen, CabinetDoors.com helps you save money with wholesale prices. We are the manufacturer, so you won't ever have to pay for a middleman in the process. Instead, you can order directly from us online and have your new cabinet doors shipped directly from our factory to your front door. Let us help you transform your kitchen—contact us today to learn more about trending colors for kitchen cabinets or explore our full inventory.
FAQs about Kitchen Cabinet Colors in 2023
What is the most popular kitchen cabinet color?
While trends come and go with the years, the kitchen cabinet color that is the most popular choice is always white. White kitchen cabinets are crisp, classic, and timeless.
What kitchen trends are going out of style in 2023?
All-white kitchens are a trend of the past. This trend was once a clean, crisp home design - but now homeowners are leaning towards kitchen cabinet trends with more depth and dimension.
What kitchen cabinet trends to expect in 2024?
Minimalist home designs will continue to be popular in 2024 and beyond. However, instead of all-white kitchens with minimal details, we'll see more colors, different textures, and playful designs being incorporated.
What is the most popular cabinet style for 2023?
The most popular cabinet style is shaker cabinet doors. These cabinets have a timeless look and feel - and can complement a variety of kitchen cabinet trends.
What are the timeless design trends for 2023?
The most timeless design trend of 2023 is minimalism with a pop of color. Minimalism is a timeless kitchen design that will always look great and can be customized to complement your unique design preferences.