Everything You Need to Know About Cabinet Door Replacement Costs
Posted by Jim Hill on Jul 13th 2021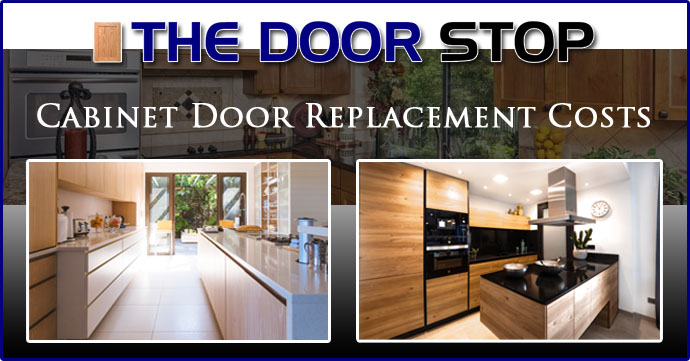 When you're doing home improvements or remodeling your home, the cost of the improvements is a part of the budgeting process. Two of the most popular remodeling projects in any home are the kitchen and bathroom, both of which typically have cabinetry. Replacing all of the cabinetry is not only costly, but it can be a time consuming process that leaves your room unusable for a longer period of time. However, if the cabinet boxes themselves are in good shape and it's just the doors that look worn, you can get the look of brand new cabinets by just replacing the cabinet doors. In that case, you might be wondering, "How much does it cost to replace cabinet doors?"
How Much Does it Cost To Replace Cabinet Doors?
There are several different factors to consider when you are determining the cost of replacing cabinet doors in your space. The cost of replacing cabinet doors is calculated by square foot. Some door styles are more complex and harder to make, and some wood species are more expensive. You will also need to factor in how you will be finishing the doors, and if boring and hinges will be needed for installation. Each of these factors will add to the overall cost of your cabinet doors and will be deciding factors in your overall budget.
When determining the type of finish you want on your cabinet doors do some research and reach out to a painter or paint supplier. They can help you decide if you should pull the DIY trigger, or not. If you decide against DIY finishing then you have the option of having Cabinetdoors.com paint your doors in one of their available Sherwin Williams colors, or if you are going with a natural look, we can finish them in a Clear Satin Conversion Varnish. The 3rd option would be to hire a local painter or finisher. An unfinished, paint grade door will be less expensive, while a professionally finished painted door will cost more. Keep in mind that, if you plan to paint or stain your replacement cabinet doors yourself, you should also incorporate the material costs associated with each step of that process when determining your final budget.
Different areas will have different costs and different ballparks, so we at Cabinetdoors.com can not give you a ballpark idea of what this can cost you. Just know that the following details are key, no matter where you live when planning a budget.
Cabinet door style
Cabinet door sizes
Wood species used
Cabinet door finish
Source for purchasing replacement cabinet doors
Cabinet Door Replacement Costs at Cabinetdoors.com
When you're replacing cabinet doors, the cost is an essential issue to consider. Depending on where you purchase your doors, you could end up paying significantly more, or less. At retail stores, you'll typically pay a markup of 30-50% over the price from the manufacturer, which ends up increasing your costs significantly. Want to avoid the markup? Just order online right from the manufacturer.
When you order your replacement kitchen cabinet doors from Cabinetdoors.com, you are ordering factory-direct, which means you don't have to pay a retail markup. Not only that, but when you order from us, you get a custom-sized product which can be ordered in any wood species or finish we offer. That means your replacement cabinet doors are made to your exact specifications, and then shipped from our factory directly to your door. So how do you calculate what replacing cabinet doors costs you?
The cost of cabinet doors is calculated per square foot, and the square foot price depends on the type of wood you select for the door style you choose. Since all replacement cabinet door orders are custom-made to the sizes you specify, you'll enter the exact size you need to determine your cost. Then choose your wood type and finish, and the Cabinetdoors.com order page will calculate the cost per door for you.
Cabinetdoors.com makes it easy to calculate your precise costs, so you know exactly what you can afford. We also offer hinges for purchase, and you can also pay a bit extra to have hinge pockets bored in each of the doors for easier installation, even if you don't purchase the hinges through us! At Cabinetdoors.com, we believe it should be easy to calculate your cost of replacing cabinet doors. Our website makes it easy, right down to shipping.
Cabinet Door Replacement Costs at Retail Stores
If you head to some of the popular big box hardware and home improvement stores, you can expect to pay higher prices than at Cabinetdoors.com. In fact, you should be prepared for prices an average of about 30-50% more per cabinet door. These higher costs are because you have to pay to cover the costs of the retail space. In other words, you're paying for a bunch of middlemen.
Because of those same middlemen, big box stores offer fewer customization options, so you actually end up paying more to get less. You won't find the same variety that you have access to at Cabinetdoors.com. Most retail stores require you to purchase the whole cabinet, and not just the doors. This means you will need to have your existing cabinets tore out, then schedule installation with the store. You may save money on the demolition if you do it yourself, but most retail stores require professionals to install their orders to uphold the warranty.
These days having to travel to a retail store and trying to find someone knowledgeable enough to assist you is significantly less convenient than being able to shop online and have your product shipped directly to you. In the end, the cost of replacing cabinet doors at a big box retailer often isn't worth it.
Cabinet Door Replacement Labor Cost
When answering, "How much does it cost to replace cabinet doors?" you also have to consider both the monetary and time cost of the labor for installation. You have a choice when replacing cabinet doors—you can install them yourself, or you can hire a professional to come and install them for you.
If you hire a professional, they may measure, source the cabinet doors, get the hinges, and then remove the old doors and install the new doors for you. Seems pretty simple, however, these labor costs can add up depending on who you hire. Instead, you can opt to install your cabinet doors yourself. This won't cost you a dime beyond the cost of your doors, but it could take a little extra time and effort. Especially if your a first-timer, or you work full time and are limited to the weekends when it comes to home improvement. If you don't currently have a good drill or screwdriver, you'll need to get those as well. However, from there, Cabinetdoors.com makes the process as easy as possible.
Cabinetdoors.com is proud to offer detailed text and videos on how to measure, order, and install replacement cabinet doors. This allows you to order your doors from us online, saving you a significant amount of money, and feel confident installing them yourself, saving you even more! We promise—you don't need to be an experienced contractor to perfectly hang your replacement kitchen cabinet doors in an afternoon. We've designed everything to be as user-friendly as possible. In fact, you might even enjoy the project if you're a DIY enthusiast.
Plus, when you do the job yourself you can work on your own schedule and call all the shots instead of settling for whatever a contractor can offer. You won't have to wait around for someone to make space in their schedule, and you won't have to pay for what you can easily do on your own. That said if you just don't have the time or confidence to install on your own, keep in mind that even if you do hire someone to finish or hang the doors, you still minimize your cabinet door replacement costs by ordering online with Cabinetdoors.com.
Other Potential Cabinet Door Replacement Costs
There are a number of costs that could be part of cabinet door replacement. When remodeling your home, kitchen, or bathroom, it's common to find hidden damage that needs repairs. As such, any time you're doing work in any part of your home, it's a good idea to plan for a little extra in your remodeling budget to cover potential unforeseeable costs. Here are some of the costs you should consider when it's time to budget for your replacement cabinet doors.
Other Potential Costs of Replacing Cabinet Doors:
Relocating, modifying, removing, or rebuilding any cabinetry that is damaged or in poor shape. If you have to move a sink, range, oven, or over-the-range microwave, there will be higher costs involved.
Repairing any hidden damage discovered while replacing cabinet elements, including frame damage, water damage, mildew, or mold.
Sales tax on supplies and materials.
New hinges and hinge-boring.
Finishing products, including sandpaper, paint, stain, or laminate.

Cleaning

, refinishing and repairing products for the existing cabinet boxes.
As anyone who has completed a big home improvement project with contractors can tell you, renovations are unpredictable and costs can rise quickly and unexpectedly. Knowing that you may opt to minimize your costs significantly by ordering your replacement cabinet doors from Cabinetdoors.com and installing them yourself. The cost of replacing cabinet doors doesn't have to be out of range. Let Cabinetdoors.com help you stay within your budget.
Save 30%-50% By Ordering Replacement Cabinet Doors at CabinetDoors.com Today
Ready to learn how to replace cabinet doors on a budget that works for you? When you are calculating the cost of replacing cabinet doors in your space, the biggest determining factor is often where you buy your replacement cabinet doors. There's no need to pay more at a big box retail store. Replace cabinet doors with Cabinetdoors.com and save yourself 30-50% off those big box store prices. Cabinetdoors.com is proud to offer high-quality, custom-sized replacement cabinet doors at excellent prices. We sell the same products that builders love to use directly to homeowners and at the same prices enjoyed by distributors. You get the replacement cabinet doors you want without having to pay the retail markup. Even better, you get your products delivered right to your door, without the hassle of navigating the retail experience! Everyone—from homeowners, interior designers, and contractors alike—can save on cabinet door replacement costs by making Cabinetdoors.com their source for replacement cabinet doors today.
We're confident we can help you replace cabinet doors in your home as quickly and easily as possible, all while keeping costs low. And, because we guarantee our workmanship, you can be confident when you buy our products online, too. Explore our extensive selection of cabinet doors and get inspired for your project today. If you have any questions, we invite you to contact us online or by phone at 800-342-1010. When it comes to cabinet doors, Cabinetdoors.com always delivers.