Everything You Need to Know About Cabinet Door Replacement Costs
Posted by Jim Hill on May 17th 2022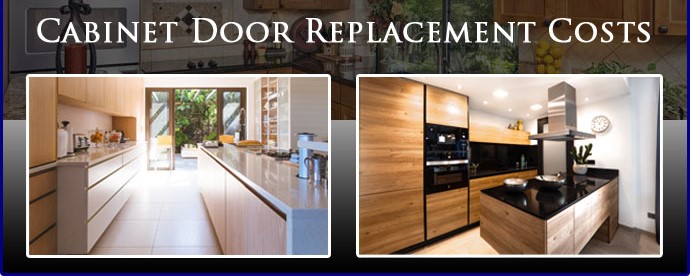 When planning a remodeling project, you are likely to get a headache from the budgeting process. The cost of materials and labor that go into remodeling your kitchen or bathroom can add up very quickly. Fortunately, you have the option of saving both time and money by reconsidering the need to tear apart the cabinets in these rooms.
Replacing your cabinet doors is a cost-effective way to give your kitchen or bathroom a brand-new remodeled look without tearing out all your cabinets. In that case, you might be wondering, "How much does it cost to replace cabinet doors?"
Is It Cheaper To Just Replace Cabinet Doors?
When you are ready to remodel your kitchen or bathroom, your first instinct may be to completely remove your cabinets and add new ones. However, replacing your cabinet doors is a great way to remodel your space without overcomplicating the process. By opting to replace just your cabinet doors instead of your entire cabinets, you save yourself time, money and labor while still providing a refreshed look to your space. Purchasing new cabinet doors is far less expensive than purchasing the materials to reconstruct all new cabinets.
By replacing just the doors, you also reduce labor costs by reducing the time the project will take. If you want to skip the costs of labor entirely, replacing cabinet doors makes a much easier DIY project than replacing the entire cabinets. Plus, when you buy new cabinet doors, you can easily choose your desired finish or paint them yourself to complete your ideal look, providing you just as much value as a complete remodel. Ultimately, replacing just your cabinet doors offers several benefits and is a great option to remodel your kitchen or bathroom without spending a fortune on contractors and materials.
How Much Does It Cost To Replace Cabinet Doors?
There are several different factors to consider when you are determining the cost of replacing cabinet doors in your space. New cabinet doors are priced per square foot. The price is calculated based on the type of wood, the style of the door, the finish of the door and whether you will need to include new boring and hinges. Replacing kitchen cabinet doors costs more when door styles are more complex and wood species are more expensive. The type of finish for a door will also greatly affect the cost.
When determining the type of finish you want on your cabinet doors, you can consider reaching out to a local painter, doing it yourself or the option of having Cabinetdoors.com paint your doors in one of their available Sherwin Williams colors. If you are going with a natural look, we can finish them in a Clear Satin Conversion Varnish. Keep in mind that an unfinished, paint-grade door will be less expensive than a professionally finished painted door. If you plan to paint or stain your replacement cabinet doors yourself, you should also incorporate the material costs associated with each step of that process into your final budget.
Because prices vary based on location, it is impossible to give an exact estimate of the prices of your cabinet doors. Prices will also vary widely depending on the style of doors you choose for your project. Regardless of location, all of the following factors are standard in determining the total cost of your cabinet doors.
Cabinet door style
Cabinet door sizes
Wood species used
Cabinet door finish
Source for purchasing replacement cabinet doors
For a more detailed estimate, contact us with the above information once you have decided on your vision for your cabinet door replacement project.
Cabinet Door Replacement Costs at Cabinetdoors.com
Depending on where you purchase your doors, you could end up paying significantly more. At retail stores, you'll typically pay a markup of 30-50% over the manufacturer's price. Ordering online right from the manufacturer can save you from unnecessary markups.
When you order your replacement kitchen cabinet doors from Cabinetdoors.com, you are ordering factory-direct. Plus, when you order from us, you get a custom-sized product made with the wood species and finish of your choosing. That means your replacement cabinet doors are made to your exact specifications and then shipped from our factory directly to your door. So how do you calculate what replacing cabinet doors costs you?
Cabinetdoors.com makes it easy to calculate your precise costs. All replacement cabinet door orders are custom-made to the sizes you specify and priced accordingly. When you order your cabinet doors from Cabinetdoors.com, you will enter the exact size you need, your preferred wood type and desired finish, and the Cabinetdoors.com order page will calculate the precise cost per door for you.
We also offer hinges for purchase, and you can also pay a bit extra to have hinge pockets bored in each of the doors for easier installation, even if you don't purchase the hinges through us! At Cabinetdoors.com, we believe it should be easy to calculate your cost of replacing cabinet doors. Our website makes it easy, right down to shipping.
Cabinet Door Replacement Costs at Retail Stores
If you head to some of the popular big box hardware and home improvement stores, you can expect to pay higher prices due to 30-50% markups per door. Big box stores offer fewer customization options, so you actually end up paying more to get less. Retail stores are typically more limited in their options and do not offer as much variety as online stores like Cabinetdoors.com, which allows you to choose your preferred wood, style and finish.
Additionally, most retail stores require you to purchase the whole cabinet rather than just the doors. This means you will need to have your existing cabinets torn out, then schedule installation with the store. You may save money by doing the process yourself, but most retail stores require professionals to install their orders to uphold the warranty. All of this, on top of the time it takes to travel to a retail store and explore your options, makes the process more difficult, especially when you can shop online and have your ideal product shipped directly to you.
Cabinet Door Replacement Labor Cost
When answering, "How much does it cost to replace cabinet doors?" you should consider that labor costs are one of the biggest factors. When replacing your cabinet doors, you can either choose to hire a professional or save money by taking on the project yourself.
If you hire a professional, they charge based on the time it takes to complete the project. The process will include measuring, sourcing the cabinet doors and hinges, removing the old doors and installing the new ones. All of this will factor into your final labor costs.
If you opt to install your cabinet doors yourself, you will only need to factor in the cost of materials. However, before you decide to do so, you should consider the added time it will take, the tools necessary and how comfortable you are with the installation process.
For those who have less experience with replacing cabinet doors, Cabinetdoors.com offers detailed information and videos that describe how to measure, order, and install replacement cabinet doors. Our goal is to provide you with the materials and resources necessary to make your cabinets look brand new without breaking the bank.
Other Potential Cabinet Door Replacement Costs
During the process, you may have unforeseen costs that arise. When remodeling, it's common to find hidden damage that needs repairs. Therefore, it's a good idea to plan extra room in your budget to cover potential costs. Here are some of the costs you should consider when it's time to budget:
Relocating, modifying, removing, or rebuilding any cabinetry that is damaged or in poor shape. If you have to move a sink, range, oven, or over-the-range microwave, there will be higher costs involved.
Repairing any hidden damage discovered while replacing cabinet elements, including frame damage, water damage, mildew, or mold.
Sales tax on supplies and materials.
New hinges and hinge-boring.
Finishing products, including sandpaper, paint, stain, or laminate.

Cleaning

, refinishing and repairing products for the existing cabinet boxes.
Renovations are unpredictable, and costs can rise quickly. Ordering your cabinet doors from Cabinetdoors.com provides you with an added degree of certainty, as you can rely on quality cabinet doors at reasonable prices that will not cause your budget to skyrocket.
Save 30%-50% By Ordering Replacement Cabinet Doors at CabinetDoors.com
Where you buy your replacement cabinet doors has a significant impact on the cost to replace cabinet doors. Replace your cabinet doors through Cabinetdoors.com and save yourself 30-50% off big box store prices. Cabinetdoors.com is proud to offer high-quality, custom-sized replacement cabinet doors at the same prices enjoyed by distributors. Even better, you get your products delivered right to your door and without the hassle of navigating the retail experience!
Explore our extensive selection of cabinet doors and get inspired for your project today. If you have any questions, we invite you to contact us online or by phone at 800-342-1010.