How to Clean Kitchen Cabinets: Best Wood Cabinet Cleaners
Feb 7th 2023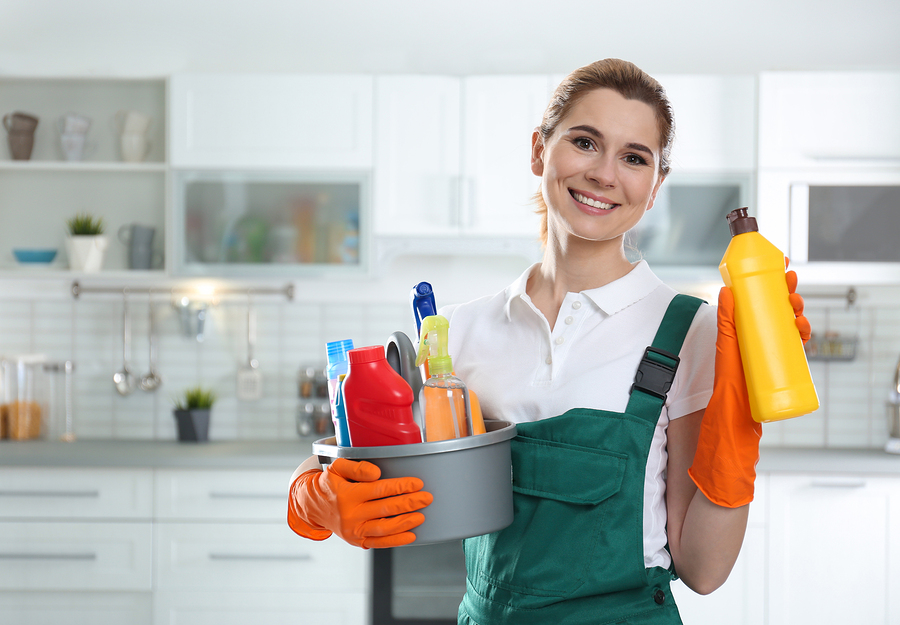 Your kitchen is a busy place, and messes can reach every part of it, including your cabinets. When it comes time to clean the mess off your kitchen cabinets, you might be hesitant, not wanting to ruin them without knowing the best cabinet cleaner for wood. After all, choosing the wrong cabinet degreaser could negatively impact the finish of your kitchen cabinet doors. Fortunately, there are plenty of friendly wood cabinet cleaners out there, and cleaning your wood cabinets is not stressful when you know what to look for. To help you keep your kitchen in its best shape, we at CabinetDoors.com are here to explore how to clean your kitchen cabinets, the best cleaner for your kitchen cabinets, and the best way to clean your kitchen cabinets.
How to Clean Kitchen Cabinets
If you're like most people, cleaning kitchen cabinets is probably not on your regular to-do list, but you should make a point to occasionally clean all your cabinets, and at least yearly. A good cleaning refreshes the look of the cabinets by wiping away dust, dirt, grease, grime, and fingerprints.
Regular cleaning not only makes your cabinets look better, but it also makes your cabinets—which you touch every day—more sanitary. Proper cleaning also helps preserve the wood and helps the finish on your cabinets last longer. However, cleaning wood cabinet doors incorrectly or with the wrong products can damage the finish or the wood itself. Knowing what wood cabinet cleaner to use and how to clean kitchen cabinets correctly is crucial for their longevity.
What Is the Best Wood Cabinet Cleaner?
The best product to clean wood cabinets is a solution without harmful chemicals. When looking into how to clean wood cabinets, it's tempting to start cleaning your cabinets with whatever product you happen to have under the sink. However, you could unintentionally do a lot of damage to your cabinet doors.
Standard kitchen cleaners are formulated with strong chemicals designed to cut through stains on hard surfaces like tile, granite or steel. No matter the finish, your cabinets and cabinet doors are made of wood. Whether you're addressing damage like water stains or just keeping them looking their best, your cabinets need to be treated with care, just like any other wood furniture.
Even though cabinets can build up a lot of grease and food residue, you should avoid harsh cleaners. These products might get the grease off, but they're also likely to take some of the finish off too. You should also avoid abrasive scrubbing cleaning products or tools, including stiff-bristle brushes or stainless-steel pads. These will do more scratching on the surfaces of your cabinets than cleaning. In general, the best cleaner for wood cabinets is a mild cleaning product and gentle tools.
The Best Options for Cleaning Wood Cabinets
The good news is that the best products to clean cabinet doors are probably in your house right now. And if they're not, you can find them at your grocery store for a low cost. In fact, the best cabinet cleaner for wood is actually a homemade DIY cabinet cleaner. You can use just one of the suggested products below, or if your cabinets have very tough buildup or stains, you can combine any of these products to increase their effectiveness:
1. Dish soap
Dish soap is easily the best cabinet degreaser for your kitchen. Most of the build-up on your cabinet doors is grease from cooking or food preparation, and dish soap is specially designed to remove grease from your dishes. To use dish soap as a homemade wood cabinet cleaner, squirt a small amount of dish soap into a large bowl or bucket and fill it with warm water. Use a non-abrasive sponge or a cloth to clean your doors with this DIY cabinet cleaner.
2. Vinegar
If your cabinets have a thicker, stickier residue on them, you may need something acidic like vinegar to cut through it. Mix one part distilled white vinegar with two parts warm water in a spray bottle, and then mist it onto the cabinet surface. Don't fully soak your cabinets, and don't let the vinegar sit for too long. This solution is also great for cleaning grime and fingerprints off metal door hardware. If the vinegar solution alone isn't tackling sticky grime, adding a few dish soap drops should help.
3. Baking soda
You can tackle the toughest stains, like splattered tomato sauce, with a paste made from baking soda and water. Apply it to the problem area with an old toothbrush or sponge and scrub the area lightly. Be careful not to scrub too hard, or you'll damage the cabinet doors. Then rinse with water and clean the area with a dish soap solution if necessary.
All of these products are capable of removing kitchen-related stains and grime, but more importantly, they are gentle and free of harsh, abrasive chemicals. With each of these wood cabinet cleaners, you can be sure that you will not damage the sealant, stain, paint or wood.
You may come across other products advertised for cleaning wood cabinets, but there is no guarantee that they are harmless to all materials and types of cabinet doors. By using these household cabinet degreasers, you can be assured that you will not damage your cabinet doors or reduce their lifespan.
How to Clean Kitchen Cabinets Without Removing The Finish
Once you know which cleaners are the best to use on your cabinets, you should also be sure to use the proper technique to maximize their benefits and prevent harm to your cabinet. For the best way to clean your kitchen cabinets, follow these steps:
Start by choosing a cloth that will not damage or remove the finish on your cabinets. Although rags, sponges or paper towels will work, microfiber cloths are the ideal choice for gently cleaning your cabinet doors.
Apply your cleaning solution directly to your cloth rather than the cabinet itself to avoid oversaturating your cabinets.
Start at the top of the cabinet and work your way down, wiping from side to side. Be sure to get the sides, tops, and underneath the cabinet doors, and be careful to get into the grooves and crevices if your doors have a lot of detail.
Clean under the cabinet overlay and clean the faces and sides of the cabinet boxes themselves. Wipe down the hardware as well, as it can get dirty over time, too.
Once the cabinets are clean and free of grease, food residue, dust, and fingerprints, wipe the doors again with a clean, moist cloth to remove any residue from the cleaning solution.
Then, go back one more time with a dry cloth to remove any moisture. Too much moisture can harm wood cabinet doors and their finish, so make sure you don't saturate the doors with cleaner or leave them wet.
These steps also apply to those wondering how to clean painted cabinets. When cleaning wood cabinets with glass panels, apply a standard glass cleaner to a clean cloth and wipe carefully, avoiding getting the glass cleaner on the wood. If you do get any glass cleaner on wood, use the gentle dish soap DIY cabinet cleaner to prevent your finish from being damaged.
Staying on Top of Maintenance Cleaning
Although these cleaners are great for reducing grime and tough stains, it is crucial to emphasize the importance of cleaning your cabinets regularly. The best way to clean kitchen cabinets is to avoid messes from building up at all. Spending a few minutes each month cleaning your wood kitchen cabinets is a lot easier than deep cleaning all your cabinets on a yearly basis.
Prevent grime from building up by lightly dusting or wiping the cabinet doors every few weeks or whenever you wipe down your kitchen countertops. Doing a deep cabinet spring cleaning is always a good idea too.
It's also helpful to be proactive about cleaning wood cabinets—always wipe up spills and splatters on your doors as soon as they happen. The longer those splatters stay on your cabinet doors, the harder they are to clean and the more likely they are to stain the cabinet finish. Especially when caring for new cabinet doors, these tips will go a long way.
Additionally, you can preserve the integrity of your cabinets, doors, and finish by moving your coffee pot, kettle, toaster, or pressure cooker away from your cabinets to prevent steam from billowing up into the cabinets and cabinet doors. The excess moisture can warp the wood, damage the finish, and trap dust and dirt against the surface.
When Cleaning Cabinet Doors Isn't Enough: Try Replacing Your Cabinet Doors
Even when following excellent cleaning habits and using the best cabinet cleaner for wood, kitchen cabinet doors will naturally wear out over time. If you notice that your cabinet doors appear faded, worn or stained, even after cleaning, it might be time to replace them. Fortunately, you can replace your cabinet doors without replacing your entire cabinet frame, and for a reasonable price.
Brand new cabinet doors can completely refresh the look of your kitchen, and Cabinetdoors.com has hundreds of styles to choose from, along with multiple finish options to help you select replacement cabinet doors you'll love. You can order customized cabinet doors in the exact style, wood species, finish, and size you need.
CabinetDoors.com manufactures custom cabinet doors and provides them directly to the consumer, cutting out the middleman and bypassing retail markup prices. With CabinetDoors.com, you get custom cabinet doors factory-direct at a great price, allowing you to replace your cabinet doors at a much more affordable and budget-friendly rate.
Since we custom-build each door to your specifications, you get new cabinet doors that fit perfectly every time, even if you have an older home or unusually sized cabinets. We build your cabinet doors and send them from our factory right to your door in just a few weeks.
Keep Your Kitchen Cabinets in Their Best Shape
Knowing how to clean kitchen cabinets and which wood cabinet cleaner to use will go a long way toward preserving the life of your cabinets. However, if your cabinets need more than a deep clean, consider replacement cabinet doors from CabinetDoors.com.
Take some time to explore our selection before learning about our easy ordering process and making your order. If you have questions at any point, contact us through our website, call our team at 800-342-1010, or email us at sales@cabinetdoors.com.