5 Benefits of Replacing Your Cabinet Doors
Feb 18th 2020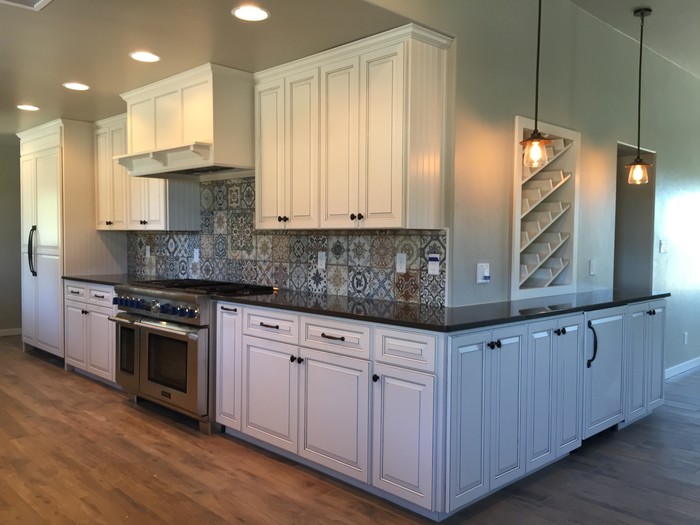 Replacing your cabinet doors doesn't sound like the most exciting home improvement project. But the minute the final door is hung, you will wonder why you didn't do this sooner. In this piece, we will help you decide whether it's time to replace your existing doors and also show you why this particular project is considered one of the most popular kitchen trends of 2020.
Signs It Is Time to Replace Your Cabinet Doors
Since you look at your cabinet doors every day, you don't notice how much they decline with age and abuse. With that in mind, take a step back and evaluate your cabinet doors objectively. Ask yourself how do they look, are there obvious signs of wear and tear, is the style still acceptable, and do they function properly? Maybe most importantly, do you still like the doors or does something specific bother you about them? The answers to all these questions will help you decide if now is the time to reflect the latest kitchen designs with replacement cabinet doors
Cabinet Door Debate: Replace or Refinish?
You can also refinish your cabinet doors – meaning you strip off the current finish and then stain or paint the doors to look however you like. This economical option appeals to a lot of people, especially because a new color can transform a space. However, refinishing won't fix structural damage to the doors or resolve functional issues, so the doors will still basically look and feel as old as they were before. The door style (the details and embellishments) underneath the new finish won't change either, which limits how much you can transform a space. Refinishing certainly deserves your consideration, especially if you like your current doors and like DIY projects, but it's not a fix for everything. Replacement is.
Benefits of Replacing Cabinet Doors
Some call it a "designer's secret" and others label it a "homeowner's hack." By any name, replacing your cabinet doors is the kind of low-cost, high-impact project that people get excited about. In fact, replacing your cabinet doors is one of the best ways to spend time and money upgrading your home. When you see all the benefits, we think you'll agree:
Maximize Your Budget – Replacement cabinet doors cost a fraction of what it would cost to replace all your cabinets or remodel your entire kitchen. Yet when you replace just the doors, it makes the room look and feel completely different – as if you had done a lot more work and spent a lot more money than you actually had. If you want to make a big impact on a small budget, you won't regret a single penny you spend on replacement cabinet doors.
Streamline Your Timeline – Even minor kitchen upgrades can take days to complete, leave you without a functioning kitchen, and create a mess throughout your home. Replacement cabinet doors are just the opposite. Hanging them up takes about one afternoon and creates little to no mess in the process. Don't assume you need to throw your kitchen into chaos to make it look how you want. Simply replace the cabinet doors instead.
Update Your Style – Popular kitchen trends you will see in 2020 include using glass-fronted cabinet doors or designing with the rich, rustic look of cherry. No matter which popular kitchen trends catch your eye, you can easily reflect them in your own home using replacement cabinet doors. Pick from a huge assortment of popular styles, finish the doors however you like, hang them up, and marvel at how contemporary and current your kitchen looks. When you need to bring your kitchen up to date, start with different cabinet doors.
Complement Your Work – If you've made other upgrades in or around the kitchen, why not replace the cabinet doors as well? After all, it's a relatively affordable and accessible project that elevates everything in the space. Replacement doors may be all you need to cap your project off and complete the transformation of the space. That means the next time you buy new appliances, replace your counter-top and backsplash, or redo the kitchen floors, think about redoing the doors too.
Improve Your Skills – One of the reasons why replacing your cabinet doors is so quick and low cost is because you don't need to hire a contractor. You also don't need special experience, expertise, tools, or materials. This is the kind of DIY project that almost anyone can accomplish, which will not only teach you new skills but also save you a lot of money and time spent waiting for a contractor. Maybe the most satisfying benefit is the feeling of success and skill that comes from completing a big home improvement project on your own. For many, that feeling can't be beat.
Cabinetdoors.com – Your Source for Replacement Cabinet Doors
Replacing your cabinet doors is never a bad idea…as long as you pick the right company to make the replacements. Many companies will charge you too much, take too long to deliver the doors, or give you a limited inventory to choose from. But not Cabinetdoors.com. We became the Internet's leading supplier of replacement cabinet doors by making the process easy, exciting, and effective. If you want to reap the benefits outlined above, count on us to deliver. Start by exploring this selection.