History of the Shaker Cabinet Door
Nov 18th 2021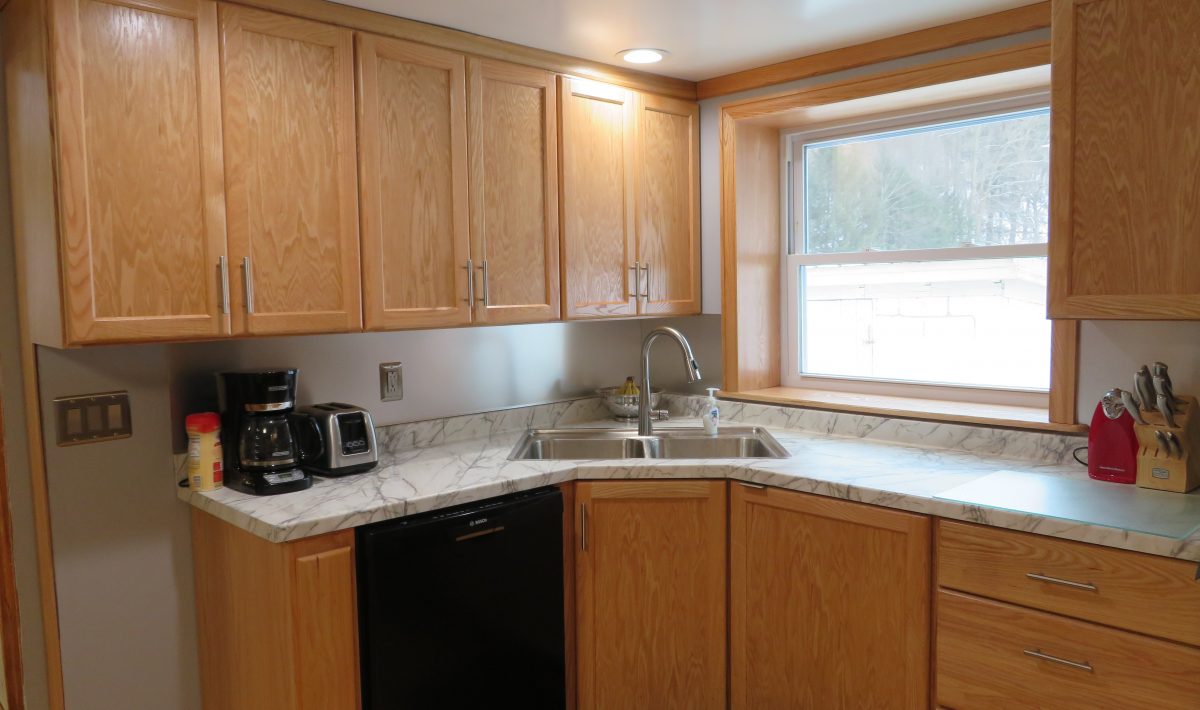 Shaker Cabinet Doors have been consistently popular for hundreds of years and they are still chosen today to be incorporated into homes and offices across the country. Not only do they offer a simple and clean design element in any room, but they also have that classic feel that makes them work with any decor or design aesthetic.
To help you appreciate how and why Shaker cabinet doors have become so iconic, we've put together a brief Shaker door history. Read on to learn who created Shaker style cabinets in the first place, and why the style is still so popular.
What is The Shaker Style Cabinet Door?
Shaker cabinet doors are cabinet doors built with cope and stick construction with a simple ¼" recessed panel in the center. The edges of the frames are clean and square, giving the door a simple yet refined look. That explains the Shaker cabinets definition, but to fully understand the style of Shaker Cabinet Doors and why they were designed this way, it's helpful to know a little about the Shaker community. Learning a bit about Shaker history will help you understand why this style was originally created the way it was.
Shaker Furniture History
The history of Shaker cabinets begins with the history of the Shakers themselves. In 1774, a group of English Quakers emigrated to America seeking religious freedom and a simple, communal lifestyle. They also had a penchant for ecstatic movements and dancing during religious worship, causing them to be known as "Shaking Quakers." This nickname was later shortened to Shakers.
The Shakers' core values were centered on humility, equality, integrity, pacifism, inclusion, and innovation. Shaker communities were largely self-sufficient and put community needs above the needs of the individual. The Shakers grew their own food, made their own tools, and, most enduringly, built their own furniture. The focus was on utilitarian design that was simple and practical, yet of exceptional quality and made to last. The quality of the materials and craftsmanship was highlighted, but never unnecessarily ornamental. It was with these very focuses in mind that Shaker Cabinet Doors were born.
In the original Shaker kitchen, Shaker Cabinet Door styles were built with woods easily accessed by the Shaker community. Birch, cherry, pine, maple, and oak were all common materials used to create Shaker furniture, and it was often stained or painted in simple colors that identified the particular Shaker community that made them.
The simple beauty of the Shaker door design spread to the rest of the world when Shaker communities began selling surplus furniture. The simplicity of the design made it relatively easy for the Shakers to produce high-quality furniture and in high volumes. Aiding that effort was the fact that the Shakers were quick to adopt the first generations of power tools, helping them further improve production. People appreciated the Shakers' restrained style and focus on quality, creating a consistent demand matched by a steady supply. Appreciation of this style continues today.
Shaker communities went into decline after the Civil War, and by the early 20th century they were nearly gone. Thankfully, Shaker furniture history was extensively documented in photographs, and many stunning pieces of furniture were preserved. It is largely thanks to that preservation effort that the Shaker Cabinet Door and other original Shaker kitchen and household designs continue to be popular today.
The Enduring Appeal of Shaker Cabinet Doors
It's amazing to think that such a small religious community that only lasted around 150 years was responsible for one of the most universally popular furniture styles of all time. Shaker Cabinet Door styles rank alongside Scandinavian and Southwestern design in terms of widespread popularity and long-term appeal. Arguably, Shaker Cabinet Doors are as popular now as they were in 1850.
To understand why, you only need to look at the doors themselves. While some might call the simplicity of the design bland or boring, they'd be missing the beauty that comes with a simple design. Ultimately, simplicity and humble beauty is the heart of the Shaker cabinets definition and exactly the point of this design. It also explains the enduring appeal of the Shaker design. Shaker doors are meant to blend in rather than stand out. They exist to complement the rest of a design, not become the focal point. People choose these doors because they fit seamlessly into any space. In place of bold looks they offer quality, consistency, longevity, and simplicity—exactly what a lot of people want in cabinet doors.
Why Should You Choose a Shaker Cabinet Door Design?
A Shaker Cabinet Door has a timeless appeal, and because of it's simple beauty, it works in nearly any style of room. From modern to classic to traditional homes, a Shaker door will fit right in. Even better, if your style changes in a few years, you can count on the fact that a Shaker Cabinet Door will work with your new style.
Because a Shaker door is so unassuming, it's able to work in nearly any finish or color. While white Shaker doors are both a common and a classic choice, you can also opt to paint these doors in nearly any color of the rainbow. You could also choose to honor Shaker door style history with a more natural look that allows the wood to sing. In that case, opt for a simple stain or dye, or even a clear lacquer, to let the wood be the star of the show.
Shaker style cabinet doors are also adaptable when it comes to hardware. You could opt to skip hardware altogether, or choose a simple pull or handle that compliments the simple design of the door. Alternatively, because this style of cabinet door is so clean and versatile, you could also choose a more ornate handle or pull to suit your own aesthetic. While this isn't quite in keeping with the Shaker's original style, the doors are versatile enough to work with nearly any design choice.
If you're interested in finding a cabinet door that will work with any design aesthetic and highlight the quality of the construction and the materials used, a Shaker door design is the perfect fit for you. Since you can customize it in terms of wood type, finish style and color, and choice of hardware, you really can make a Shaker Cabinet Door design work for you in nearly every space. This style has stood the test of time, and it will continue to shine in your home as the years go on.
Get Your Shaker Doors from Cabinetdoors.com
For more than 40 years, we have been manufacturing high quality cabinet doors for customers all across the country. Cabinetdoors.com has been online longer than any other cabinet door manufacturer, and as such, we're proud to say we're experts in the field. We offer custom-built cabinet doors to builders, contractors, and homeowners alike, and the Shaker Cabinet Door is easily one of our best sellers!
At Cabinetdoors.com, you can get your cabinet doors made to your exact specifications, so you'll get the wood type, finish, and size you need. This is especially important with Shaker doors since the simplicity requires the doors to be built well. However, just because you're getting a custom-built product, doesn't mean you have to overpay. When you order your cabinet doors from us, you'll pay 30-50% lower prices than you'd find in a big box retail store. Making your purchase from Cabinetdoors.com allows you to skip the middleman, so you won't have to pay the retail markup that covers the retail space and sales people. Instead, you'll just pay for your product, which will be shipped from our warehouse directly to you.
Additionally, since we've been building cabinet doors for more than four decades, you can trust that we know how to build quality products with quality materials. Every wood species we offer is high quality and chosen for its consistency and durability. Shaker doors were originally built for lasting function, and the doors we manufacture follow in that tradition. Our cope and stick joints are strong and durable, but they also allow the wood to move naturally with fluctuations in humidity and temperature so that it doesn't warp. Interested in getting matching drawer fronts? We offer those as well, so you can redesign your entire space, even if you're only replacing the cabinet doors and drawer fronts.
Replacing your old cabinet doors with Shaker doors can be a win-win because it requires a smaller budget than a full kitchen remodel and adds value to your home without having to live through a major overhaul of the space. To renew your space with new cabinet doors, follow our "how to" measuring guide and go through our easy ordering process on our website. You'll receive your cabinet doors, built to your exact specifications, in a matter of a few short weeks. Once they arrive at your door, they're ready to install and hanging them yourself is easy. Check out some of our recent customer reviews to learn more about our work, and consult our FAQ page to get answers to common questions.
We're proud of our products and our expert team members, and we're confident you'll be satisfied with your cabinet doors. If you're ready to get started, or have any questions about our products, the ordering process, or installation once they arrive, feel free to contact us online or by phone at 800-342-1010. When it comes to Shaker Cabinet Doors, Cabinetdoors.com always delivers.