White Shaker Cabinets Design Guide
Posted by Jim Hill on Nov 30th 2021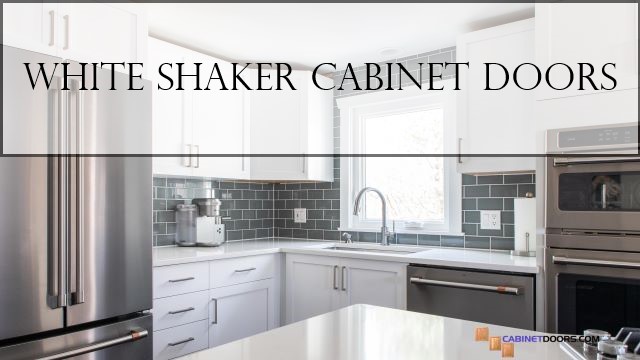 If you're searching for white Shaker Cabinet Doors for sale for your kitchen or bathroom, they are available from Cabinetdoors.com! We are proud to offer white Shaker kitchen cabinet doors straight from the factory. You measure for the cabinet door sizes that you need, go to the Shaker Cabinet Doors page, and then select the "Painted High Reflective White" option listed under "Select a Wood Type."
You'll receive Shaker Cabinet Doors that are professionally finished in Sherwin-Williams conversion varnish. This durable varnish is ideal for white Shaker style kitchen cabinets that can stand up to daily use in your kitchen.
What Is A Shaker Cabinet Door?
A Shaker Cabinet Door is made in the style of Shaker furniture. A Shaker door features 5-piece cope and stick construction, with four frame pieces and a panel set within the frame. Cope and stick is a type of wood joinery that has top and bottom frame sections that fit into the edge frame sections. Shaker Cabinet Doors feature a flat,1/4" inset center panel.
White Shaker Cabinets
If you're looking for a cabinet door that can work with a variety of different design aesthetics, white Shaker cabinet doors are the ideal solution. This simple style works just as well in contemporary homes as it does traditional homes, and can bridge the gap between one style and another. The simplicity of the cabinet door design makes it highly versatile, so even if you're adding all new cabinet doors and drawer fronts, using the Shaker doors means you won't have to worry about committing to a certain look.
Moreover, white Shaker cupboards have been in style since they were first created, and they don't show any sign of going out of style any time soon. That's because this clean look adapts to your decor, and white cabinets can work well in a variety of different home styles. Modern white Shaker kitchen cabinets feel fresh and clean in a contemporary space, while you can just as easily create a farmhouse kitchen with white Shaker cabinets. In short, no matter what aesthetic you're after, you can feel confident that white Shaker doors will work well within your design scheme.
White Shaker Cabinet Door Advantages
White shaker kitchen cabinet doors have seen an explosion in popularity once again in recent years. This is due to a number of different factors, including versatility, neutrality, durability, Pinterest, and more. Let's take a closer look at some of the reasons many people choose to incorporate white Shaker cupboards throughout their home.
Clean & Airy Look
Today's kitchens and bathrooms are made to be bright and welcoming, while the days of darker colored woods in these rooms have mostly passed by. That's because many homeowners feel dark woods make these rooms, which frequently have fewer windows, feel smaller and cramped. The white color on Shaker doors makes the room feel bigger and lends a sense of cleanliness and freshness, which is why a white Shaker cabinets kitchen design can really make a space feel open and bright.
Neutral Color & Design
White shaker kitchen cabinet doors are neutral, so they fit in with virtually any design you've already got going. Even better, they will still look great even if you want to change the style of your kitchen or bathroom. The design of Shaker Cabinet Doors is also is also simple and clean, which gives you the freedom to change the style of other details in the room, too.
Durable Cabinet Door Design
At Cabinetdoors.com, our Shaker Cabinet Doors are built to last with durable cope and stick joints. The design features an inset ¼" MDF center panel, which resists size changes and warping due to variations in humidity. Every door we manufacture is built to your exact measurements using the latest industrial precision woodworking machines. For white Shaker Cabinet Doors, we offer professionally applied high quality, long lasting Sherwin-Williams conversion varnish to ensure that your white painted finish lasts a good long time.
Perfect For Any Room
White Shaker cabinet doors feature a timeless design and neutral color that makes them perfect for any cabinetry in your home. From the kitchen and bathroom to the laundry room, home office, or even the living room, white Shaker Cabinet Door designs give your home a timeless look.
Design Ideas for White Shaker Cabinet doors
There's no shortage of ways to design a room using white Shaker kitchen cabinet doors. While these aren't the only options available to you, here are a few ideas to get you inspired and ready to design your space!
Modern
A contemporary space should feel sleek and clean. Modern white Shaker kitchen cabinet doors lend a simple design element to the room, while keeping the cabinetry neutral and unadorned. Add minimal accessories and recessed lighting or a large glass globe pendant for a space that feels intentionally designed and thoughtfully polished.
Traditional
A more traditional home can move in any number of design directions, though it typically has softer edges and a bit of a warmer feel. Whether you go with cozy or traditional elegance, consider antique white Shaker cabinet doors to incorporate some warmth while still keeping things neutral. Shaker doors with glass panels can add visual interest to any traditional space, regardless of the specific design aesthetic.
Rustic
A rustic home can incorporate styles from cabin chic to farmhouse modern. If you're after a farmhouse kitchen, white shaker cabinet doors add a brightness that helps keep the space from feeling dated. For a home with more of a cabin chic feel, consider incorporating wood beams and butcher block countertops with your white Shaker cabinet doors that feel cozy and rustic in the space.
Shop For White Shaker Cabinet Doors
If you're looking for the timeless and clean style that white Shaker cabinets bring to your home, Cabinetdoors.com can help! When you buy from us, you're buying directly from our factory, so you get to skip the retail middleman. As the manufacturer, we sell directly to cabinetry shops, contractors, builders, and retail locations, as well as to homeowners like you. We offer homeowners the ability to order their doors at the same wholesale pricing that was only accessible by ordering in volume before. Not only will you save yourself time and hassle by skipping the middleman, but you'll save money, too.
If you're ready to create the white Shaker cabinets kitchen design of your dreams, let Cabinetdoors.com supply you with the Shaker doors you need in a durable finish. Our Sherwin-Williams conversion varnish is designed to stand up to everyday use. This is especially important in kitchens and bathrooms, where the humidity can rise frequently and cabinet doors can get banged up quickly without the right finish. We have high quality white Shaker doors that can withstand daily use. Not only that, but our cabinet doors are built to your exact specifications, so you can be sure that they'll fit your cabinets exactly.
We have been manufacturing cabinet doors for over 40 years, so you can trust that we have the experience and the know-how to create a quality product that exceeds your expectations. We're committed to offering quality products and great service to each and every customer and we are confident that you'll be satisfied with the cabinet doors you purchase from us. As such, we guarantee our workmanship, so you can feel good about making your order.
Get started on a bright, new kitchen today by ordering white Shaker doors from Cabinetdoors.com. Begin by exploring our photo gallery or blog for inspiration for your kitchen upgrade, or just go ahead and make your order. Either way, if you have any questions or need assistance, we're happy to help. Contact us online or give us a call at 800-342-1010 and we'll make sure we get you taken care of. When it comes to white Shaker doors, Cabinetdoors.com always delivers.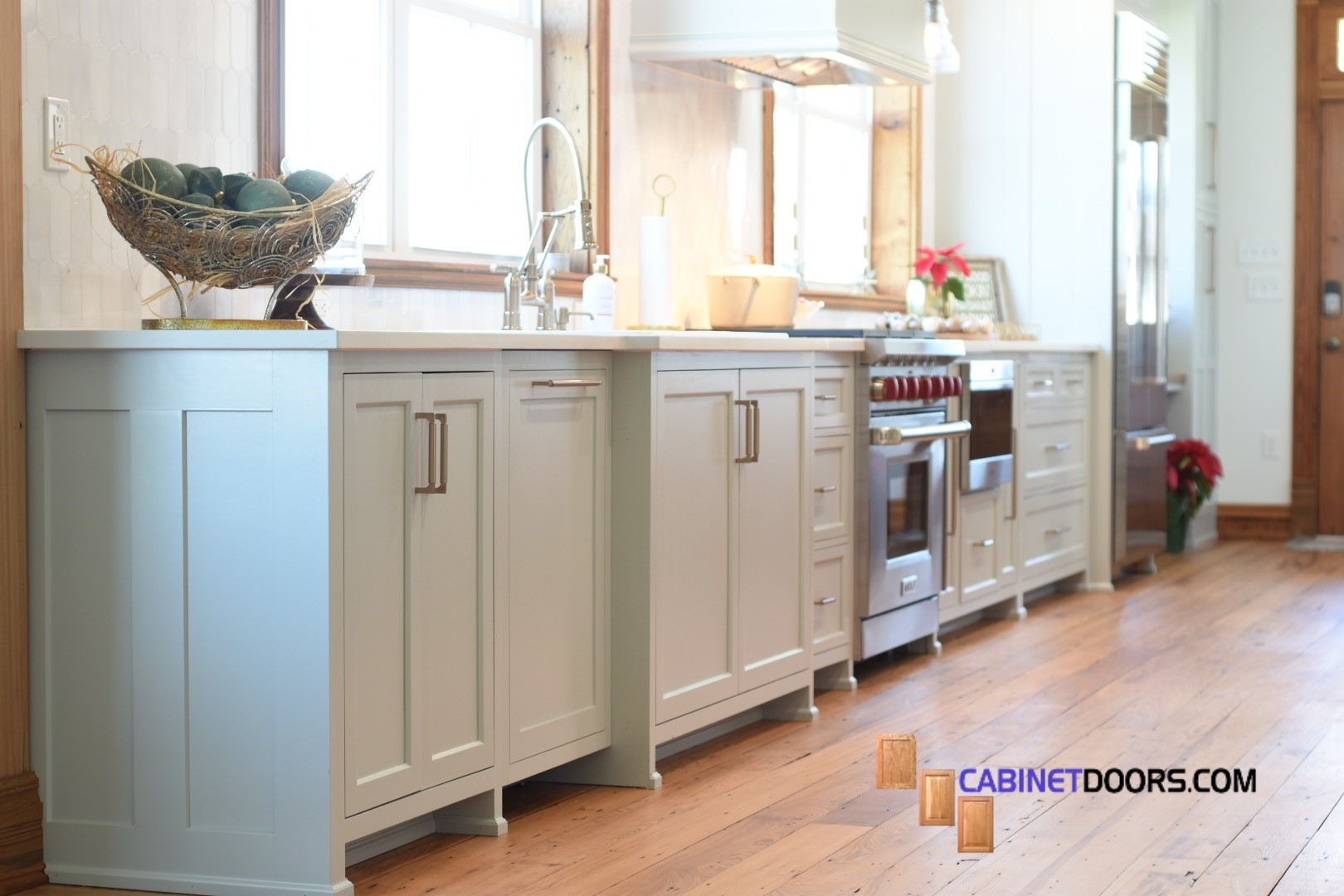 Browse White Shaker Cabinet Doors here!