Looking Back on The Top Kitchen Cabinet Trends of 2022
Jan 3rd 2023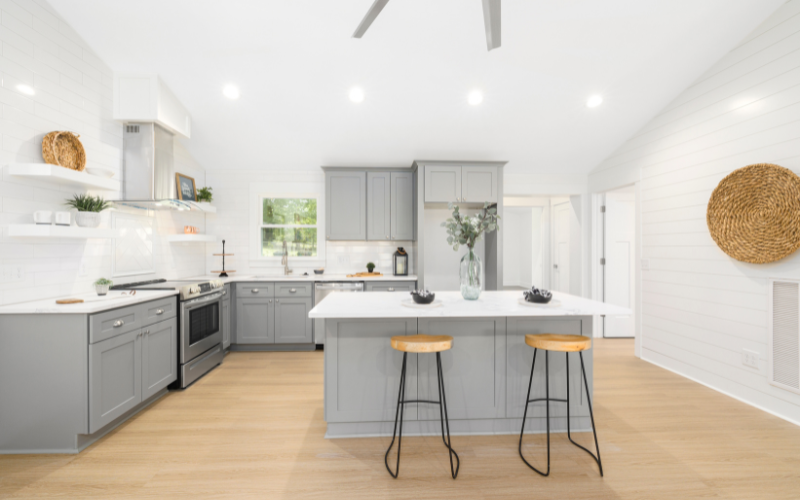 Kitchen design trends are an excellent way to find direction for your own kitchen refresh projects. Over the past year, there was plenty to be inspired by, especially when it came to the kitchen cabinets. Refreshing your kitchen cabinets is an excellent way to revitalize the entire space, and a quick glimpse at recent trends is perfect proof of that. By diving into some of the best cabinet trends of 2022, you can see what to look forward to in 2023 and gather ideas for your own kitchen refresh.
The Best Cabinet Trends of 2022
Last year, there was plenty to appreciate about trending cabinet door options. The cabinet trends of 2022 centered around simplicity and embracing the little things. From concepts that embrace a simple space with bold decorative elements to those that emphasize bringing nature indoors, there are plenty of directions to inspire your options for the next year.
Slab Cabinet Doors
With the admiration for minimalism remaining strong, slab kitchen cabinet doors meet the demand perfectly. These doors are sleek and simple with sharp edges, making them perfect for the contemporary style. Slab cabinets are also incredibly versatile—they look great either with or without hardware and can take on almost any color to blend with your interior design style.
By starting with slab cabinet doors, you provide yourself with the ability to build anywhere from there. Slab doors are complemented by a bright backsplash and pops of color throughout the kitchen, as the simple design lets other elements shine through.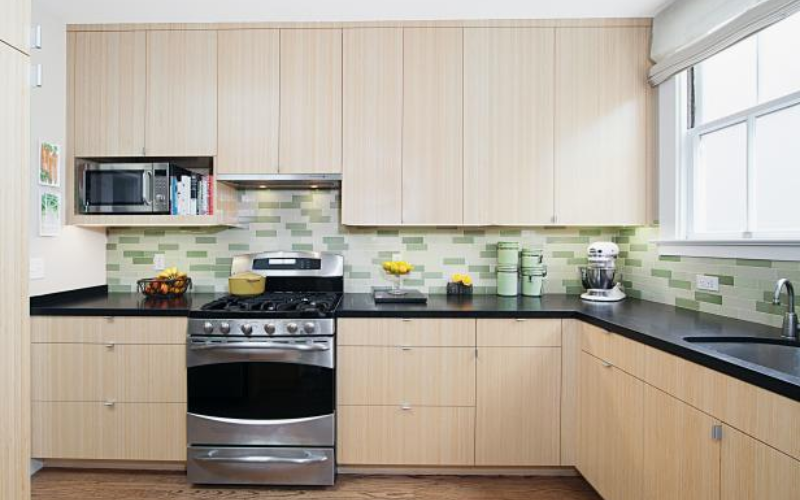 Slab Cabinet Door Image Via: HGTV.com
Shaker Cabinet Doors
Shaker cabinet doors are an almost inevitable part of cabinet trends every year. Their frame and panel construction makes them both practical and stylish, able to resist warping while also resisting going out of style.
Like slab cabinet doors, shaker doors are wonderful for their versatility. Shaker doors can be painted in a range of colors, take on a finish that highlights the natural wood, or be found in paint-grade options. Shaker cabinet doors can be paired with either handles or pulls and work with both sleek styles of hardware and more decorative styles.
Shaker doors fit well with traditional, transitional, and contemporary styles, making them absolutely timeless. With the past as an indication, shaker doors won't be going out of trend any time soon.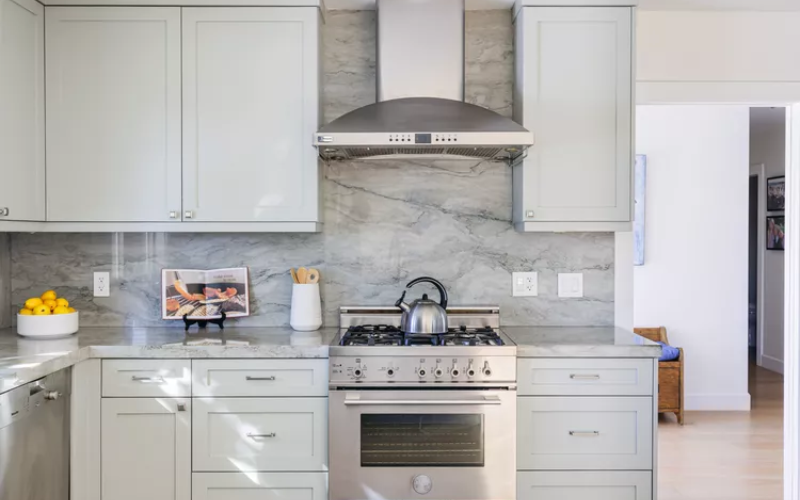 Shaker Cabinet Door Image Via: Christopher Lee Foto on TheSpruce.com
Natural Wood
Natural wood encompasses both overarching themes of 2022 in one by demonstrating the beauty of sticking to the basics and connecting to natural materials. Embracing natural wood cabinet doors gives you a whole world of variety on its own. Opting for natural wood allows you to choose options like alder, oak, cherry, maple, and more. Each species has its own unique grain patterns and color tones, so you have plenty of possibilities when refreshing your kitchen.
How you choose to stain and finish your doors gives you even more possibilities, from how you highlight the natural grain to emphasize the color variations. The appreciation for natural wood cabinet doors is guaranteed to stick around into 2023 and beyond.
Natural Wood Cabinet Image Via: Everingham Design
Bold Hardware
Cabinet hardware is an underrated part of the kitchen, usually an afterthought to the design of the doors themselves when refreshing the space. However, over the past year, the incorporation of hardware gained more appreciation as designers and homeowners alike found ways to use handles and pulls to complement the cabinet style and the rest of the kitchen.
The kitchen cabinet hardware trends in 2022 revolved around bold ideas to make the hardware stand out. Mixing and matching cabinet door handles on some doors with pulls on others helps to draw attention to the cabinets and complement the room.
Bold colors also drew the eye, with many people choosing copper or gold fixtures that complemented the cabinet door color trends of 2022. Of course, those who embrace minimalist styles also made a statement by using no hardware at all, making the rest of the kitchen elements stand out.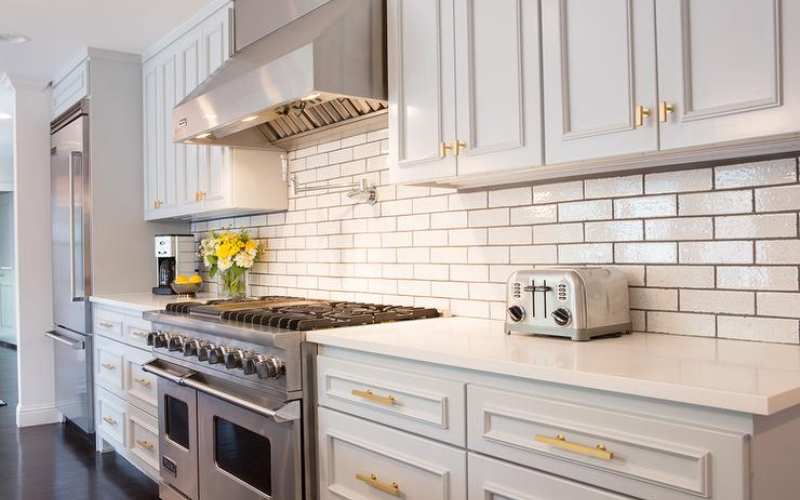 Via: Evensen Designs on DecorPad.com
Popular Kitchen Cabinet Color Trends 2022
Despite the popular desire for natural wood cabinet doors, many others embraced color in their kitchen. Some paid homage to a natural essence with their color choices, while others used colors to make a bold statement. The following are some of the most popular color trends of 2022.
Timeless White
White cabinets provide a timeless look, and they are proving that by sticking around year after year. With a focus on bright, open spaces, nothing contributes more than clean white cabinets. White cabinets are perfect for modern and contemporary design styles focused on minimalism as well as traditional or farmhouse styles aiming for nostalgia. Of course, white also provides a blank canvas for your preferred furniture and decorative elements. The white cabinets trend is sure to stick around as more people continue to embrace the appeal of white kitchen designs.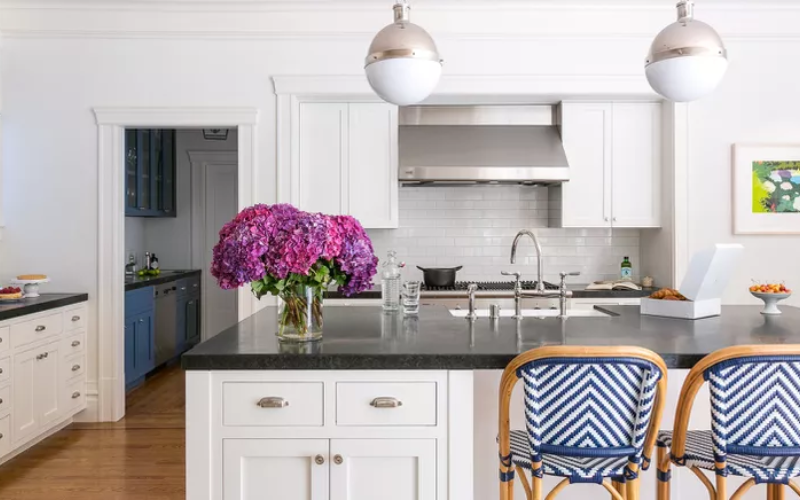 Via: Grant K. Gibson
Earthy Tones
Neutral and earthy tones have been stealing the show over the past few years. With more and more people wanting to enjoy the pleasures of bringing the outdoors inside, earthy colors like blues, greens, beiges, and grays remain extremely popular. Not only are these colors calming, but they are also excellent for matching with other design elements. For example, gray cabinet doors blend well with gold hardware, while green cabinet doors complement plants and wood furniture.
Via: Fluidesign Studio
Mix and Match
In 2022, many people enjoyed making a statement with their color choices. Many homeowners allowed their kitchen design choices to pop by mixing and matching their cabinet door colors. Leveraging complementary colors allows you to make combinations like black cabinets under the counter and white cabinets above or white cabinets with a blue island. This two-toned look layers a space and provides welcomed variety, and there is a good chance this color trend may continue.
Via: Grant K. Gibson
Deep Blue
If you enjoy staring into the ocean, there is a good chance you have enjoyed the rise of the blue kitchen cabinet styles in 2022. Like the expanse of the ocean, blue cabinets signify possibility and potential. Designers have enjoyed the impressive flexibility of blue cabinets, taking advantage of the opportunity to pair them with white countertops, natural wood flooring, or other decorative elements. Blue cabinets are also the perfect combination for trending gold hardware. Their popularity and potential make it hard to see blue cabinets fading out moving into the future.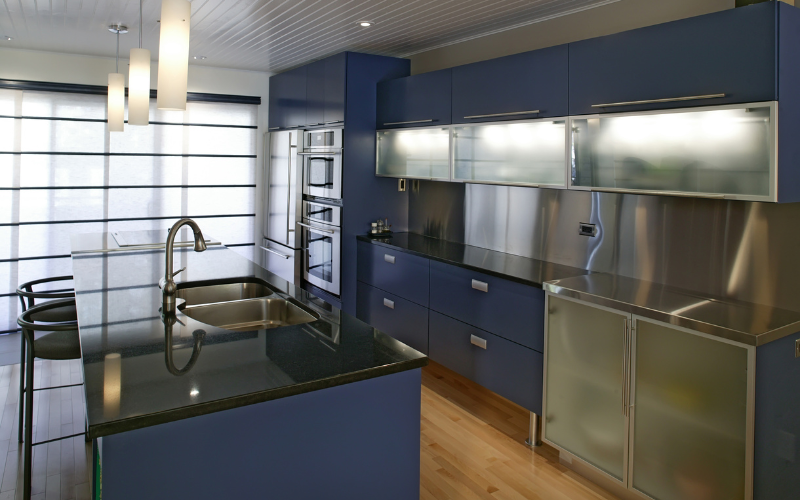 Embrace the New Year with Refreshed Cabinet Doors
Looking back on 2022, there were plenty of excellent kitchen design trends that are likely to stick around. In fact, the cabinet door trends for 2023 are already starting to take shape. If you are considering refreshing your kitchen cabinet doors, then explore our complete inventory of cabinet doors at CabinetDoors.com to see all of the potential options you have.
When you order from CabinetDoors.com, you can choose from dozens of styles, multiple wood species, and professionally finished options. We offer professionally crafted, custom-ordered cabinet doors built to your exact specifications, all at remarkable manufacturer rates. Contact us today to learn more about how you can refresh your kitchen with brand-new cabinet doors.