6 Timeless Kitchen Trends That Won't Go Out of Style
Nov 22nd 2021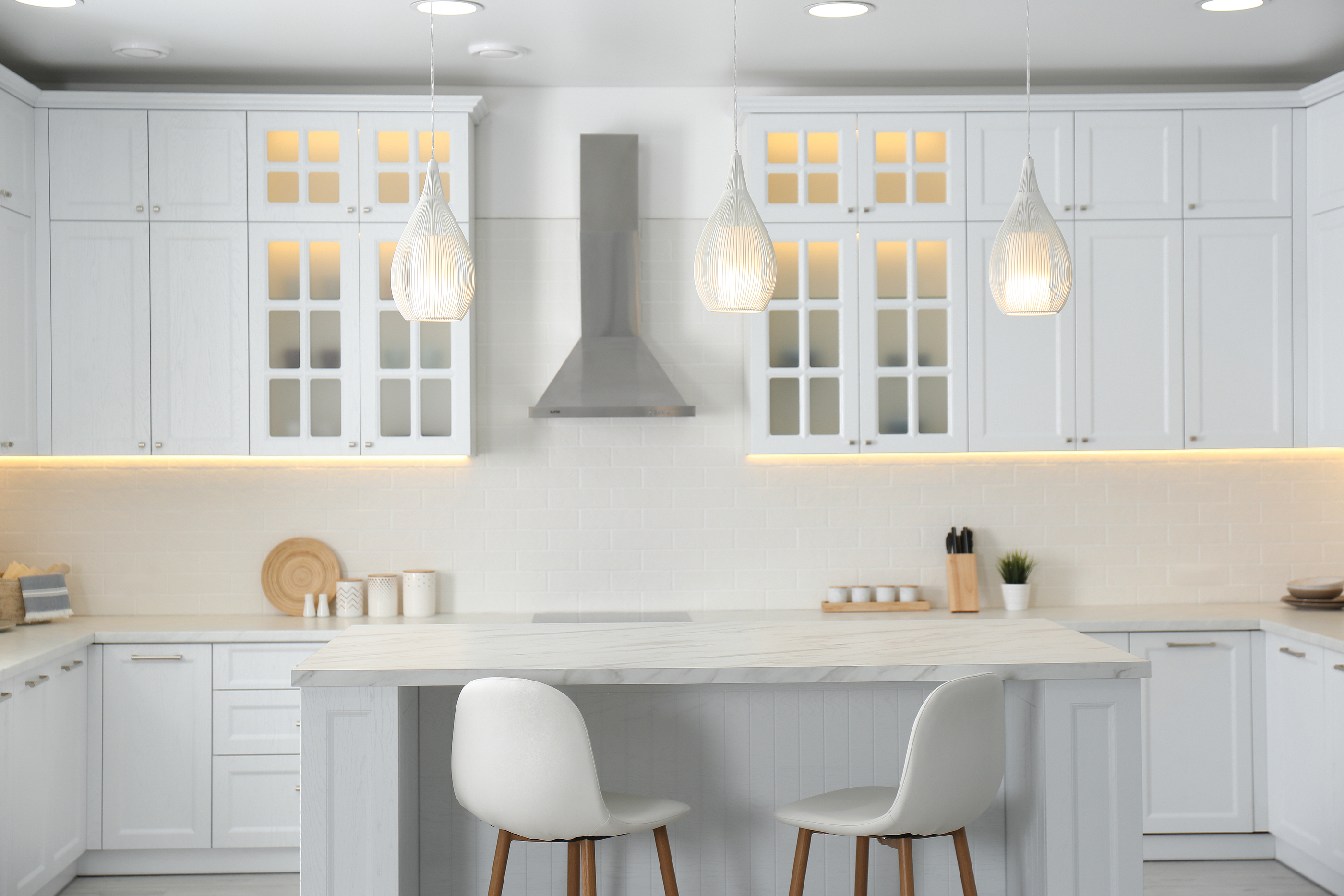 If your kitchen is ready for an update and you want a timeless kitchen that will stand the test of time, look for style choices that read classic and simple. Timeless kitchen trends will hold up over the years, no matter what fads come and go. As such, you can feel confident choosing high quality products that will last, knowing they'll continue to bring you joy for a long time to come.
1. Keep It Neutral
One of the easiest ways to ensure you're creating a timeless kitchen design is to make sure you're keeping your overall color scheme relatively neutral. Color trends change over the years, and often one of the first things that makes a room feel dated is the color scheme. Think about the avocado colored appliances and mustard brown counters of yesteryear, or the patterned wallpaper in your relative's home.
Strong, trendy color choices and patterns can quickly make a space feel stuck in a certain era, so choosing neutral colors can help ensure you're creating a classic kitchen design. From cabinet colors, to the backsplash, to wall colors, and floor covering, opt for neutrals for a timelessly chic look. If you love color, you can always incorporate splashes of color in the accessories in the room and by using window treatments, throw rugs, and more in the colors you love most right now. When you get tired of them, they're easy and inexpensive to switch out!
2. Consider Your Materials
Just like color trends, different materials can come in and out of style, so be thoughtful before committing to certain materials. Cork floors may seem exciting now, but they're not necessarily going to be in style forever. Similarly, stainless steel countertops might not feel as sleek and futuristic after a few years. It's a good idea to pay attention to trends and look at what stays popular over time to create a timeless kitchen you'll continue to love year after year.
This goes for nearly every aspect of your kitchen. Think about your backsplash, your flooring, your walls, your countertops, and even your cabinets. If it's suddenly become popular, it might not stand the test of time. Go for higher quality materials that have remained steadily classic over the years—like marble countertops or hardwood flooring—and you're in good shape. Consider speaking to real estate agents, exploring home improvement stores, and looking at interior design trends over the years to see what remains popular, regardless of the trends.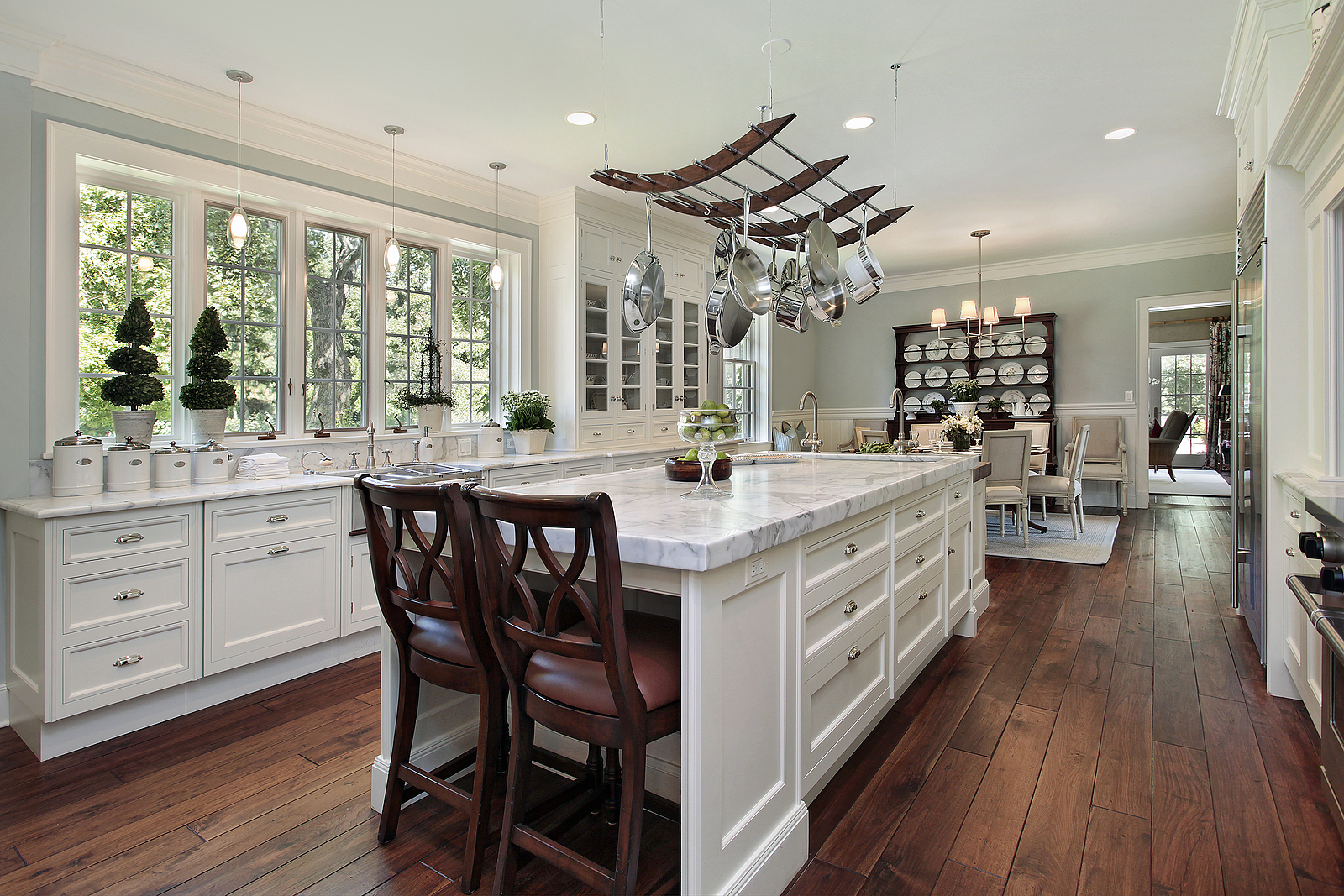 3. Size Matters in Your Kitchen
When it comes to kitchens that never go out of style, nothing should ever be too big or too small. Make sure you pay close attention to proportion when choosing your appliances, your sink, or even your kitchen island. Think about size for tiling, as well, and when choosing hardware for your kitchen cabinets and drawers. A timeless kitchen design generally maintains nice proportions so that nothing looks overly exaggerated or stands out too much.
You'll also want to think about the size of your kitchen itself. Smaller kitchens need even more subtle styling to ensure that you don't overwhelm the space. A larger kitchen can handle a little more grandiosity in scale, but stick with relatively simple styling to keep that timeless kitchen look.
4. Incorporate an Island
The biggest complaint most people have about their kitchens is a lack of space. Whether you lack counter space, cabinet space, or both, a kitchen island can help solve both of those problems and more. An island not only offers more storage and prep space, but it can also help change the flow of the kitchen, which can also resolve some of the frustrations about the way the space functions.
When choosing an island, think about whether you want built-in or free-standing, and what size will work within your space. Choose a design incorporating timeless kitchen trends to ensure that it maintains a look that always works. A kitchen island is also the ideal place to play with color, because it's easier to just repaint or refinish one small section of your kitchen if you get tired of the color.
5. Add Simple Details
It might seem like fun to play with the details in your kitchen, like your kitchen cabinet hardware or lighting, but these are also areas that can quickly make your space feel dated. If you're looking for a timeless kitchen design that will continue to feel stylish, keep your details simple and elegant to help keep your look classic and relevant over the years. Timeless kitchen hardware and simple lighting help keep your design from getting stuck in any era.
Choose timeless kitchen hardware like simple, unadorned cabinet door handles and drawer pulls that accent your cabinets, while remaining unassuming. If you see hardware that really stands out in a room, it's probably not the best fit for a timeless aesthetic. Lighting should be similarly understated. Stick with lighting that fades into the background, like recessed downlights, or features a classic shape and design, like glass globe light fixtures and pendants. Avoid overly showy metallic finishes in favor of classic brass or a black finish. Your lighting should bring plenty of brightness to the room, without screaming, "Here are my light fixtures!"
6. Choose Timeless Kitchen Cabinets
Typically, the biggest style features in any kitchen are the kitchen cabinets. Because they are the most visible feature in your kitchen, it's important to choose timeless kitchen cabinets that will continue to look classic over time. In order to choose a classic style, opt for cabinet doors and drawer fronts that don't garner too much attention in the room. Go for a simple style that's been steadily popular, like Shaker Cabinet Doors, to ensure that your cabinets will continue to fit in even as the trends change.
You'll also want to consider how the finish of your cabinets will stand up to changing styles and aesthetics. Start by choosing a high quality wood species, like maple or cherry, and ensure it's finished in timeless kitchen cabinet colors. If you prefer the look of wood cabinets, go for a rich stain in medium tones. If you prefer a painted finish, consider white or pale linen tones to ensure that the colors are neutral enough to look classic. No matter which type of finish you choose, timeless kitchen cabinet colors paired with simple, classic designs will ensure that your cabinets look fresh for years.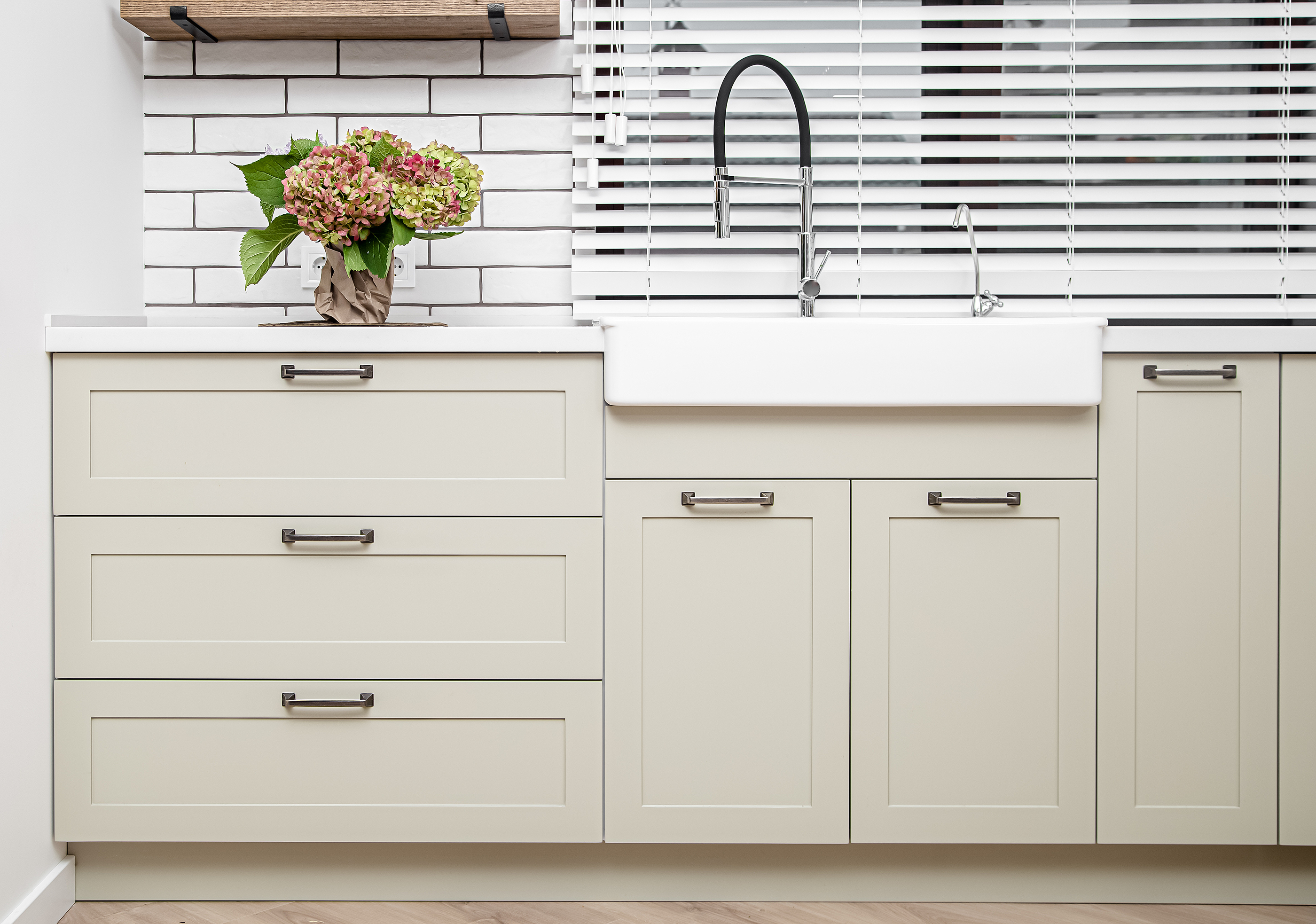 How to Create a Timeless Kitchen With New Cabinet Doors
If you're after that classic kitchen design, it all starts with the biggest style feature in the room: your kitchen cabinets. So how do you create that timeless look with your cabinets? Cabinetdoors.com can help you. Start by looking through our most popular cabinet door styles to see what has stood the test of time. As you explore these styles, you'll begin to see that they're all very simple designs that will age beautifully in your space. Whether you choose to go with the incredibly popular Shaker Cabinet Door, or prefer a raised center panel like our Century Cabinet Door, these simple designs will always read classic. Once you've chosen your style, what's next?
One common trait among kitchens that never go out of style is simple, clean design details. Stick with classic styling and neutral colors and avoid anything flashy that stands out too much. While new trends or fads can be fun to incorporate, they can also be expensive to get rid of if they're a main feature of your kitchen.
Instead, incorporate the latest trends in accessories or decor that are easy to switch out. In other words, if you will be doing a full renovation, keep the main parts of your kitchen—like your cabinets, flooring, walls, counters, and appliances—classic. Then, you can save any trends for things like rugs, decor, or window treatments. This will not only save you money in the long run, but it'll also ensure that you continue to love your kitchen.
Get a Timeless Look With Cabinetdoors.com
Cabinetdoors.com has been manufacturing custom-built cabinet doors for over 40 years. We've seen trends come and go, and we know which styles have maintained popularity over the decades. Our most popular cabinet doors have remained popular for a reason, so you can count on these styles to look great in your kitchen, even as your style aesthetic changes with the years.
Once you decide on the right cabinet door for you, it's time to order. At Cabinetdoor.com, we make your cabinet doors to your exact specifications, so you get the size, wood species, and finish you need. When you order from us, you're ordering directly from the manufacturer, so you'll achieve a custom look at a price 30-50% below big box retail pricing. Get a high quality product, custom-sized for you, without breaking your budget. Get more information by exploring our website, or by contacting us online or by phone at 800-342-1010. When it comes to timeless cabinet doors, Cabinetdoors.com always delivers.