10 Kitchen Remodel Ideas on a Budget
Apr 23rd 2021
Remodeling your kitchen is enticing when it starts to look dated or just doesn't fit your style anymore, but it's not always easy to figure out how to make it an affordable kitchen remodel. If you're wondering how to remodel a kitchen on a budget, but still get big results, we have some ideas for you. It is possible to get an all new look, without breaking the bank.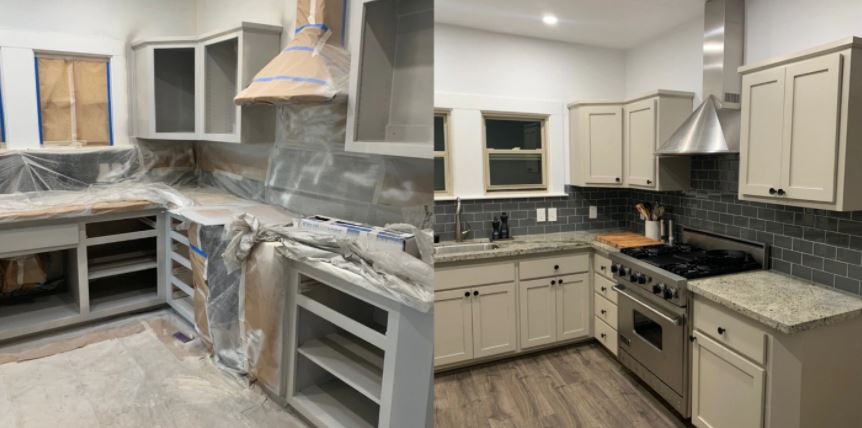 There are so many ways to make a big impact in your kitchen without spending big bucks. Before making any purchases, the first thing you should do is take stock of what you'd like to change about your kitchen. Think about what bothers you, whether it's the flooring, cabinetry, walls, or colors. Then think about how to remodel a kitchen on a budget by updating those elements in a way that is impactful, but doesn't require major (and therefore expensive) renovations. You may be able to change the paint in some area of your kitchen, and get an all new look that you're satisfied with. Perhaps your cabinets need a new look. Your backsplash might be dragging your kitchen down. Whatever you need to upgrade in your kitchen most, start there to keep your budget kitchen renovation on track.
Small Kitchen Remodel on a Budget
If you have a small kitchen, that's actually good news for a kitchen makeover on a budget. Changes make a bigger impact in a smaller space, and you may be able to do more for less as a result. In a small kitchen remodel on a budget, consider ways of opening up your space to make it feel lighter.
1. Try Integrating Open Shelving or Glass Front Cabinet Doors
In a smaller kitchen, it's all about not overwhelming the space. In order to keep the room feeling lighter, try incorporating some open shelving or glass front cabinet doors. This gives the room an airy feel and allows you to show off your favorite dishware like décor.
2. Lighten Up the Space
Small kitchens usually suffer from lack of light, so incorporating lighter, brighter colors helps give the illusion of more space. Consider adding in lightly colored or white walls, and paint your cabinets in a light color as well, particularly if you have darker colored floors or countertops.
3. Go With a Two-Toned Look
If you're not keen on an all-white kitchen, consider white or a lighter, brighter color on top, with the darker colors closer to the floor. This grounds the room beautifully, while still allowing the upper cabinets to feel lighter and more open.
Add Color for a Budget Kitchen Renovation
One of the quickest ways to make a big change in your kitchen is to add new color. We've all walked into a room where the color palette transported us back to a certain time period. That's why changing the colors in your kitchen is so impactful. Whether you choose to repaint your walls, add a new backsplash, paint your cabinets, or do it all, adding color is one of the greatest affordable kitchen remodel trends there is. You can opt for subtle colors throughout, pops of bright color here and there, or rich bold colors across the room. We recommend keeping brighter bolder colors on the areas that are easiest to change, just in case you tire of them. Try the following ways of integrating color into your kitchen redo on a budget.
4. Cover the Walls
We all know how quickly the look of a room can change with new paint on the walls, and just adding in color can give your kitchen a complete makeover. You can paint the walls with a bright or rich tone or, if you're feeling adventurous, you can apply a patterned wallpaper for a bolder look. Even repainting in a light color can brighten up your room and give it the update you've been craving in a budget kitchen renovation.
5. Incorporate a Pop of Color
A pop of color has always been fashion magic, but it can provide the same magic for a kitchen redo on a budget, too. You can incorporate a pop of color almost anywhere in the room. Paint your kitchen island in a bright, cheery yellow. Paint an accent wall in a vivid ocean blue. Incorporate decorative elements with your favorite rich orange. No matter how you incorporate pops of color in your room, they'll give your room an all new look in an instant.
6. Install a Colorful Backsplash
Adding a new, colorful backsplash adds a functional focal point in the room. It can also add new textures and style elements that can serve the same purpose as art in your room. Depending on the type of tile you choose, you can create any number of patterns, helping you create your own artistic flair in the kitchen. Even better, because adding tile is a relatively easy DIY project, you can accomplish this kitchen makeover on a budget.
Remodeling Kitchen Cabinets on a Budget
If you're looking for kitchen remodel ideas on a budget, remodeling kitchen cabinets might not be the first idea that pops into your head. More than likely, you're picturing a long demo process, a kitchen that's not usable during the process, and a great big price tag. Incorporating new kitchen cabinets does not sound like a budget kitchen renovation, but you might be surprised by how inexpensive it can be. If you're looking for ways to make the biggest change in your kitchen, upgrading your kitchen cabinets is truly how to remodel a kitchen on a budget.
7. Reface Your Kitchen Cabinets
If you're looking for kitchen remodel ideas on a budget, refacing your kitchen cabinets can make a huge difference in the look of your room. If your cabinets are looking worn and showing their age, but the cabinet boxes themselves are in great shape, cabinet refacing is an excellent option. Because your existing cabinets get a complete facelift with refacing, you get all the benefits of cabinets that look brand new. However, you skip living through the demo that comes with tearing down your cabinets and starting over. You can use your kitchen throughout the process, which only takes a few days. Remodeling kitchen cabinets on a budget can truly update your kitchen and give it a fresh new look, without the hassle of demo.
8. Replace the Hardware
Believe it or not, just changing the hardware on your cabinet doors can make a big difference in whether they look dated or up-to-date. Hardware is also often the first to break, making your cabinets seem flimsy when you might just need new hardware. If you have hardware that shows your cabinet doors' age or that no longer works like it should, consider changing it out for a newer style. Combine cabinet refacing with new cabinet door and drawer hardware for the ultimate kitchen makeover on a budget.
9. Change Up the Style of Your Cabinet Doors
If you want kitchen remodel ideas on a budget, changing the style of your kitchen by getting brand new cabinet doors and drawer fronts makes an incredible difference. Remodeling kitchen cabinets on a budget is not only possible, but it is truly one of the best ways to make a big change without a big budget. You can choose an entirely new design for your cabinet doors and drawer fronts, taking your kitchen from traditional cottage to modern chic, or instantly updating your kitchen from the 1970s to today. Consider incorporating a mix of glass front cabinet doors and regular cabinet doors for a totally new, lighter look. If your kitchen cabinet doors and drawers don't match your style, just replace them!
How to Remodel a Kitchen on a Budget with Cabinetdoors.com
If you're looking for kitchen remodel ideas on a budget, Cabinetdoors.com can help you make a big change in your kitchen at a price that works for you. Because we are the manufacturer, you are able to buy your kitchen cabinet doors and drawer fronts factory-direct, which means you save money. At most retailers, you pay the markup charged by the middleman, so you pay a lot more than you would if you bought directly from the factory. Since Cabinetdoors.com is the manufacturer, there's no markup. You buy right from us, and we ship right to you.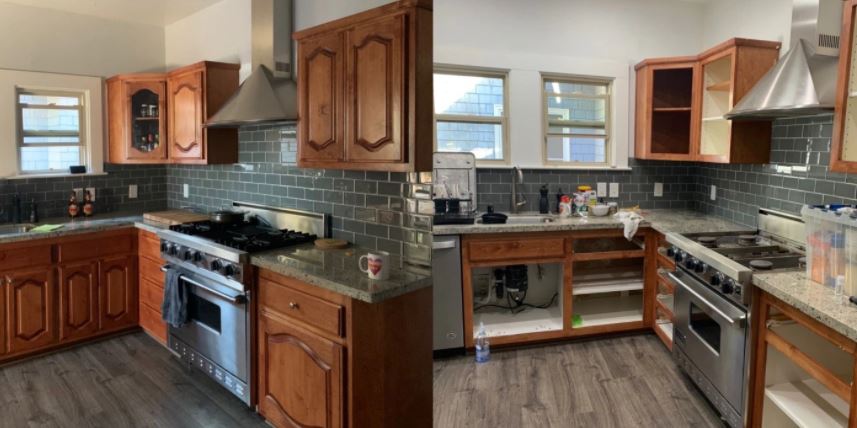 10. Let Cabinetdoors.com Help
Because we are the manufacturer, you are able to get a high quality custom product because you can order the size, finish, and wood type you need. We offer a variety of different wood species, which can be ordered in several finishes or unfinished, and we can make them in the size you need. That means you get a custom-built product at a great price.
Want to find out how to remodel a kitchen on a budget, but still get a custom product? Head to Cabinetdoors.com or contact us at 1-800-342-1010 today. When it comes to remodeling kitchen cabinets on a budget, Cabinetdoors.com always delivers.