Top 10 Budget Kitchen Remodel Ideas
Jun 21st 2022
Remodeling your kitchen is a refreshing and exciting process. Although, when you are on a budget, you may feel limited in your options, but there is a world of possibilities. It is easy to assume that a kitchen remodel needs to be a grand procedure where you replace the tile, completely repaint your walls and knock out your countertops. However, just a few simple adjustments and renovations can give your kitchen a whole new look without excessive effort and cost. A cheap kitchen remodel is easily attainable if you know what steps to take.
From changing the paint color to refacing your cabinets, there are plenty of ways to upgrade in your kitchen. Once you decide which areas you would like to address most, you can start to recognize all the small ways you can have a large impact. By being mindful of which steps to take, you can save considerable money while enjoying a brand-new looking kitchen.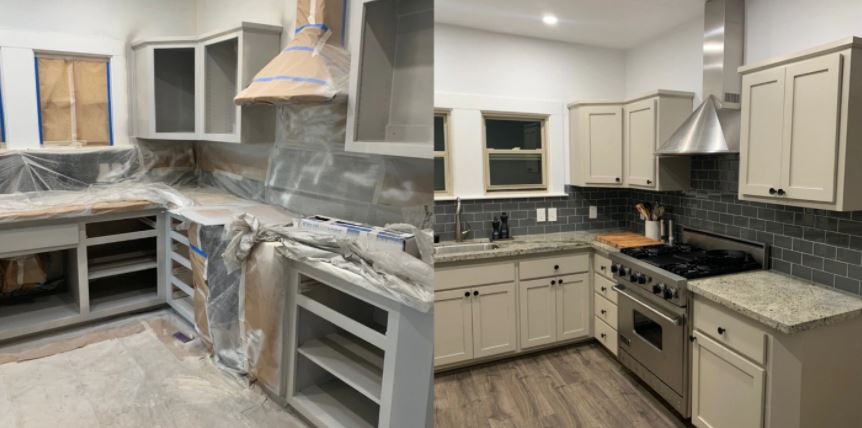 How to Remodel a Kitchen on a Budget
There is no one-size-fits-all method to a budget kitchen renovation. Fortunately, you have a world of options when wanting to revamp your kitchen, from small tweaks, to bigger projects. Sometimes all you need to fall back in love with your kitchen is a minor adjustment. The following tips provide excellent options for a kitchen makeover on a budget.
1. Keep the Cabinets, But Change the Doors
Why spend a lot of money when you don't have to? There is no need to replace your entire cabinetry if the boxes are in good shape. One of the most affordable, but most impactful, options when looking to remodel your kitchen is to change just your cabinet doors. New cabinet doors can have a big impact on your kitchen, offering plenty of potential for a refreshing design.
When choosing cabinet doors, you can choose from a wide range of styles, finishes, and even paint-grade options if you prefer to customize them yourself. By purchasing newly finished cabinet doors or swapping out your current doors for a more modern style, you can easily change the entire aura of your kitchen, making this one of the best budget kitchen remodel ideas.
2. Lighten Up the Space
Many kitchens suffer from a lack light. Incorporating lighter, brighter colors helps give the illusion of more space. Consider adding in lightly colored or white walls and painting your cabinets in a light color as well. Incorporating lighter colors makes a big difference, particularly if you have darker colored floors or countertops.
3. Go with a Two-Toned Look
One of the quickest ways to make a big change in your kitchen is to add new color. If you're not keen on an all-white kitchen, consider white or a lighter, brighter color on top, with the darker colors closer to the floor. This grounds the room beautifully, while still allowing the upper cabinets to feel lighter and more open.
4. Cover the Walls
New paint on the walls can quickly change the look of a room, and just adding in color can give your kitchen a complete makeover. You can paint the walls with a bright or rich tone or, if you're feeling adventurous, you can apply a patterned wallpaper for a bolder look. Repainting your kitchen in a light color can brighten up the room and give it the update you've been craving. Just a bit of paint can completely change the way you perceive the space.
5. Incorporate a Pop of Color
A pop of color has always been fashion magic, but it can provide the same effects for a kitchen redo on a budget, too. Whether you choose to repaint your walls, add a new backsplash, or paint your cabinets, adding color is one of the greatest affordable kitchen remodel trends there is. You can opt for subtle colors throughout, pops of bright color here and there, or rich bold colors across the room. No matter how you incorporate color in your room, it will instantly give your room an all-new look.
6. Install a Colorful Backsplash
Adding a new, colorful backsplash adds a functional focal point in the room. It can also add new textures and style elements that can serve the same purpose as art in your room. Depending on the type of tile you choose, you can create any number of patterns, helping you create your own artistic flair in the kitchen. Even better, because adding tile is a relatively easy DIY project, you can easily incorporate a new backsplash as part of your kitchen makeover on a budget.
7. Reface Your Kitchen Cabinets
Refacing your kitchen cabinets can make a huge difference in uplifting the look of your kitchen on a budget. If your cabinets look worn, but the cabinet boxes themselves are in great shape, cabinet refacing is an excellent option. Because your existing cabinets get a complete facelift with refacing, you get all the benefits of cabinets that look brand new while also skipping the demolition process that comes with tearing down your cabinets. Plus, you can use your kitchen throughout the process, which only takes a few days. Refacing your kitchen cabinets can truly update your kitchen and give it a fresh new look, without the hassle of demo.
8. Replace the Hardware
Believe it or not, just changing the hardware on your cabinet doors can make a big difference in refreshing the look of your whole cabinet. Hardware is also often the first to break, which can make your cabinets seem flimsy or dated. If you have hardware that shows your cabinet doors' age or that no longer works like it should, consider changing it out for a newer style. Combine cabinet refacing with new cabinet door and drawer hardware for the ultimate kitchen makeover on a budget.
9. Change Up the Style of Your Cabinet Doors
Change the style of your kitchen by getting brand new cabinet doors and drawer fronts. Remodeling kitchen cabinets on a budget is not only possible, but it is truly one of the best ways to maximize your spending. You can choose an entirely new design for your cabinet doors and drawer fronts, taking your kitchen from traditional cottage to modern chic, or instantly update your kitchen with contemporary styles. Consider incorporating a mix of glass front cabinet doors and regular cabinet doors for a totally new, lighter look. If your kitchen cabinet doors and drawers don't match your style, just replace them!
10. Let CabinetDoors.com Help
Cabinetdoors.com provides you with a reliable partner throughout your remodel, allowing you to transform your kitchen without breaking the budget. Because we are the manufacturer, we can provide you directly with a high-quality custom product that matches the size, finish, and wood species that fits your needs. We offer a variety of different wood species, which can be ordered in several finishes or unfinished, and we can make them in the size you need. That means you get a custom-built product at a great price.

How to Remodel a Kitchen on a Budget with Cabinetdoors.com
In your search for kitchen remodel ideas on a budget, Cabinetdoors.com can help you make a big change in your kitchen at a reasonable price point. Because we are the manufacturer, you are able to buy your kitchen cabinet doors and drawer fronts factory-direct, saving you time and money. At most retailers, you pay the markup charged by the middleman, so you pay a lot more than you would if you bought directly from the factory. At Cabinetdoors.com, there's no markup; you buy right from us, and we ship straight to you.
Get the custom cabinet doors you need to make your budget remodel a reality. Head to Cabinetdoors.com or contact us at 1-800-342-1010 today. When it comes to remodeling kitchen cabinets on a budget, Cabinetdoors.com always delivers.