9 Tell-Tale Signs It's Time for a Kitchen Upgrade
May 20th 2021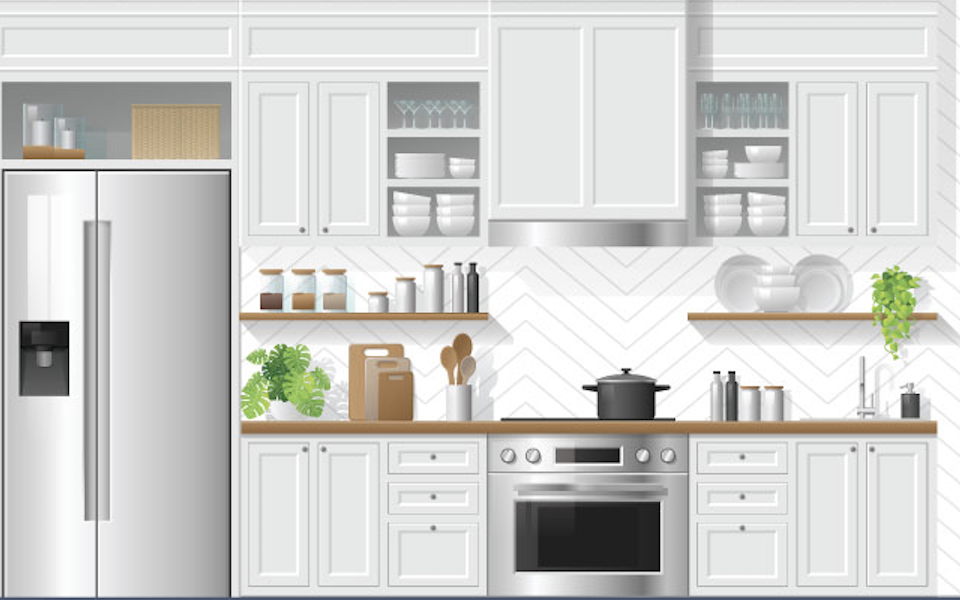 Everything wears out eventually. Instead of waiting until things break or look ancient, replace them early. You tend to save time, money, and stress that way. Better yet, you get to enjoy the upgrades! With that in mind, look for these tell-tale signs your kitchen needs attention – plus what to do next.
9 Signs You Need to Upgrade Your Kitchen and Why You Should
There are plenty of reasons you might want to upgrade your kitchen, but finding the time, budget, and motivation to actually do it is completely different. You might also be overwhelmed by the prospect of a full-blown kitchen renovation.
Still, even if you find that the initial prospect of kitchen upgrades is daunting, once you start looking at how to achieve those upgrades it often suddenly feels doable. Generally speaking there are several main reasons you might want to upgrade your kitchen, including:
Your kitchen is just old and worn out: In most homes, kitchens get used regularly and used hard, so it's pretty clear when they've seen better days. Whether your countertops are cracked and stained or your cabinets are worn and no longer stay closed, a well-used kitchen deserves an update to ensure that it's in proper working order.
Your kitchen is dated: The style of a room can often make or break the feel of it for you. It can be hard to feel great in any room if it screams, "I'm old!" From tiling to flooring to cabinets and beyond, there are several elements in any given kitchen that can make it feel dated and out of style. You deserve to feel good about the way your kitchen looks.
You don't have enough space: Some kitchens are just tiny, but others don't make good use of counter or cabinet space. If you find that you don't have sufficient cabinet space for everything you need to store, or you're constantly running out of counter space, it's time to look into making better use of the space.
The flow of the kitchen doesn't work: Sometimes it's not the actual space of the kitchen itself, but the way things are set up. If your kitchen is set up in such a way that your workflow in the room is inefficient, it might not work very well for you. Although it can be one of the bigger kitchen upgrade ideas, you can actually reorganize the layout in your kitchen.
Your appliances are wearing out: Unfortunately, nothing lasts forever, and that includes your stove and your refrigerator. If you need to replace older appliances, look for newer, more energy efficient models that can save you some money. It can also be a great time to work in other kitchen upgrades, too.
The room is too dark: Sometimes you may not notice at first, but as soon as you try to cook at night, a lack of adequate lighting becomes crystal clear. If you don't have enough lighting to see well while working in your kitchen, it's time to fix that!
You can't get things clean anymore: One of the hallmarks of counters or cabinet doors as they wear out is that they become dingy. Older surfaces become worn and scratched, which means they hold on more to grease and grime. If you're struggling to clean any spot in your kitchen, from your tile to your sink to your floors to your drawer fronts, it's probably time for replacements.
Your kitchen no longer suits you: This one can be hard to clearly define, and you might not quite be able to put your finger on it. However, if you walk into your kitchen every day and you feel that it's no longer working for you, it's time for you to figure out why. It could be a combination of any of the seven issues above, or it could be that you just don't like your cabinet doors or paint colors. The point is: If you're not happy with your kitchen, you can fix it.
You're selling your house: If you're getting ready to put your house on the market, you'll want your kitchen in tip-top shape. Look into what

buyers are looking for

, and upgrade your kitchen accordingly to help ensure that you can sell at a great price.
Beyond the signs you need to upgrade your kitchen, you may also have actual problems in your kitchen that require kitchen upgrades for it to be usable. Here are the top five kitchen problems you're likely to see that will require fixing.
Top 5 Kitchen Problems
Age – After 10-15 years, it's time to consider updates to your design and appliances. Past that point, the style starts to look dated, the materials begin to wear out, and the appliances risk failure.
Doors – After years of regular use and abuse, cabinet doors start to show their age. Since the doors are a major part of the overall design, beat-up doors make the whole space look shabby.
Floors – Due to the high traffic and heavy spills in the kitchen, the floors wear out quickly, especially materials like linoleum. Similar to cabinet doors, warped and worn out floors make everything around them look worse.
Layout – If your kitchen isn't conducive to cooking, corralling the kids, or entertaining, it's not serving its purpose. Instead of trying to make due with a bad situation, address the layout problems head on.
Look – Maybe you inherited a kitchen design from a previous owner or made a bold design choice you now regret. When the look of the space is off, it makes everything you do in the kitchen less enjoyable.
The good news is that all of these problems can be fixed, and you may even be able to fix them on your own. If you're up for a project and want to save on your budget, DIY home improvement projects are the way to go. So how do you know what to upgrade when remodeling a kitchen?
DIY Kitchen Upgrades and Steps to Remodel a Kitchen
If you're ready to roll up your sleeves and get to work, there are plenty of DIY home improvement projects to help you achieve the kitchen of your dreams even when your remodeling on a budget. Although it may seem like there are a million steps to remodel a kitchen, you might be surprised by how big of a difference even small kitchen upgrades can make.
But first, you have to decide what to upgrade when remodeling a kitchen to make the kind of impact you want to make in your room. You have a lot of options when it comes to kitchen upgrade ideas, but these are the top five kitchen improvements that make a big impact.
Top 5 DIY Kitchen Improvements
Paint – Never underestimate how much a fresh coat of paint can make a space feel new.
Replace – When something is broken or obviously worn out, like the cabinet doors, invest in replacements and bring your kitchen back up to 100%.
Light – Better lighting enhances both the style and function of a kitchen. Put lights on top of cabinets or shining onto counter tops.
Sink – If you can't totally rework your kitchen layout, install a larger sink. More space for dirty dishes helps keep a lot of clutter off the countertops.
Shelves – Use empty walls or corners to add more shelving to the kitchen. If you have enough storage already, use these spaces to add style or seating – don't waste the space.
Even one of these small kitchen upgrades can make a big difference and leave your kitchen feeling on trend and timeless. However, if you really want to give your kitchen a makeover, incorporate several of these kitchen upgrades in your steps to remodel a kitchen. While new paint alone can change the look of your kitchen, adding new paint and opting to upgrade kitchen cabinets can make your kitchen feel like a completely new room.
What to Upgrade When Remodeling a Kitchen
When it's time for you to figure out what to upgrade when remodeling a kitchen your home, it's important to take several things into account. Be honest about your limits, and then see how you can incorporate kitchen upgrade ideas that work with those limits. Remember that even small kitchen upgrades can make a surprisingly large impact—especially when combined.
Before you get started on your DIY home improvement projects, review the list of signs you need to upgrade your kitchen above. Decide what really bothers you about your kitchen, and then look closely at:
Your overall budget
The amount of time you're willing to dedicate to a project
The amount of effort you're willing to put in
Your experience with DIY home improvement projects
What you can realistically do on your own and what you'll need help with
From there, it's all about making sure you know what you're doing before you get started. Make sure you do your research and know where to purchase your resources, too, as that will make a big difference in your budget and your work pipeline.
Upgrade Kitchen Cabinets with Cabinetdoors.com
If one of your kitchen upgrades includes your cabinets, Cabinetdoors.com can help you upgrade kitchen cabinets with ease. You'll be able to get custom-sized cabinet doors in the wood species, style and finish you want to help you achieve the look of brand new cabinets at a fraction of the cost. Not only that, but you'll be able to order your cabinet doors online and have them delivered right from the factory to your door, with no middleman. You'll not only avoid the hassle of heading to a big box retail store, but you'll also avoid the retail markup.
When your kitchen cabinet doors are among the signs you need to upgrade your kitchen, Cabinetdoors.com can help you upgrade kitchen cabinets for less. You'll get our high quality product customized to your exact specs and delivered to you at a fantastic price. When it comes to DIY home improvement projects that you really can do yourself, replacing your kitchen cabinet doors is a top choice among kitchen upgrade ideas. And getting a custom look at a price directly from the cabinet manufacturer that's 30%-50% below big box store prices? It's hard to improve on that.
We invite you to explore our selection of most popular kitchen cabinet doors to get inspired and take your first steps to remodel a kitchen in your home. Check out our blog for more ideas, and feel free to contact us with any questions. We look forward to helping you with your kitchen upgrades! When it comes time to upgrade kitchen cabinets, Cabinetdoors.com always delivers.