What Is Conversion Varnish?
Posted by Jim Hill on Aug 4th 2021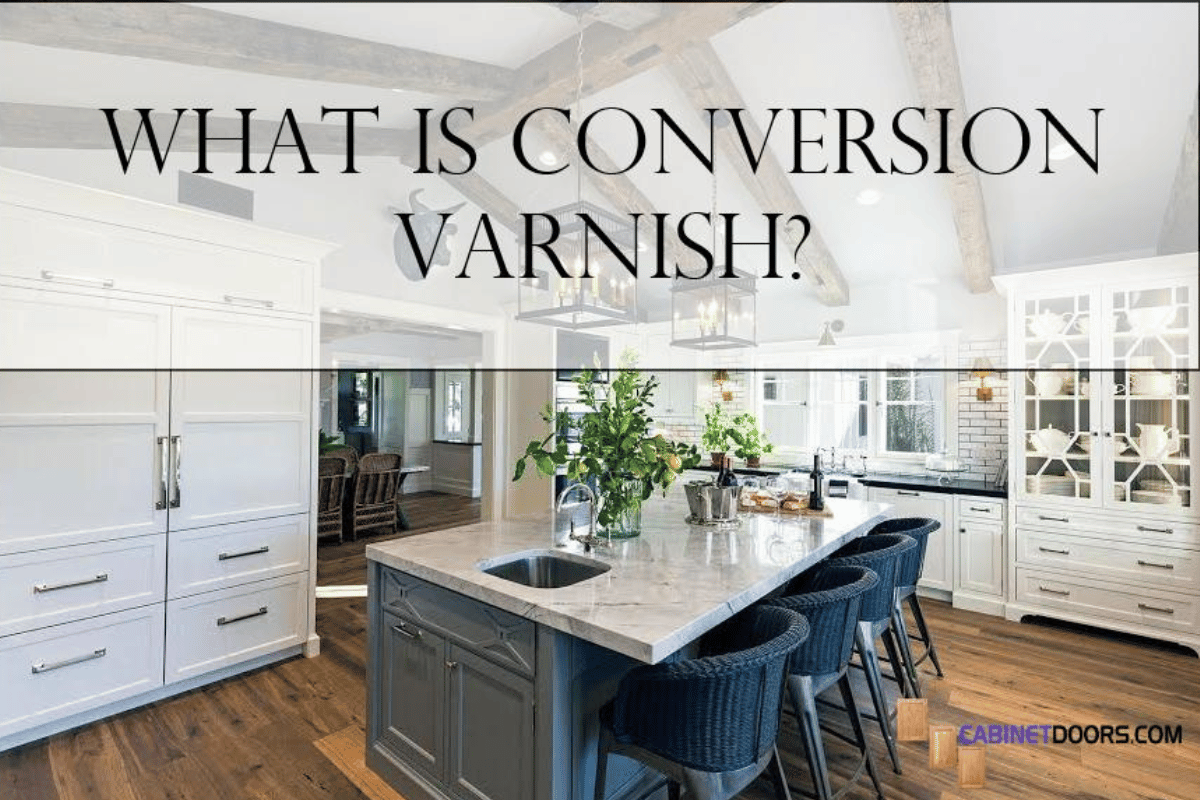 If you've been researching cabinet doors, you've probably heard of conversion varnish, but you might not know what makes it different from regular paint. It can be helpful to understand why someone might choose conversion varnish vs paint, so that you can make the best decision for you when replacing your cabinet doors.
Conversion varnish is one of the best finishes that can be applied to wood, but conversion varnish application does require a professional. Read on to learn more about this highly durable and visually stunning finish for your cabinet doors.
What Is Conversion Varnish?
Conversion varnish, also called catalyzed conversion varnish or catalyzed varnish, is a lacquer which consists of a high-end solid two-part post-catalyzed application process. But what does that mean, exactly? In short, a hardening agent is added to the varnish prior to painting. This hardening agent provides additional durability when combined with the heat-curing process. Conversion varnish is chemically cured and fast-drying, and consists of 40-60% solids.
However, it must be applied by a professional to ensure the correct ratio of chemicals and solids is used so that it hardens correctly. Conversion varnish does cost more than house lacquer, but it is also much more durable and easy to clean. It is this characteristic that makes it an excellent option for painted cabinet doors.
Conversion Varnish vs Lacquer
Lacquer is commonly used on cabinets and cabinet doors, and for a long time it was thought of as the best wood finish. So how is it different from conversion varnish? Lacquer uses a pre-catalyzed nitrocellulose finish that can be sprayed on and air finished. It consists of about 12-18% solids, which means that many applications are required to get a proper build and density.
Lacquer does have some benefits when compared with other finishes. It is fast drying, which helps ensure a cleaner finish, and cures quickly via evaporation, which makes repairs relatively easy. It's also fairly low cost and tolerates a variety of different climate environments quite well. However, it also has some significant disadvantages. Lacquer has a high VOC content, making it harmful to the environment and to your health. It has limited scratch resistances, and the low solid content means its film building properties are poor.
When compared with conversion varnish, lacquer just isn't as durable. It's significantly less resistant to heat, solvents, acid, and alkali than conversion varnish paint, and it simply doesn't protect the wood as well. It can also have a yellow tint, which can worsen over time. Ultimately, if you're looking for a finish that can handle constant use and repeated washing, lacquer simply isn't as durable as conversion varnish.
Conversion Varnish vs Polyurethane
Polyurethane is often considered one of the most durable finishes, so many people also wonder about conversion varnish vs polyurethane. Polyurethane can have many benefits, particularly when compared to many other finishes. Polyurethane is actually a form of varnish and therefore really is quite durable. Polyurethane can resist scratching, heat, alkali, acids, and wear better than many other finishes, including lacquer. It also offers an attractive, protective finish.
However, there are some downsides with polyurethane. It can yellow overtime, especially if in direct sunlight. It also requires sanding in between each coat to ensure proper bonding, but since the dry time is up to 24 hours, that can mean it takes quite some time to fully finish a piece. It is also typically brushed on, rather than sprayed on, slowing the application even more. So then, why not choose conversion varnish every time?
Conversion varnish is typically more costly than polyurethane because it needs to be professionally applied. However, it also lasts much longer and, although polyurethane is quite protective when compared to other lacquers and paints, conversion varnish is still consistently more durable. While it might cost a little more, it is ultimately a better value, offering longer lasting protection and durability in your home.
Conversion Varnish Advantages
Conversion varnish is the premium paint finish for all sorts of projects, including cabinetry and cabinet doors. This post Catalyzed conversion varnish offers a number of benefits on your cabinet doors. You may choose conversion varnish over other cabinet paint or lacquer products because it:
Is more durable and elastic, moving with the wood
Requires fewer coats
Dries faster and harder
Is resistant to heat, humidity, and scratches as long as it's properly applied and cared for
Offers a smoother finish
Is easy to clean
Helps protect the wood longer
When it comes down to it, Conversion varnish is the clear winner. Let's take a closer look at the advantages offered by conversion varnish to better understand why it's such a smart choice.
Better Durability
When compared to basic home lacquer paint; conversion varnish wins in durability. It is largely a solid coating which is hardened during the application process, so it stands up better to regular use. It doesn't have a tacky feeling like some of the regular house paints, and instead offers a smooth, hard finish that's better for high traffic and high use areas in the home.
Clear Coat Finish
When conversion varnish is applied, you'll get a smooth, clear color and finish. This highly polished finish creates a refined appearance in your kitchen or bathroom, but also makes it easier to care for. In addition to looking great, the ultra-smooth and durable surface is easy to quickly clean or wipe down. Whether your cabinets are subjected to use in a hot, humid kitchen while cooking frequent big meals, or you have small children whose messy little hands leave sticky fingerprints, conversion varnish paint can stand up to it all.
Easy To Clean
When it comes to conversion varnish vs paint, there's no contest when it's time to clean up. Conversion varnish simply applies smoother and doesn't have a tacky or sticky feel like many kinds of house paints. That means if some food or other mess gets on your cabinet doors, they're much easier to clean than traditional cabinet and house paint. Better still, the coating is more durable than other lacquers and paints, too, so it will continue looking great after years of gentle cleaning. Remember not to use harsh chemicals.
Conversion Varnish Problems
Problems with conversion varnish are always a product of faulty application. For catalyzed conversion varnish to come out correctly, it requires particular conditions. If it is not applied properly, conversion varnish problems can include:
Color shifting due to the acid catalyst
Cracked finish if more than 3 coats are applied
Incorrect hardening if the shop temperature isn't kept in the upper 60s for 2 days after application
Because of its particular requirements, this type of catalyzed varnish requires a skilled professional to spray on the finish correctly and get the right results. After it's applied, it must be cured in a properly temperature controlled environment. Ensure that you don't experience any conversion varnish problems by getting your cabinet doors professionally finished by a company you trust.
Shop For Painted Cabinet Doors at CabinetDoors.com
When you want the best and longest lasting finish for your painted cabinet doors, conversion varnish delivers. If you're in the market for new cabinet doors that can stand up to daily use and you want a nice, smooth finish, we can help! Cabinetdoors.com exclusively uses the most skilled craftsmen to apply Sherwin-Williams conversion varnish to our painted cabinet doors. In fact, we guarantee our workmanship, so you can trust that you'll get a high quality, professionally finished product each and every time.
It's helpful to be aware of the potential problems you could experience if you order conversion varnish elsewhere, or if you are thinking about trying to apply a conversion varnish yourself. The good news is that Cabinetdoors.com already offers great prices that are 30-50% below big box retail stores, so there's really no reason to order from anyone else. There's no need to pay for a middleman when you can enjoy our factory-direct pricing and consistent, quality products.
We proudly offer the highest quality doors with the finest Sherwin-Williams conversion varnish paint. In order to suit your style and décor, we offer a variety of Sherwin-Williams paint colors to match your home. Then, we build your doors to your exact specifications, so they're the exact size, wood species, and design you want. Our doors are made right in our factory, and then expertly finished on site to ensure top quality. Once they're ready, we ship our doors directly from our factory to your door to provide our valued customers with the absolute highest quality product at the best prices!
Discover the difference high quality, conversion varnish doors can make in your home. Explore your cabinet door options on our website, or contact us with any questions. What is conversion varnish going to mean in your home? Durable, easy to clean cabinet doors that stand up to your life. When it comes to conversion varnish, Cabinetdoors.com always delivers.