The Best Kitchen Cabinet Color Trends for 2022
Dec 30th 2021
After an entire year spent largely indoors, the kitchen cabinet color trends for 2022 reflect a desire to get back to nature. The calming and comforting hues invoke the outdoors, but they also tend to work nicely with neutrals and other colors as well, making them great picks for your kitchen.
There's an overall desire to start fresh in the new year, and that feeling is stronger than ever this year. The kitchen cabinet color trends for this upcoming year will bring a new sense of life into your space. Here are the 2022 kitchen cabinet trends and some different ways to work these colors into your home.
Silvery Gray Greens
One of the most popular kitchen cabinet color trends of 2022 has been earthy, gray greens with a silvery hue. As paint brands choose their colors of the year, these silvery gray green tones have risen to the top for brand after brand, solidifying this color as one of the top kitchen cabinet color trends we'll see this year. And it's no wonder—darker versions of this shade can help ground a kitchen, while lighter tones can help the space feel lofty and light.
Since painting your cabinets can completely change the look of the room, it's easy to see why so many designers and homeowners alike are flocking to colors that bring the lush freshness of the outside in. Go with a lighter shade that leans toward the cooler, silver spectrum for a brighter and fresher feel. If you want a moodier, earthier look, a darker and warmer version of this hue will fit the bill nicely. Create a sense of balance in a space with a two-toned look. Try painting the top cabinets in a lighter version of the same darker shades painted on bottom cabinets. No matter which iteration of this popular color you choose, these color trends for kitchen cabinets in 2022 will keep your space feeling green and inviting, no matter what the weather outside.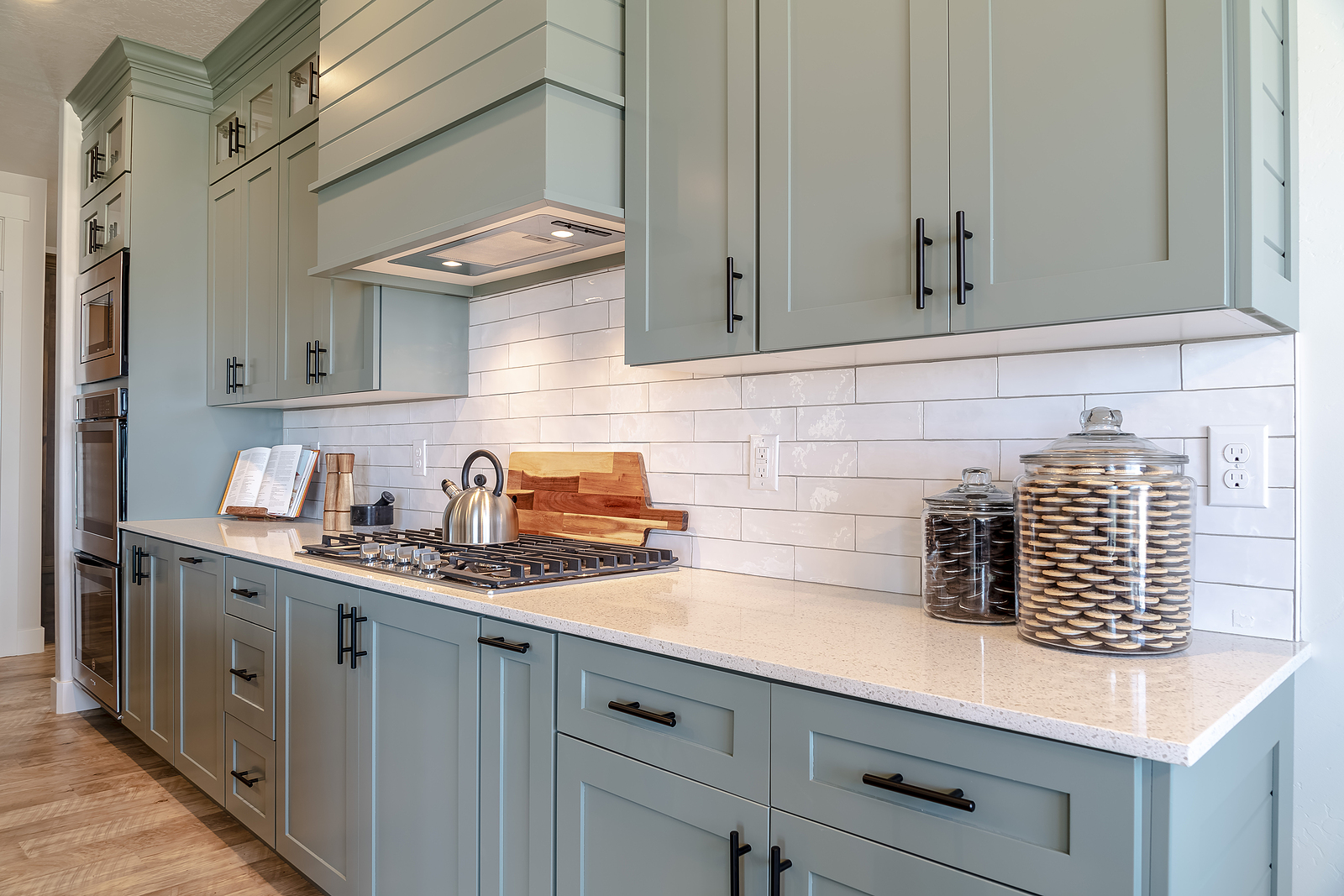 Periwinkle Blues
Another one of the popular new trends in kitchen cabinet colors is periwinkle blue—a bright, grayish blue with a hint of a purple undertone. Lavender has been trending in fashion all year, and that trend seems to have made its way into 2022 kitchen cabinet trends. Lavender can sometimes be a trickier color to integrate into a design scheme, but a periwinkle blue brings that same freshness in a tone that feels a little more versatile.
Because periwinkle blue brings a sense of relaxed energy to a space, it can be a great way to invigorate and brighten a kitchen that feels dull. Periwinkle paint on kitchen cabinets pairs nicely with neutral tones, bringing a cheeriness to a kitchen that's otherwise all white, or a lively sense of warmth to a kitchen with a gray color base. Add periwinkle blue to a space with warm wood floors, and you have a kitchen that feels like a warm summer day. The periwinkle cabinet color trends are unexpected, but they can truly transform the look and feel of a kitchen that needs a refresh.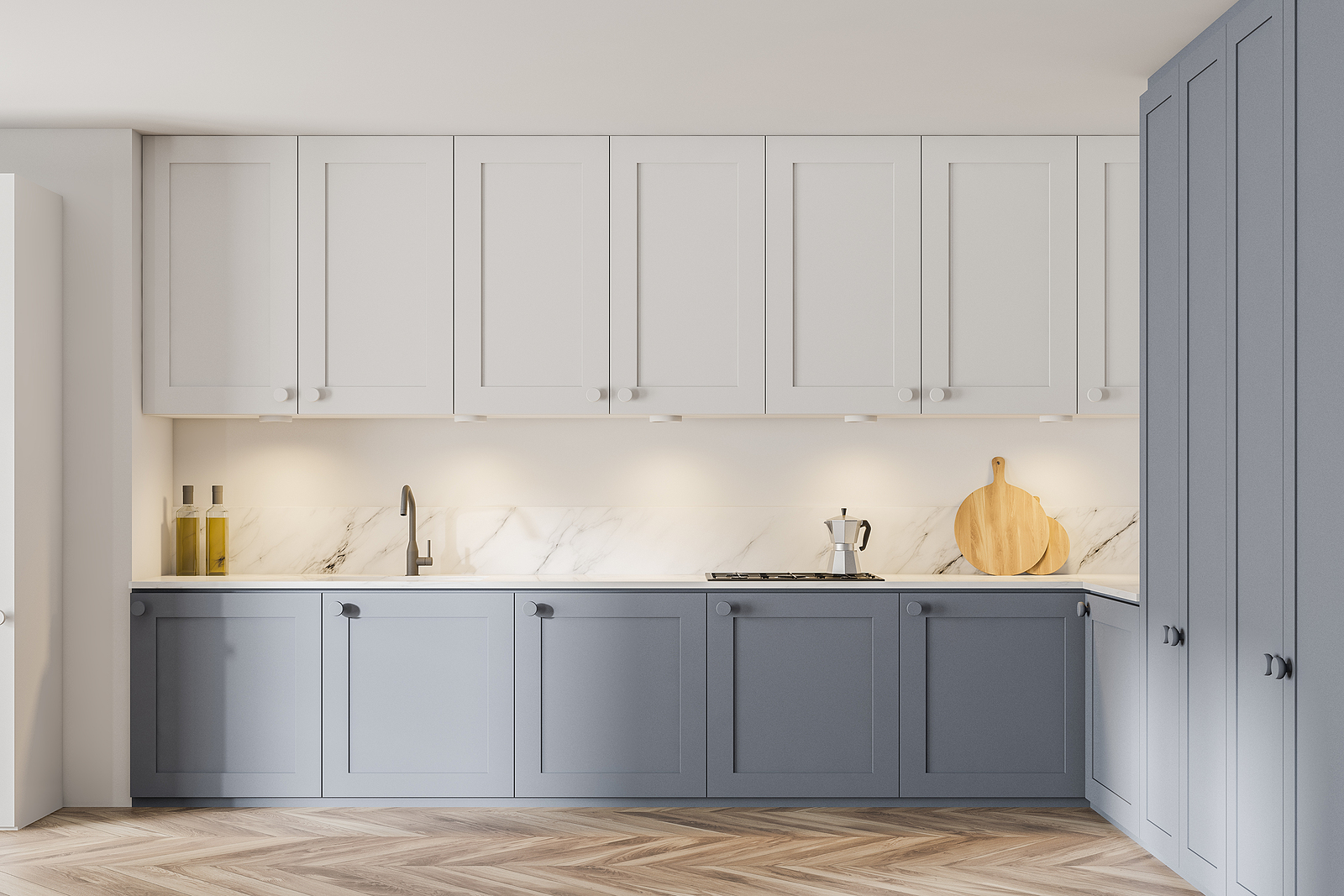 Neutral and Timeless Black and White
If you're looking for 2022 kitchen cabinet trends that will never go out of style, both black and white are strong contenders. The all-white kitchen trend has been going strong for several years now, but it's also one of those cabinet color trends that will stand the test of time. Because white is such a bright, clean hue, it lends a sense of airiness and light to the kitchen. Even better, white is very easy to compliment, and it will pair nicely with any other color you choose to bring into your kitchen. As such, white kitchen cabinets become a canvas for almost any color scheme you want, but they also allow you to change the colors up whenever you want.
For a more minimalist and modern look, black is a strong choice among trending kitchen cabinet colors. Black cabinets lend depth and weight to the space, and they can even help make mismatched cabinets look cohesive and intentional. Black also lends a seriousness to brighter colors and can help ground tones that might feel too exuberant on their own. For an especially classic and bold look, try using both black and white to create a timeless kitchen color scheme. Two-toned cabinets in black and white can be quite striking. Try painting the bottom cabinets black and the top cabinets white to keep the room feeling open, or paint different sections of the room in each shade to suit the layout.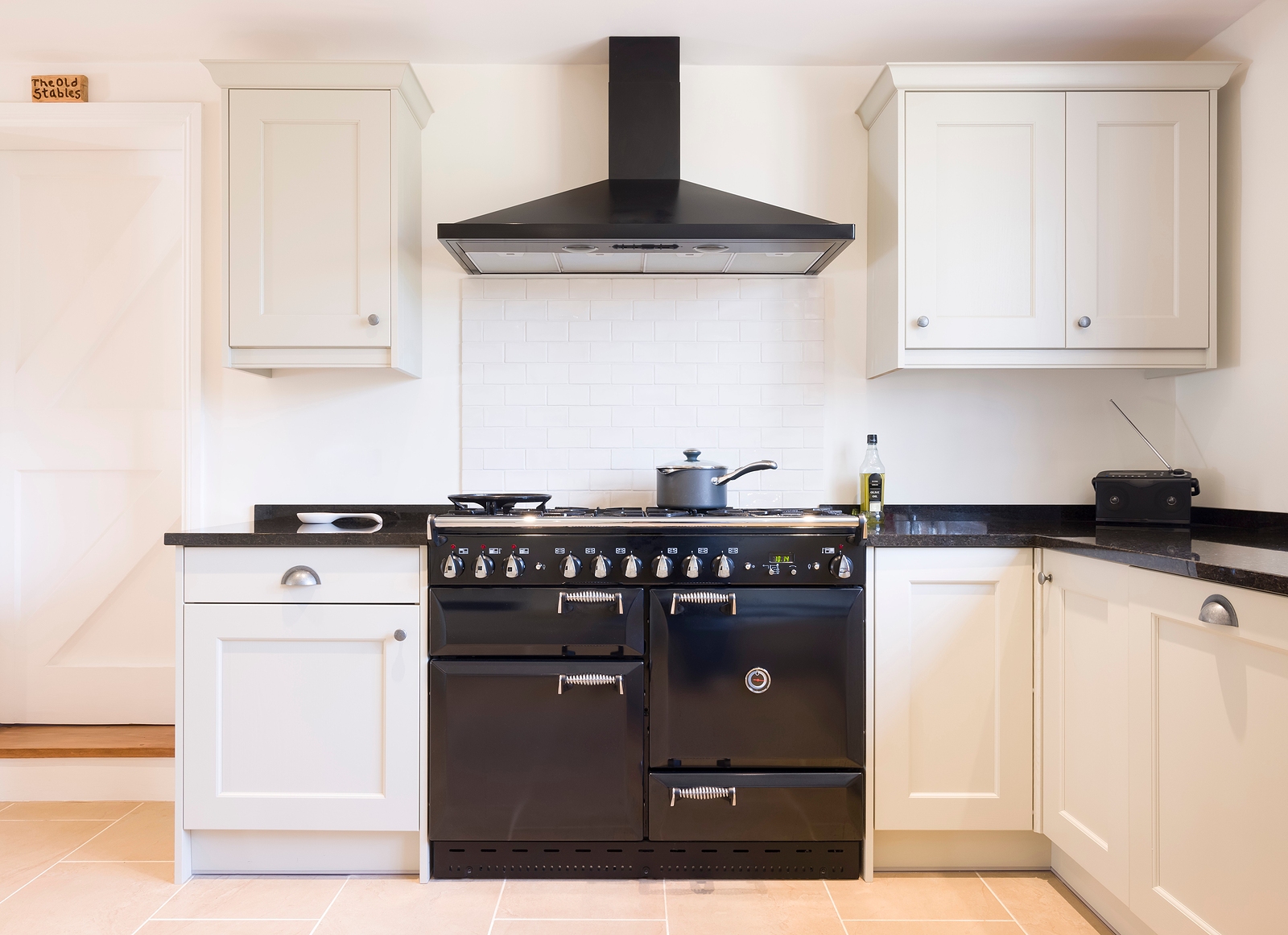 Classic Gray Shades
Another neutral that always feels cozy and modern is gray. There are so many shades of gray to choose from, and each creates a different feeling. Go for warm, darker grays to warm up a space or opt for cool, lighter grays to keep the room feeling fresh and bright. Gray continues to land on the lists of new trends in kitchen cabinet colors because it is so versatile. It can pair well with so many different colors and impart a different impact depending on how it's used. A cool gray and pale pink create a soft and modern look that doesn't feel too precious. Warm gray and rich burnt orange create a bold, contemporary look that still feels inviting.
Gray can also be used to balance other neutrals. Pair pale gray cabinets with white for a bright room that doesn't feel so stark or sterile, or add deep gray cabinets to help balance a room with black countertops and flooring. Gray also works incredibly well with bold and bright accessories in varying metallics. Together, metallic hardware and light fixtures pair with gray kitchen cabinets to create a sense of luxury. The brightness of the metallics are tempered by the grounding gray tone, creating an incredible sense of balance and elegance. Small pops of color can be incorporated with accessories to help bring in new hues that can be easily switched out as often as desired.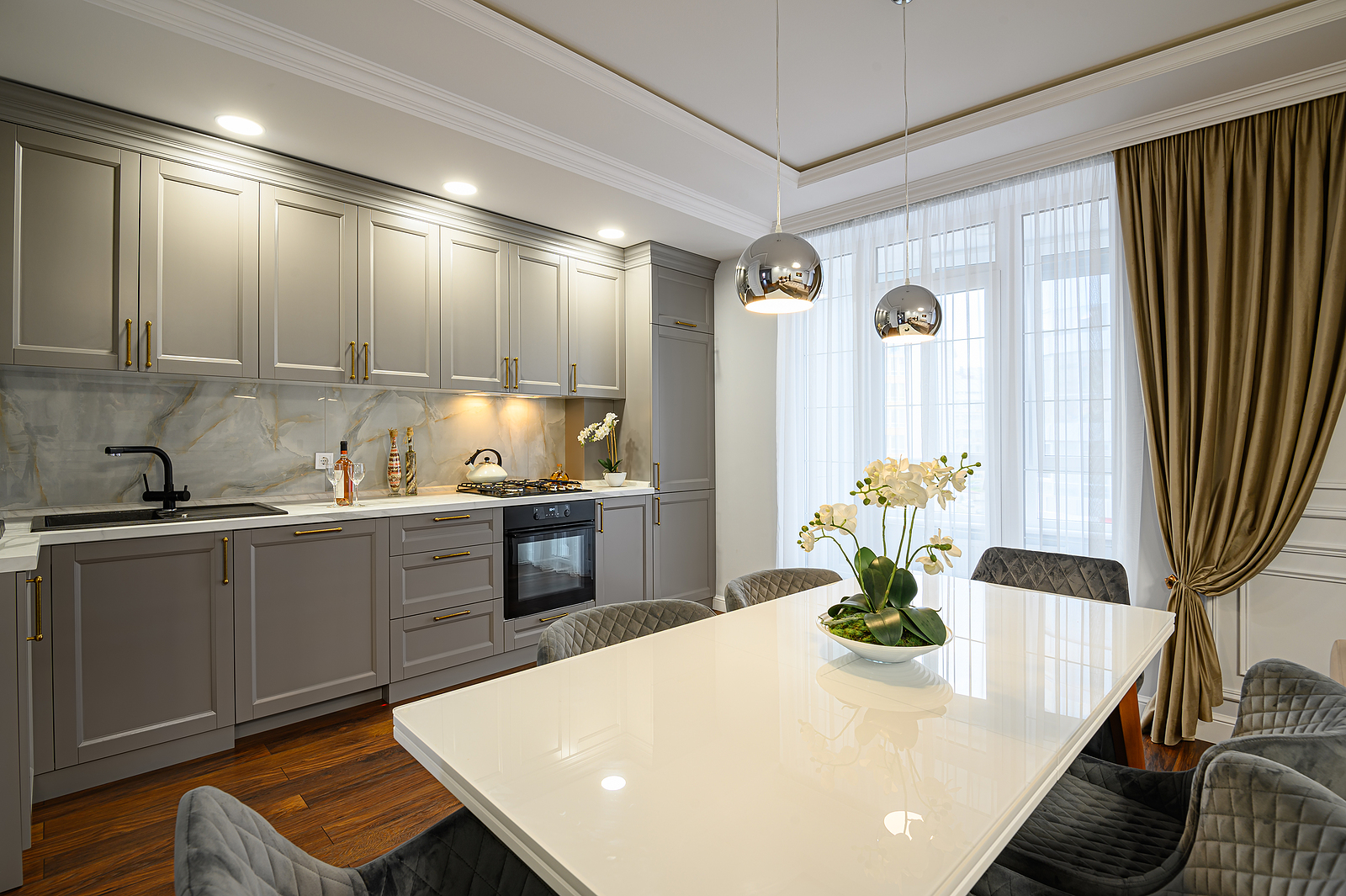 Citrus Tones
Citrus tones have made the cut of trending kitchen cabinet colors yet again, and it's not hard to see why this bold and bright choice is holding strong. After a tough couple of years, a joyful and energetic color choice can help bring a sense of much-needed playfulness into a home. Whether you opt for bright lemony yellows, warm burnt oranges, tropical lime, or even a bold blood orange or pink grapefruit, you can't help but feel happy about these colors. And, while it's true that bright citrus kitchen cabinets are a bold choice, there are plenty of ways to temper the brightness to make it feel just right for you.
If you're not quite sure you're ready for an entire kitchen full of bright and cheery tones, try balancing them out with neutrals. A yellow and white kitchen feels airy and light, while a burnt orange and black kitchen can feel surprisingly sophisticated. Lime pairs beautifully with gray for a space that looks both modern and fresh. If you love color and you're interested in mixing tones, you can also try contrasting colors to make the citrus tones pop. A deep, moody blue pairs well with orange or yellow, while the darkest plum can ground a lime green. Whether you work these citrus tones into a more neutral kitchen, or go all out on color, citrus color trends for kitchen cabinets in 2022 will bring a sunny feeling into your home.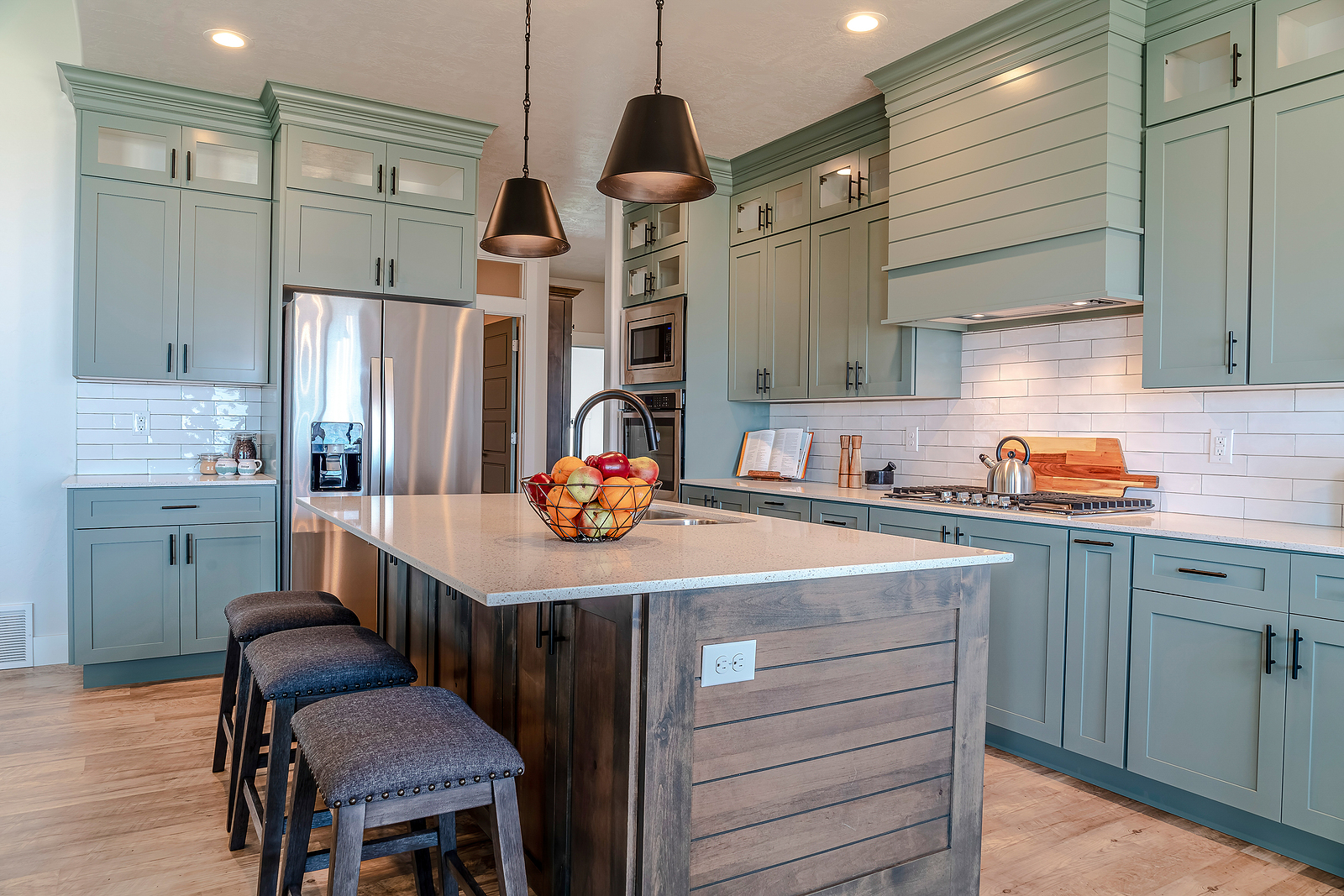 Incorporate Kitchen Cabinet Color Trends on New Cabinet Doors
When you look at the kitchen cabinet color trends of 2022, it's easy to see that there's a clear focus on colors that make you feel good. Whether you go for nature-inspired silvery green, a bright and refreshing periwinkle, or a refreshing combo of citrus and neutral, you're sure to feel a sense of renewal on the horizon. Embrace new colors to help update your kitchen space and give it a brand new look and feel. If you're ready to really make your space feel welcoming and brand new, consider updating your cabinet doors, too. Even a fresh coat of paint won't fix cabinet doors that have seen better days, and new doors and drawer fronts can help create the kind of upgrade that feels like a full remodel, without the hassle or the cost. In fact, with new cabinet doors and drawer fronts from Cabinetdoors.com and a fresh coat of paint in your favorite hue, you can make your cabinets look entirely new at a fraction of the cost of replacing all of your cabinetry.
Wondering how you can save so much money even when replacing all of your cabinet doors and drawer fronts? Cabinetdoors.com helps you save money by offering our homeowners the same wholesale prices we offer our builders and contractors. Because we are the manufacturer, you won't ever have to pay for a middleman to get our products from us and then retail them to you. Instead, you can order directly from us online. We'll make your products to your exact specifications, then ship them directly from our factory to your door. Let us help you transform your kitchen today. When it comes to new cabinet doors and drawer fronts, Cabinetdoors.com always delivers.