Looking Back on 2020's Most Popular Kitchen Trends
Jan 15th 2021
Every year has its kitchen trends and 2020 is no different. This year, designers embraced the natural beauty of wood and found new ways to incorporate color throughout the kitchen. Whether you're looking at integrating kitchen cabinet color trends in 2020, or you're considering featuring new kitchen countertop trends for 2020, there are so many ways to update your kitchen with new, exciting elements. Some of these trends are quick changes anyone can make in a room, while others feature a more involved upgrade that can make a big difference. From cabinet doors to tile floors and everything in between, here are your kitchen trends for 2020. Get inspired to make your own changes for 2021!
Updated Classics
The classics never go out of style, and 2020 was all about embracing the classics with a little bit of an update. One popular example was taking a classic cabinet door style, like Shaker Cabinet Doors, and painting them a clean, bright white or a cool, sleek navy to help bring a classic style into the now. Kitchen cabinet color trends in 2020 helped to update kitchen styles, making them feel modern without having to sacrifice quality and traditional styling. Among popular kitchen design trends in 2020 was another updated classic, this time by adding new hardware to beautiful classic cabinetry. You might be surprised by how much of an impact small changes like paint or hardware can make, but they can truly make all the difference. Think of it like a crisp button down shirt—the style is always in fashion, but a new color, pattern or accessory can help make it feel fresh.
Unexpected Pops of Color
New colors always make a splash in a room, and the kitchen is no different. One of the most impactful kitchen trends in 2020 was pops of color throughout the kitchen. Designers and homeowners alike found new ways to incorporate color in the kitchen, from colorful appliances to new color on the cabinetry to bright accent walls and ceilings. Color even made its way into new tile and backsplashes. New cabinetry colors can be a wonderful change, whether it's paint or pigment, as can new paint on the walls or the ceiling. Tile is a bit more labor intensive, but the impact is breathtaking. Yet, the wonderful thing is that even small pops of color can really make an impact in a room, so it can be a great way to incorporate an update without breaking the bank. Unexpected pops of color bring a change that feels special and fresh, so it's no wonder that it was so popular in 2020.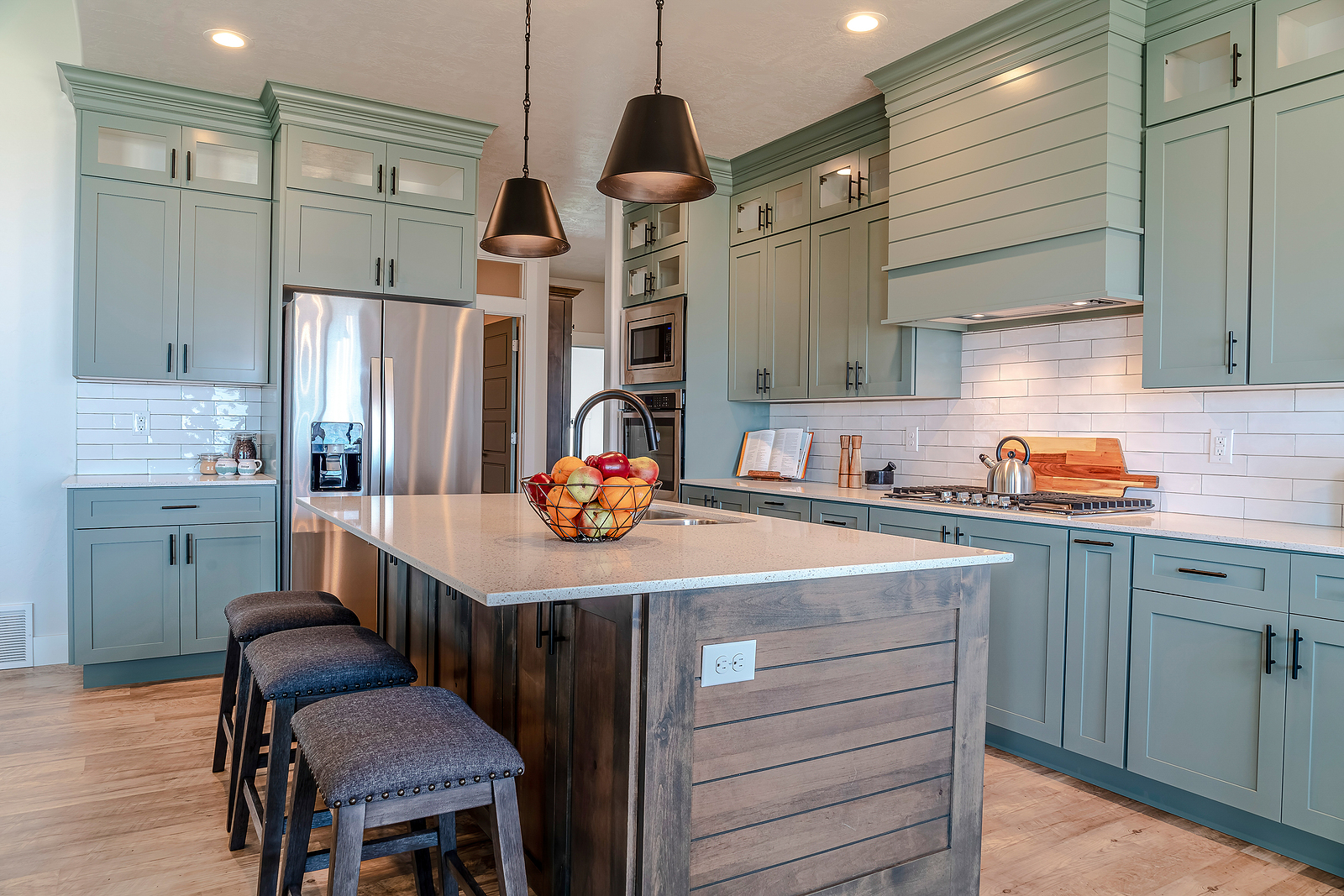 Open Shelving
Open shelving is among kitchen design trends for 2020 for a number of reasons. First, open shelving allows you to showcase beloved decorative items and family heirlooms that bring you great joy and can help define the style in your kitchen. These can also be switched out, allowing you to change the colors in the room and giving you a bit more stylistic flexibility. Open shelving is also popular because it gives you quick access to regularly used items, and it can also help save space in smaller kitchens. Finally, open shelving offers a sleek, clean design element in a room, allowing your dishware and servingware to take center stage. Open shelving isn't a new concept, but because it's both stylistically interesting and utilitarian, it keeps coming back again and again.
Black Cabinetry
Surprised that black cabinetry is popular right now? Don't be—this trendy, modern look in the kitchen is actually one of the top kitchen cabinet color trends of 2020 because it offers such a bold, yet elegant look while grounding the space. Much like classic black never goes out of style when it comes to clothing, black cabinetry offers that same classic look, with a sleek, luxurious feel. Black cabinetry also gives you freedom when it comes to the other colors you incorporate in the room because, as we all know, black goes with everything.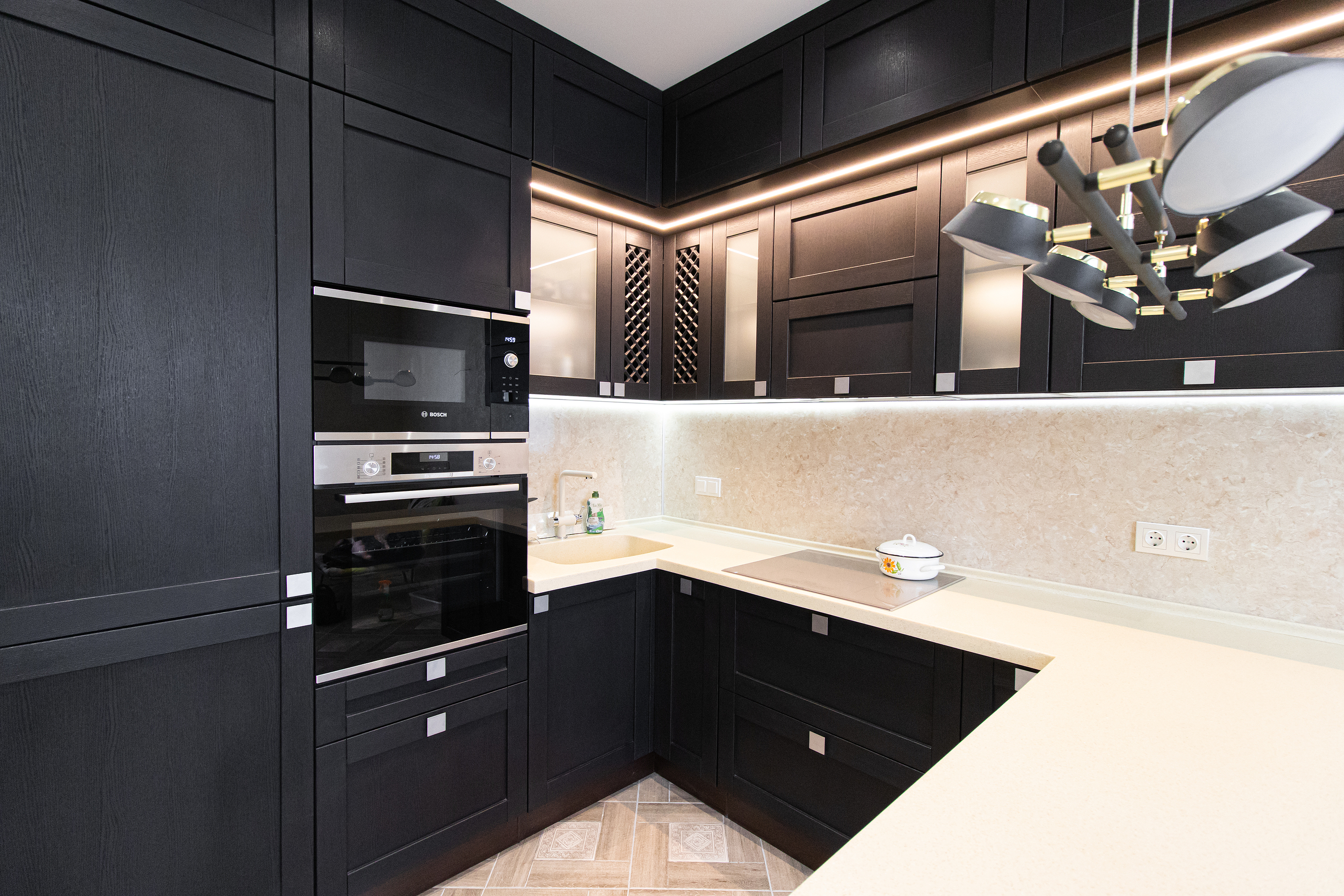 Modern Rustic
Whether you incorporate elements with reclaimed wood, or install cabinet doors made with rustic woods like knotty hickory or alder, the rustic look is one of the big kitchen trends in 2020. You'll see it across the board in furniture, cabinetry, flooring, beams, and more. For 2020, rustic elements were paired with modern color choices and updated hardware for a look that feels both cozy and modern. Designers and homeowners looking to update older spaces, while maintaining their signature charm, can embrace the unique, rustic elements already present in the home, while finding small ways to modernize the space for the best of both worlds.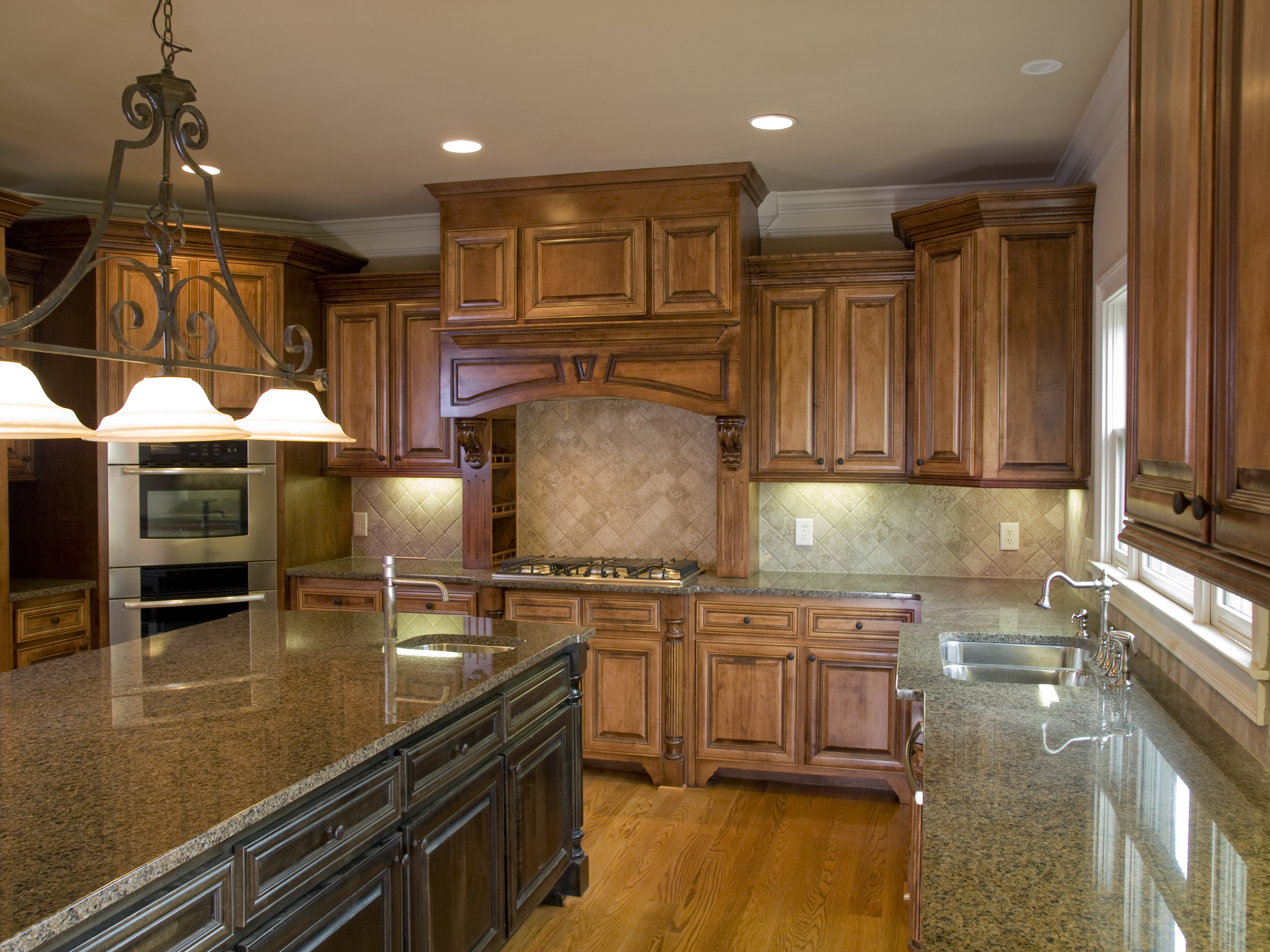 Hidden Appliances
This trend has been going strong for years now, and its popularity doesn't seem to be waning, remaining one of the popular kitchen trends of 2020. Incorporating hidden appliances makes a kitchen feel a little warmer, and your refrigerator and dishwasher don't stand out in your kitchen and scream "Here I am!" For a design that embraces the warmth and beauty of natural wood cabinetry, incorporating hidden appliances allows the cabinetry to take front stage.
Knockout Tile Flooring
If you're wondering about kitchen flooring trends in 2020, think tile, tile, and more tile. From terracotta to cement to retro geometric to traditional mosaic, a tiled floor brings bold style. Designers' choices run the gamut from neutral, rectangular concrete tiles to bright geometric patterns that serve as the main design element in the room. No matter which direction you choose to go with your style choices, choosing tile flooring is right in like with kitchen trends in 2020.
Natural Wood
It's hard to go wrong when you embrace the beauty of natural wood, and as such, natural wood elements continue to be one of the big kitchen trends of 2020. Wood popped up everywhere, as one of the kitchen countertop trends in 2020 with gorgeous butcher block counters, maintaining popularity in kitchen flooring trends in 2020, and holding steady for kitchen cabinets and hidden appliances, too. Natural wood brings a warmth and homeyness to the kitchen, but it can also mean less upkeep over time, too. Natural wood finishes are better at hiding the small dings and scratches that come with daily use, and the wood grows warmer and deeper in color with time. For 2020, designers and homeowners let the wood do the talking in the kitchen, incorporating neutral color elements to help bring out the beauty of the wood.
Simple and Sleek
Simple and sleek designs have been popular kitchen trends in 2020, with designers and homeowners opting for clean lines that make the most out of the space. Rather than choosing decorative elements like crown molding or complex millwork on the cabinetry, more and more people are choosing simple, sleek elements to allow the design of the room and its features to truly shine. Whether you choose to let the simple design stand, or incorporate modern kitchen cabinet hardware trends from 2020, which can easily be changed down the road, clean lines in the kitchen always read modern and stylish.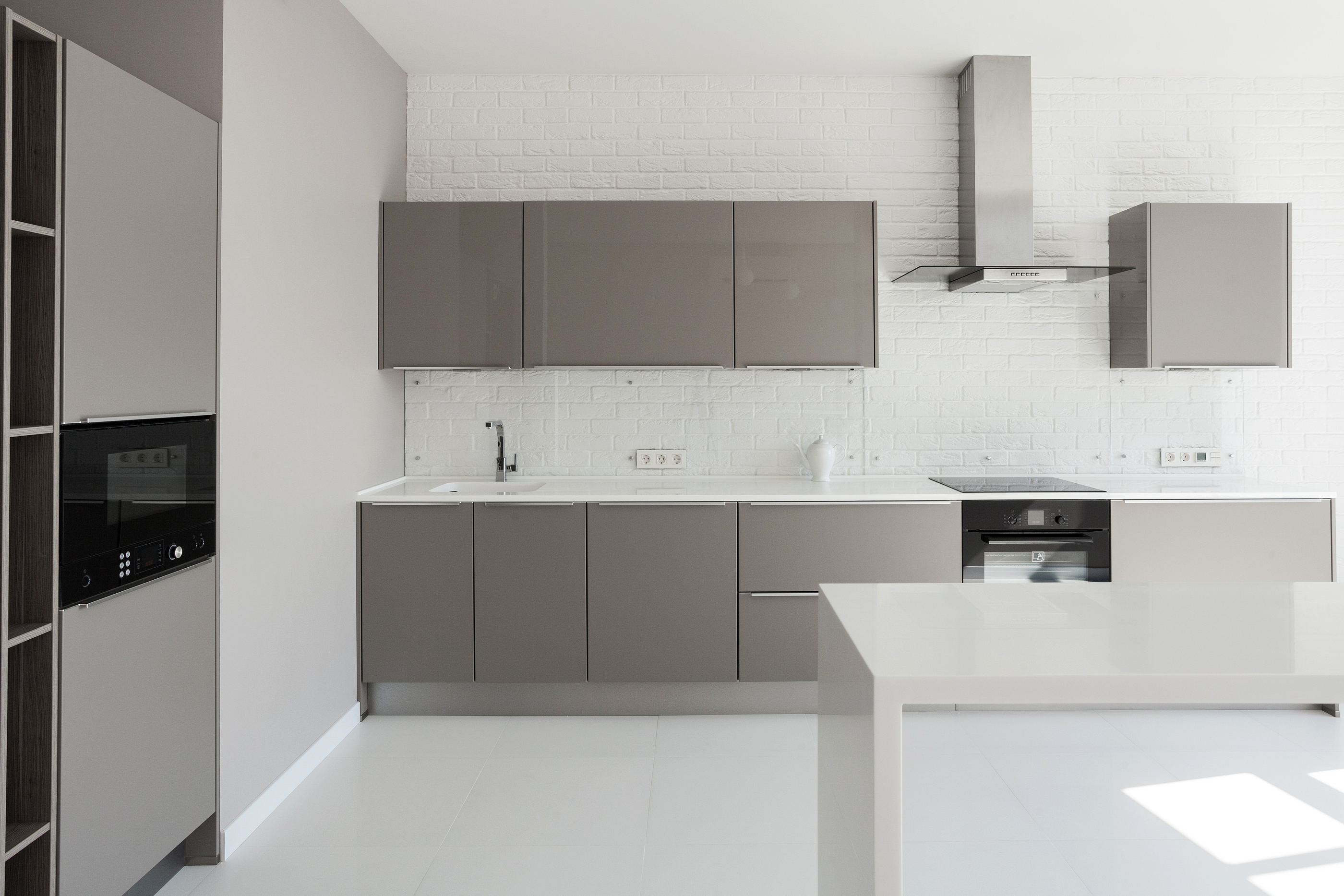 Find Ways to Incorporate Popular Kitchen Trends of 2020 with The Door Stop
If you're looking to update your kitchen and find yourself drawn to several of the kitchen trends from 2020, The Door Stop can help you make those updates a reality. New kitchen cabinet doors and drawer fronts can make a huge impact in your kitchen, and are an excellent way to update your kitchen design. Whether you want to try out the latest kitchen cabinet color trends of 2020 by incorporating natural wood finishes, trying our durable and professionally applied Sherwin-Williams conversion varnish paint, or trying your hand at staining or painting your own cabinet doors on our paint grade products, we can help you achieve the look you want with custom-built cabinet doors and drawer fronts made just for you.
The Door Stop can help make a DIY project easier, or make a renovation more budget friendly, by helping you get that custom look at a wholesale price. We make it easy to order exactly what you want, in precisely the size you need, and all at a great price. Your order will be built to your specifications, and then you'll get your order in a matter of a few short weeks, delivered right to your door. Find out more about how we can help you incorporate the kitchen trends of 2020 into your kitchen today. Contact us for more information at 1-800-342-1010 or www.cabinetdoors.com. Update your kitchen with The Door Stop—we always deliver.