Everything you need to know about cabinet door replacement costs
Posted by Jim Hill on Mar 24th 2020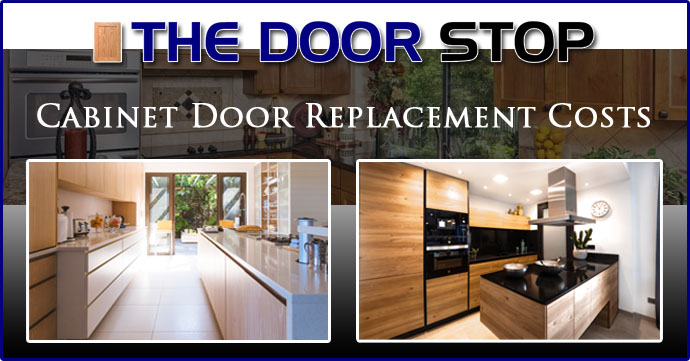 When doing home improvements or remodeling, the cost is a part of budgeting. Two of the most popular remodeling projects are the kitchen and bathroom, both of which typically have cabinetry. So, a lot of people are wondering, what are cabinet door replacement costs in 2020?
How Much Does it Cost To Replace Cabinet Doors?
All costs are calculated as an average cost between door styles and for average door sizes. Some door styles, wood species, and larger sizes will add cost. The average cost of replacement cabinet doors is $35.00, depending on if you order online or pay more at retail stores. To get a rough estimate of your total cabinet door replacement costs, simply multiply the number of doors you want to replace by $35.00. At first, the figure might seem substantial, but when you compare it to the cost of a whole-kitchen remodel or a complete cabinet replacement, it's quite modest.
Cabinet Door Replacement Costs at Cabinetdoors.com
The cost of cabinet doors is calculated by a sqft cost, it depends on the type of wood you select, and the door style. All replacement cabinet door orders are custom made to the sizes you specify. An example of the cost of a cabinet door replacement is the Adobe Cabinet Door in Oak, it's offered at $13.75 per sqft. A door measuring 10 inches wide and 21 ½ inches high. This cabinet door replacement cost is $20.53 per cabinet door. That's the cost for the door itself, but you can also pay a little extra to have the door painted in one of five trendy colors using premium paint from Sherwin Williams. And you can also pay to have hinge pockets bored in each of the doors for easier installation, even if you don't purchase the hinges through us!
Cabinet Door Replacement Costs at Retail Stores
If you head to some of the popular hardware and home improvement centers, you can expect to pay about $50.00 per cabinet door. There will be some that are cheaper and some that are more expensive based on the style, size, and finish of the cabinet door replacement you choose. You pay higher cabinet door replacement costs at a big retailer because you're also paying for a bunch of middle men. And because of those same middle men, you have fewer customization options to choose from, meaning you're paying more to get less. Even having to travel to the store is less convenient than being able to shop online
Cabinet Door Replacement Labor Cost
You have a choice when replacing cabinet doors on if you install them yourself, or if you choose to have a professional come and do it for you. If you hire a professional, they will measure, source the cabinet doors, get the hinges, and then install them for you. Single cabinet door replacement averages around $182 dollars.
Cabinetdoors.com is proud to offer detailed text and videos on how to measure, order, and install replacement cabinet doors. This gives you as a homeowner the ability to order your doors online to save money and save even more installing them yourself! Trust us, you don't need to be an experienced contractor to perfectly hang your doors within an afternoon, and you might even enjoy the project if you're a DIY enthusiast. Plus, when you do the job yourself you can work on your own schedule and call all the shots instead of settling for whatever a contractor can offer. Keep in mind that even if you do hire someone to finish or hang the doors, you still minimize your cabinet door replacement costs by ordering online.
Potential Cabinet Door Replacement Costs
There are a number of costs that could be part of cabinet door or cabinetry replacement. When remodeling your home, kitchen, or bathroom, it's common to find hard to see damage that needs repairs. Plan a little extra in remodeling budgets to cover potential unforeseeable costs.
Some of the costs to budget for include:
Costs for relocating, modifying, or removing cabinetry. If you're moving a sink, range, oven, or OTR microwave, there will be higher costs involved.
Costs for repairing damage discovered during remodeling or replacing cabinet elements. If you find frame damage, water damage, mildew or mold it should be fixed before proceeding with your project.
Costs related to hiring skilled craftsmen to come and install the doors for you. If you hire a general contractor you can estimate adding about 20% to your overall cabinet door replacement budget.
Costs related to inspections or permits that may be needed for more involved remodeling.
Cost of sales tax on supplies and materials.
The simple fact is that home improvements projects are unpredictable and costs come quickly and unexpectedly. Knowing that, you need to minimize whatever costs you can – specifically the cabinet door replacement costs related to buying the doors themselves. If you save on buying the doors, you can cover surprise costs and hopefully still stay within your budget.
Save 30% Or More Ordering Replacement Cabinet Doors Online
When you compare the cost of replacing cabinet doors between buying online and paying more at local home improvement centers, the choice is clear! Cabinet Doors is proud to offer the highest quality replacement cabinet doors at the best prices. We sell straight to homeowners and the public at prices only enjoyed by distributors. You get the replacement cabinet doors you want without having to pay their markup! Everyone – homeowners, interior designers, and contractors alike – can save on cabinet door replacement costs by making Cabinetdoors.com their first and only source.