Tips for Refacing Your Cabinets with Replacement Doors
Dec 18th 2019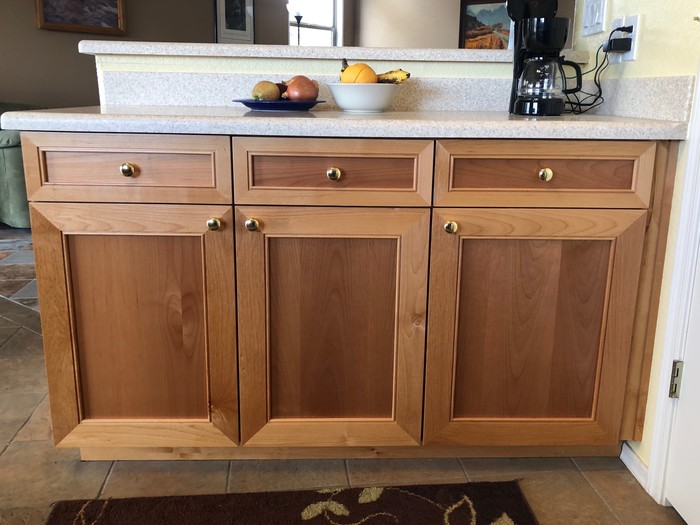 If your cabinets are starting to show their age, or are just outdated in general, replacing all your cabinets may not always be the best option. Refacing cabinets is a great option. You replace or refinish only the "face" of the cabinets, meaning the doors, drawer fronts, and any part of the cabinet facing outward.
Compared to the cost of replacement, refacing cabinets could save you thousands of dollars yet transform the look and feel of your kitchen. It's also a lot faster to just reface the cabinets and will create a lot less mess in the process. For many people, this turns out to be the cheapest, easiest, and most attractive option — which makes it the best option.
If you agree, take advantage of some tips from us here at The Door Stop. We have helped homeowners, designers, and contractors with refacing cabinets too many times to count, and we have learned how to ensure the best-looking results (and avoid a lot of headaches along the way). With that in mind, follow this advice.
Know the reality of refacing
Before you start refacing cabinets, it's crucial to know what you're getting into. Refacing cabinets may be easier than replacing them, but that doesn't mean it's effortless depending on how you plan to proceed. Replacing the cabinet doors is the simple part. Just measure your current doors, then order custom-built replacements in the same size (but not necessarily the same style) from The Door Stop. The tricky part is the cabinet base – the part of the cabinet that's visible when the doors are shut. Painting these sections is fairly easy, whereas installing your own wood veneers is much harder and more expensive. What you do with the cabinets is entirely up to you, but it's important to be realistic about what's involved.
Start sooner rather than later
You will know it's time to reface your cabinets when they start to show clear signs of wear and tear. That includes dents, dings, scrapes, stains, and any other kinds of defects. The face of the cabinets receives the most use and abuse, so it tends to wear out faster than the inside. Only you can decide when the face is worn out, but as soon as you do, start making plans. Refacing cabinets is one of those projects that can get put on the back burner, and while you're not making progress your cabinets are only starting to look worse. If you need some motivation, remember that refacing cabinets doesn't have to be a huge undertaking, and you can complete the project with a modest budget, minimal DIY skills, and about 2 weeks time if you want.
Don't skimp on style
Refacing is not the same as replacing. Most people use this opportunity to transform the look of their cabinets, using drastically different colors and styles from what they had before. Don't feel like you have to go nuts, but don't feel like you have to go with something the same or similar to your past cabinets. Refacing cabinets gives you an endless array of design options to work with, from the design of your cabinet doors to the overall color scheme of the cabinetry to the hardware you choose to install. With that point being said, if you have always dreamed of a kitchen that looked a certain way – sleek and modern, quaint and cozy, exactly like something out of today's design magazines, etc. – now is the time to live the dream. Best of all, you can achieve almost any look without needing to spend a lot.
Paint can make all the difference
When you think of refacing you mostly think new doors, but sometimes just repainting can make a world of difference and is a low-cost way to reface and update your kitchen. Right now the "White" Kitchen is all the rage. If you're looking to put your house on the market this may be the best choice for you. People will see past the style of door, and see a bright new and clean "White" kitchen! A professional is recommended, but if you possess some DIY skills you can transform your kitchen at a low cost!
Think about functionality
When you upgrade your cabinets, work on the functionality as well as the style. If your old cabinet doors banged shut or your drawers were hard to open and close, the perfect time to install better hardware is when you're refacing cabinets. New drawer runners can ensure your drawers close smoothly, and soft-close Blum hinges can do the same thing for your cabinet doors. These kinds of upgrades are relatively inexpensive, but they make using your cabinets and working in your kitchen a lot more pleasant. As much as possible, use your resources to make the space perfect, not just better.
Look past the cabinets
Related to the last idea, look for projects you may want to do in addition to refacing cabinets. For example, could you also paint the kitchen walls, install a different backsplash, put in a new kitchen sink, or add some additional lighting? All of these are easy upgrades you can probably tackle during your refacing project, and they will only make your kitchen look and feel that much better than it did before. The whole idea of refacing is to make a simple but significant improvement to your space, so look for other ways you can accomplish the same thing.
Find your next doors at The Door Stop
Refacing cabinets is really about finding the right replacement doors – something with the right size and the perfect style. The Door Stop is here to provide exactly what you want. Browse our massive inventory of cabinet doors, each of which is custom-built to your dimensions and specifications. After you find the perfect option, follow these instructions to complete your order. Please reference our FAQ for more information, or contact us directly.