8 Tips for a Professional-Looking Finish on Your Cabinets
Apr 30th 2021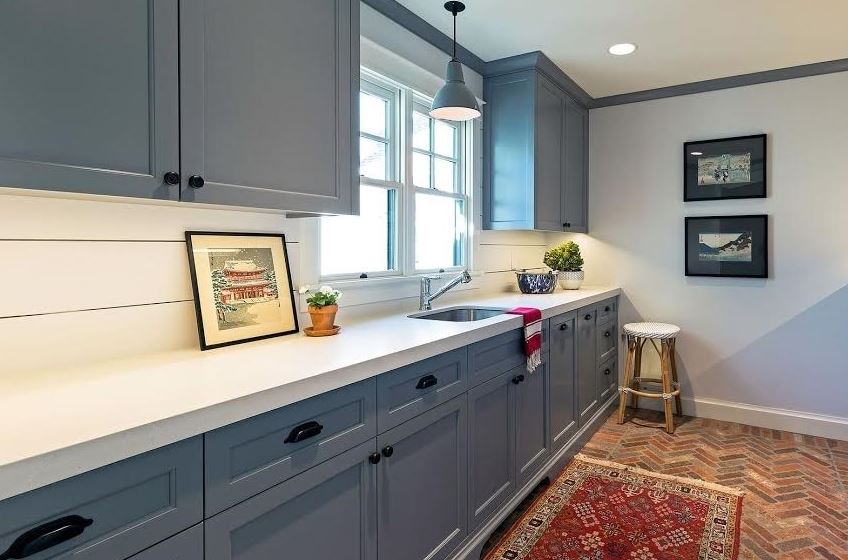 Are you looking for professional-looking finished cabinet doors, but wondering how to finish cabinet doors correctly? When it comes time for painting kitchen cabinets in your home, we recommend following several important rules to avoid disappointment with the final results. But first, make sure you know whether your cabinets can be refinished and what kind of kitchen cabinet finishes should be used on your kitchen cabinet doors. Here's how to make sure you'll have beautifully finished cabinet doors the first time through.
Can Your Cabinets Be Refinished?
There's nothing more frustrating than spending tons of time carefully prepping out your cabinet doors, only to discover that they're not taking wood cabinet finishes the way you were expecting. That's why it's so important to make sure you know what kind of cabinets you have first, and whether they can take the kitchen cabinet finishes you were planning on using. So what should you look for?
Actual wood: If you have laminate cabinets, it's best to

reface your cabinets

rather than just painting them. While it is possible to paint laminate, the finish can be unreliable and is prone to peeling. If your cabinet doors are laminate, we suggest replacing them with new cabinet doors rather than attempting to paint them. This is still significantly less expensive than fully replacing your cabinets, so don't panic if this is the case for you.
Wood species: If you're looking for smooth, professional-looking finished cabinet doors, you'll want to look for certain wood species that take paint well. Close-grained wood species—like maple, poplar, or even MDF—are best for painting because they don't absorb the paint. Open-grained wood on the other hand—like oak and ash—absorb the paint into the grain so that the grain of the wood is prominent rather than producing a smooth finish. If you want to paint an open-grained wood, you'll need to seal the wood and use wood grain filler, which makes for a much more time-intensive job.
Solid cabinets: If your cabinets or cabinet doors aren't in good shape, there's little point in refinishing them. Even freshly finished cabinet doors won't look good if the cabinets are too worn or damaged. If it's just the finish or the hardware that's worn, but the wood itself is still solid, you should get good results from painting kitchen cabinets.
If your cabinets are made from the right materials and are in good enough shape to accept the finish you choose, you should be ready to get started with the process. Remember that wood cabinet finishes can be finicky, so take your time and make sure you follow our tips below carefully to get the results you want.
However, if your cabinets aren't suitable for refinishing, but are still in good shape, look into cabinet refacing. You can still get the look of brand new cabinets, without having to replace them completely.
How to Finish Cabinet Doors Correctly
If you want to know how to finish cabinet doors well so that they look smooth and professional, keep these eight tips in mind. This will ensure that your cabinet doors are not only ready to accept paint, but that you have gone through the finishing process thoughtfully and correctly.
1. Prep-prep-prep. Prepping your cabinets correctly ensures that every hour spent preparing the cabinet door for painting saves two hours in repainting. Prepping your cabinets includes several steps.
a. Remove your cabinet doors first. Make sure you create a system of organization, a diagram, or a way to label each piece to ensure that you'll remember exactly where each cabinet door and drawer goes. Same goes for any hardware you remove.

b. Make sure that you thoroughly wash anything that will be painted to remove grease, grime, and any buildup. Get your hardware good and clean because you won't want to damage your fresh finish after the fact.

c. Clean inside your cabinets so they're clean, tidy, and ready to go once everything is reinstalled. Again, it'd be a shame to damage your fresh finish because you didn't prepare properly.

d. Carefully cover any hardware that won't be removed with painter's tape. Also make sure any other exposed surfaces—like floors and counters—are covered in drop cloths or butcher's paper to protect them.
Once you've done all this, you're prepped and ready to begin the process of painting kitchen cabinets.
2. Hide imperfections. Fill in dents, scratches, small cracks, or old hardware holes that won't be reused with wood filler to ensure an even, beautiful finish. Anything that's too hard to fill most likely makes that door unsuitable for refinishing.
3. Sand between each coat. If your cabinets are already painted, but the paint is in good shape, you'll just need to gently sand the surfaces as usual. Sand before primer and sand between each coat of primer and paint to ensure that the paint sticks well. If the paint currently on your cabinets is chipping or flaking off, you'll need to scrape off the old paint before moving forward. Make sure you don't have lead paint before proceeding with sanding or stripping.
4. Sand your edges. This is important enough to warrant its own tip. Always break all sharp edges with fine sandpaper before painting. Get in the grooves and details, and sand the edges, corners, and crevices well. Sharp edges won't hold paint and the unpainted spot will not only stick out, but will also absorb moisture which can eventually ruin your cabinet doors.
5. Follow the 5-F's rule. This rule, "Fine Finishers Finish Firewood First," simply means that testing your finish on scrap wood can prevent you from unintentionally ruining a new cabinet door with a failed finishing attempt. This step is particularly important when using certain kitchen cabinet finishes like stain, wood dyes, or when using a glazing cabinets technique. If you are new to a finishing technique or product, testing it out first can help you get a feel for how to apply it properly. You'll also ensure that you get the finish you want, rather than an uneven, blotchy mess that has to be sanded down and started again.
6. Wood swells and contracts. All wood types expand and contract with changes in humidity and temperature. Properly applied paint slows this swelling and contraction, but it can't completely stop it. When the paint dries, it no longer has the elasticity to move with the wood. This is when paint will crack, usually along the glue joints where the stiles & rails of the door join. As such, it's important to do an excellent job prepping, sanding, applying paint, and letting it dry properly between coats so that it covers and holds up well. It's also important to choose the right kind of paint.
If you are experienced with painting kitchen cabinets, you may be able to use oil-based paint, which provides better coverage and shrinks less as it dries. Once dry, cabinets painted with oil-based paint clean well and are resistant to staining. However, the cleanup of oil-based paint is much more difficult, requiring turpentine or other chemicals to clean brushes and tools. Oil-based paints, and the cleaners used with them, must be disposed of properly at your recycling center. The fumes can also be very strong, which can make oil-based paint hard to handle. Latex paint, on the other hand, cleans up easily with soap and water. It does not yellow over time and it dries significantly fast with fewer fumes. However, latex paint also shows imperfections much more and shrinks while drying. Additionally, latex paint stains more easily, so cabinets painted with latex paint are likely to require more frequent refinishing.
7. Paint is less resilient than wood. Finished cabinet doors are at the mercy of your care. When painted, any damage to wood on your cabinet doors will be more obvious. The softer the wood, the more easily it will dent. Dents in the wood may be slight and hardly noticeable, but dried paint doesn't dent without cracking. The weakest link in any painted cabinet door is not the door; it is always the paint. If you want kitchen cabinet finishes that will stand up to hard use, painted finishes might not be the ideal choice for you. Look into stain or other more forgiving wood cabinet finishes that won't crack or show damage as readily.
8. For a professional finish, use professional grade application. If your heart is set on a painted finish, but you also want a finish that will stand up to daily use in your kitchen, consider professionally finished cabinet doors. Most people want a smooth factory Satin finish when painting cabinet doors, a finish of this quality requires a highly experienced finishing professional, and a dust-free spray booth. This doesn't mean you can't achieve an excellent finish on your own, but you'll need to spray the paint on with a compressed-air, or airless, spray painting system to get a professional looking finish. For most people, this is beyond their abilities at home. Thankfully, Cabinetdoors.com offers professionally finished cabinet doors at great prices. If you want durable, professionally finished cabinet doors, explore your painted cabinet door options at Cabinetdoors.com.
Where to Find High Quality Paint Grade or Painted Cabinet Doors
If you feel like you know how to finish cabinet doors on your own and you're ready to tackle painting kitchen cabinets, make sure you start with high quality cabinet doors. If you're not starting with cabinet doors that are in good shape, no amount of paint can fix the quality of your doors. If you need replacement cabinet doors because yours are worn and old, or you need to reface your laminate cabinets, upgrade your cabinets with brand new cabinet doors. Cabinetdoors.com offers a wide selection of paint grade cabinet doors to work with any design aesthetic. You can get the look of new cabinets with a fraction of the work and at a fraction of the cost. From there, you can paint or reface your cabinets yourself for a look you'll love.
Alternately Cabinetdoors.com also offers painted cabinet doors which are professionally finished in Sherwin-Williams conversion varnish for you. With this option, we'll apply our durable conversion varnish in our shop, where we can meet the unique conditions required for conversion varnish wood cabinet finishes. You'll get a professionally finished product that can stand up to the tough conditions of a busy kitchen.
Even better, at Cabinetdoors.com you can get your cabinet doors custom-sized so they fit your cabinets perfectly. You'll be able to order the size, wood, and finish you need and your doors will be made to your exact specifications. Then, we'll ship them right from our factory to your door. Because you're ordering factory-direct, you'll get our cabinet doors at 30-50% off the prices you'll see in big box retail stores, but you'll be getting the high quality product our company is known for. We guarantee our workmanship and we're confident you'll be satisfied with the high quality we provide.
Whether you have plenty of experience painting cabinet doors and getting a professional looking finish on your own, or this is your first foray into finished cabinet doors, we can help you achieve the look you want. Find out more about how we can help you get the custom cabinet doors and drawer fronts you need to upgrade your space. Explore our most popular cabinet doors to get inspired, learn tips and tricks at our blog, and contact us with any questions. We look forward to helping you get beautifully finished cabinet doors today.