New Colors for Painted Cabinet Doors at Cabinetdoors.com
Posted by Melissa H. on Oct 18th 2021
Cabinetdoors.com is introducing more color options for our pre-finished cabinet doors!
We are now offering 12 popular colors from Sherwin Williams!
Including SW's 2022 color of the Year Evergreen Fog SW9130!
We have done the work and the research to bring you some pretty great colors that we will now be offering at Cabinetdoors.com! The Sherwin Williams website is amazing, and will really help you understand all about undertones and color pallets. One of the great things about visiting a specific color's page on the Sherwin Williams website is that they have a lot of useful tools for you. The Sherwin Williams website provides coordinating and similar colors along with a visualizer where you can use different colors and décor in a picture to play around and try different looks. This allows you to visualize what your kitchen can look like with one of the colors that we offer, while allowing you to see the contrast of what other colors will look like on the walls surrounding your cabinets. This tool is a game changer and can be accessed when you click on one of the color codes below!
---
1. High Reflective White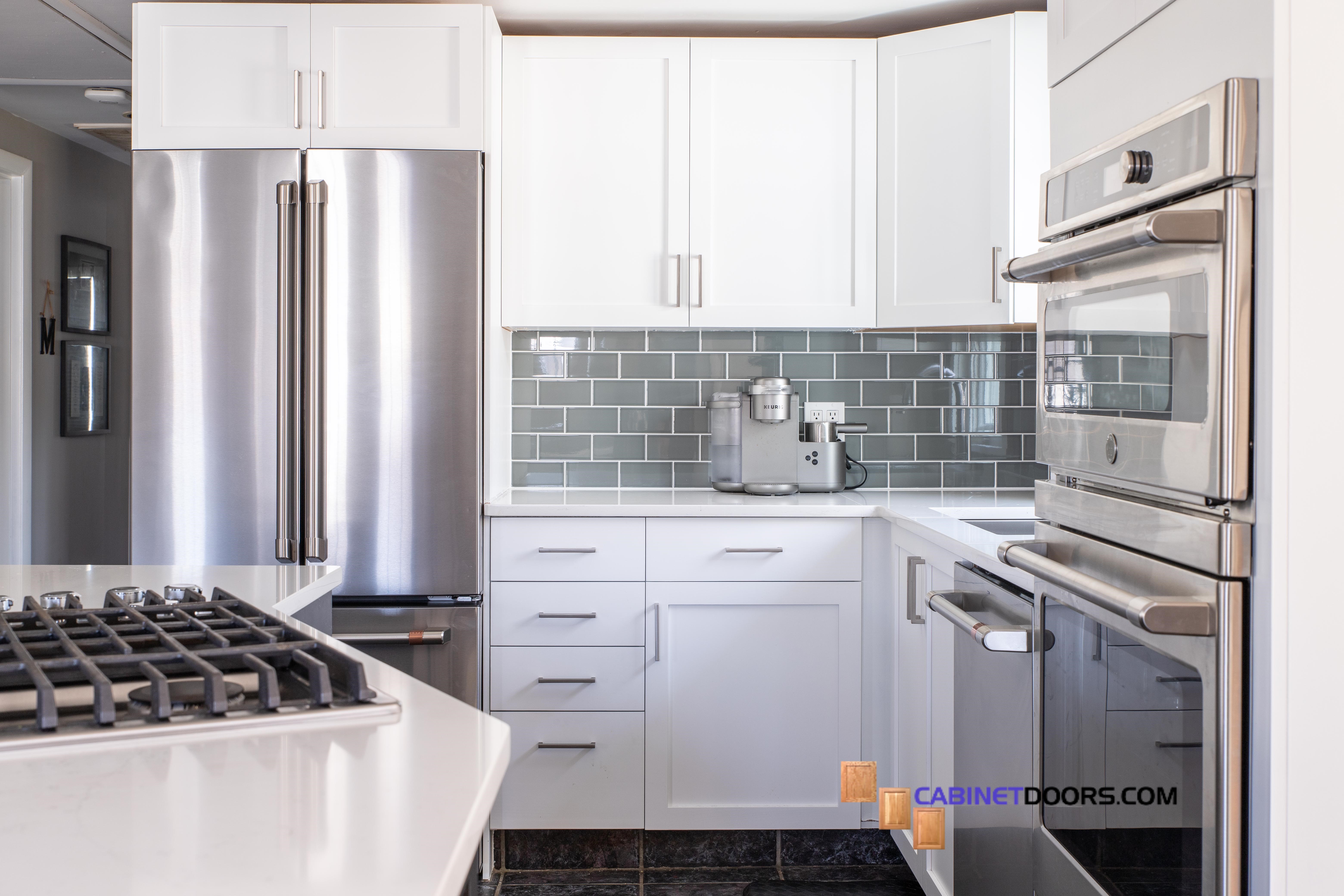 Our review of High Reflective White and why we chose it: Let's face it! White is here and it's here to stay! I think it's safe to say that 75% of Kitchen's these days are all Bright and Beautifully White! White opens up your kitchen, making it feel bigger, and ultimately cleaner. At Cabinetdoors.com we have 3 popular Whites that we offer. High Reflective White is a true bright and clean white! It pairs well with any color scheme, and will truly make your kitchen look brand new! High Reflective White is probably the whitest white paint color you can pick. It doesn't have any undertones, and it is bright bright bright. This makes it a very classic white paint color. In fact, it is Sherwin William's brightest, white paint shade. High Reflective White will look crisp and beautiful in any setting. It is about as pure white as white paints come.
---
2. NEW! Dover White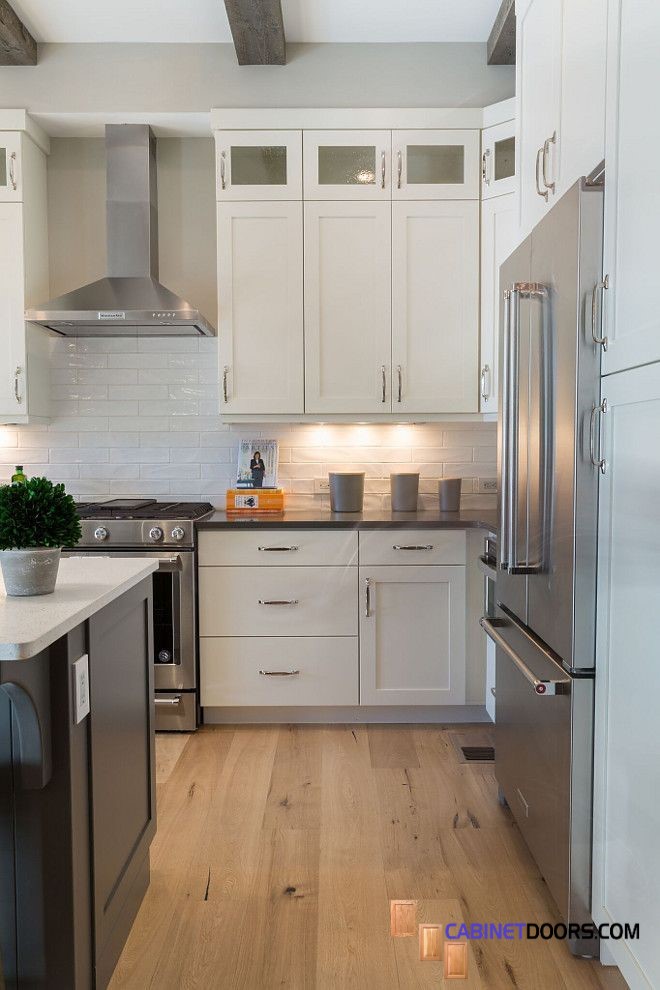 Our review of Dover White, and why we chose it: Dover White is the perfect in-between White! Meaning it's not too bright, and not too off white like an Antique White. Its the perfect soft and creamy white. In this modern day, everyone, and we mean EVERYONE is jumping on the White Kitchen trend. (Cause, why not?) We felt like it was very important to have an alternative to a bright white, so Dover White was the perfect option!
---
3. Antique White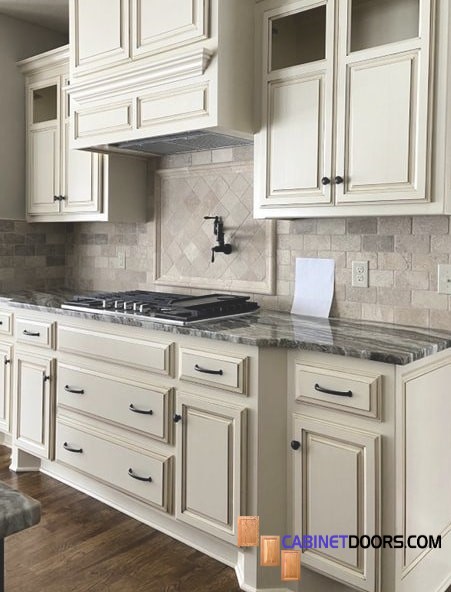 Our review of Antique White and why we chose it: Antique White is actually not a new color addition to our website, we've been offering it going on 4 years now. Before offering any paint colors we reached out to a customer of ours who was designing, building, painting and installing beautiful kitchens! He gave us a brief run down on some of the most popular colors he has done, and Antique White was a close #1! Antique White is usually paired up with glazing, whether you're wiping it on and off, glazing in all the details or even just distressing, Antique White has that aged look that's warm and inviting.
---
4. NEW! Quicksilver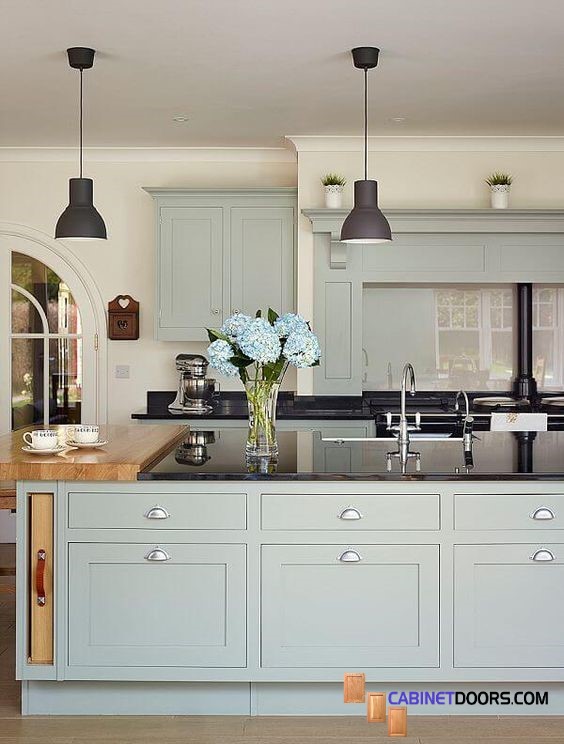 Our review of Quicksilver and why we chose it: Gray is all the rage nowadays! When it comes to Gray tones they can pull other colors that may not be right for your space. At Cabinetdoors.com we try to stick with blue, and beige tone grays, because there's nothing worse than investing in a gray that pulls a purple tone. (Unless purple is your tone, then go for it!) Quicksilver is a very light, blue toned gray. Muted pastel paint colors are clean and bright and will certainly add a nice lightness to a space. It is perfect for more modern spaces. We've been seeing this trend a lot lately, and it looks great with cool tones, as well as warmer tones. It pairs well with the Brightest Whites, and the Darkest Gray's and Blacks! We chose Quicksilver because it was something that we started seeing all over Pinterest! We didn't offer a color that even came close to this shade of Blue. We saw the Navy Blue trend hit about 2 years ago, so a lighter Blue option was bound to make an appearance!
---
5. Light French Gray
Our review of Light French Gray and why we chose it: Light French Gray is an extremely versatile paint color that works well in almost any situation. It's a great color to make smaller rooms appear larger. Light French Gray is more than just a light gray. It is as close as you can get to a pure gray because of the perfect balance of warm and cool tones in it. There are no overly strong undertones stealing the show. using a neutral gray Like Light French Gray on your kitchen cabinets will not overpower the room while allowing you to use brighter colors elsewhere. We've been offering Light French Gray since we started offering other colors besides white. We enlisted the help of our painter when it came to picking out the first few colors that we we're going to offer. Light French Gray was his #1 suggestion.
---
6. Folkstone
Our review of Folkstone and why we chose it: Folkstone falls under the Greige(Gray/Beige) category. It's a medium tone, that's soft with a good earth tone feel. Since it is in the Brown tone family it can bring out reddish undertones. Believe it or not, Folkstone is one of our most ordered colors! Customers love the warmth and contrast of this color as it pairs wonderfully with White and Cream colors. Just like Light French Gray, Folkstone was recommended to us by our painter, who's customers we're requesting this popular Greige color!
---
7. NEW! Sea Salt
Our review of Sea Salt and why we chose it: Green Tones have been a fan favorite as of recently! Whether your color pallet is more pastel, or muted colors, Green tones bring more to the table then just an earth tone feel. There's a certain clean crispness that makes green feel breezy and bright! Cabinetdoors.com is proud to offer 4 brand new colors all in the green family! Sherwin Williams seemed to have the same idea since it's 2022 Color of the year is Evergreen Fog! Sea Salt, with its green and gray tones, is a very soothing, beautiful (and quite beachy) backdrop color that can effortlessly fit in with so many color schemes and types of décor. Sherwin Williams classifies Sea Salt in the green family, while still leaning neutral with its grey undertones, which makes this one highly versatile paint color. The grey/green combination gives the color a very warm feeling that will translate into your room.
---
8. NEW! Evergreen Fog
Sherwin Williams 2022 Color of the Year!
Our review of Evergreen Fog and why we chose it: A smooth and subtle shade that's perfect everywhere! If your a modern Boho lover then this color is the one for you! Evergreen Fog gives that potted plant vibe, and is a beautiful addition to any Earth tone pallet. It's no wonder it was picked as Sherwin Williams 2022 color of the year! https://www.sherwin-williams.com/color-of-the-year-2022
---
9. NEW! Rocky River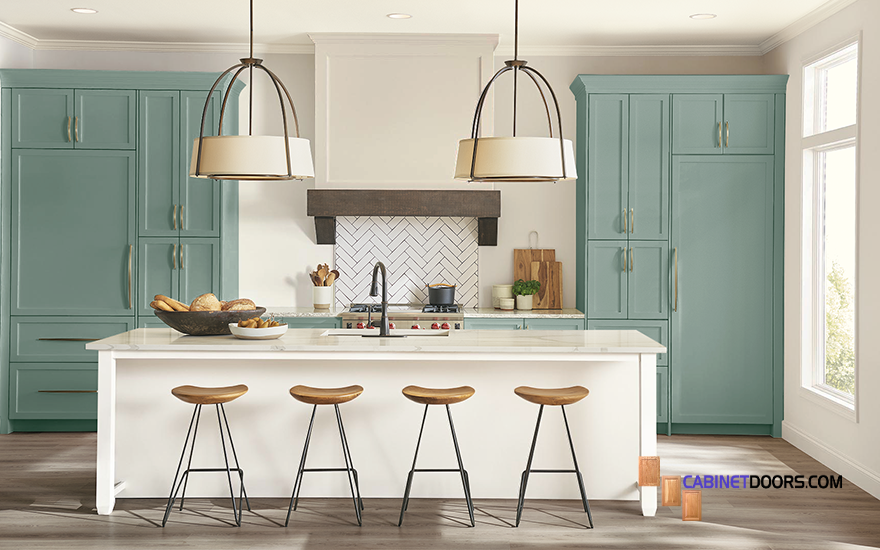 Our Review of Rocky River and why we chose it: Rocky River is almost the perfect Green! Not too light, not too dark, or bright. It's the perfect mid tone green which pairs well with any color scheme, and tone. We were drawn to this color after seeing the reviews it had on Pinterest!
---
10. NEW! Cascades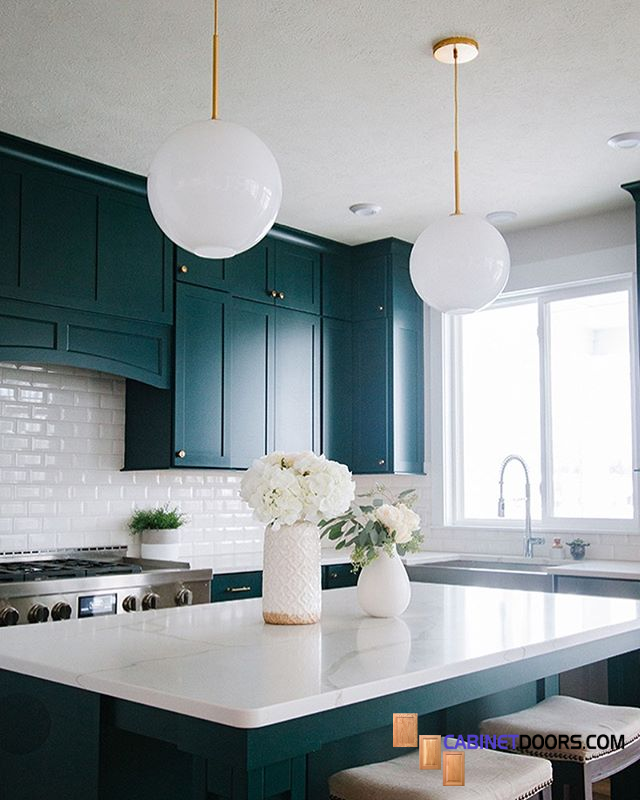 Our review of Cascades and why we chose it: Cascades is a pure, teal aqua-green with a jewel undertone. It is a perfect paint color for an elegant room. Emerald Green is a trend that we have seen for a few years now, but if feels a little eclectic and not so much of an interior design trend. We came across Cascades and instantly knew that it's as Bold as an Emerald Green, but with much more diversity that it can be more than just another green color.
---
11. NEW! In the Navy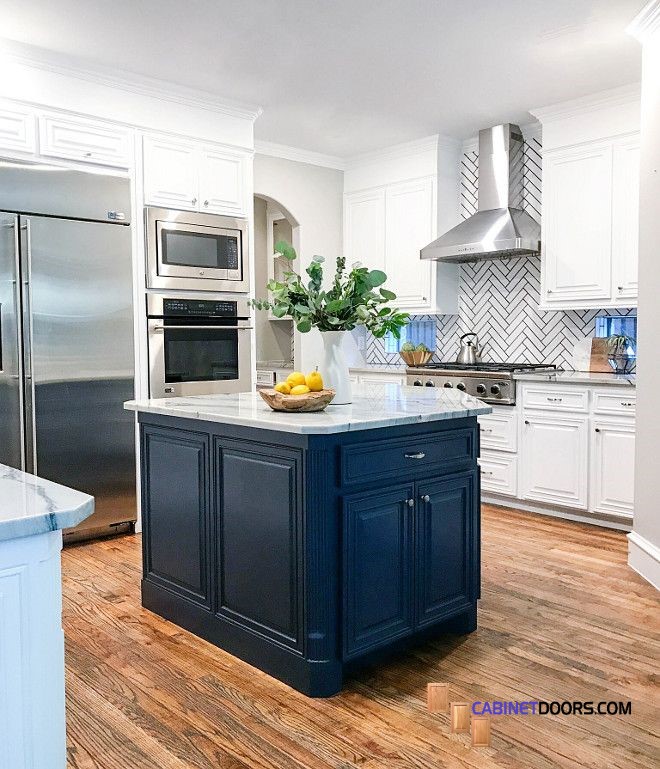 Our review of In the Navy and why we chose it: Absolutely luxe and full of splendor, the beautiful Sherwin Williams In the Navy is a blue paint color that exhibits utmost richness and luxury. This is one of the most popular and fan favorite blues because it offers great aesthetics while adding depth to any and every space. We chose In the Navy because it was a Blue with out the Brightness that Blues can sometimes carry. It's a perfect DARK Navy Blue that carry's over with any décor and color scheme!
---
12. NEW! Tricorn Black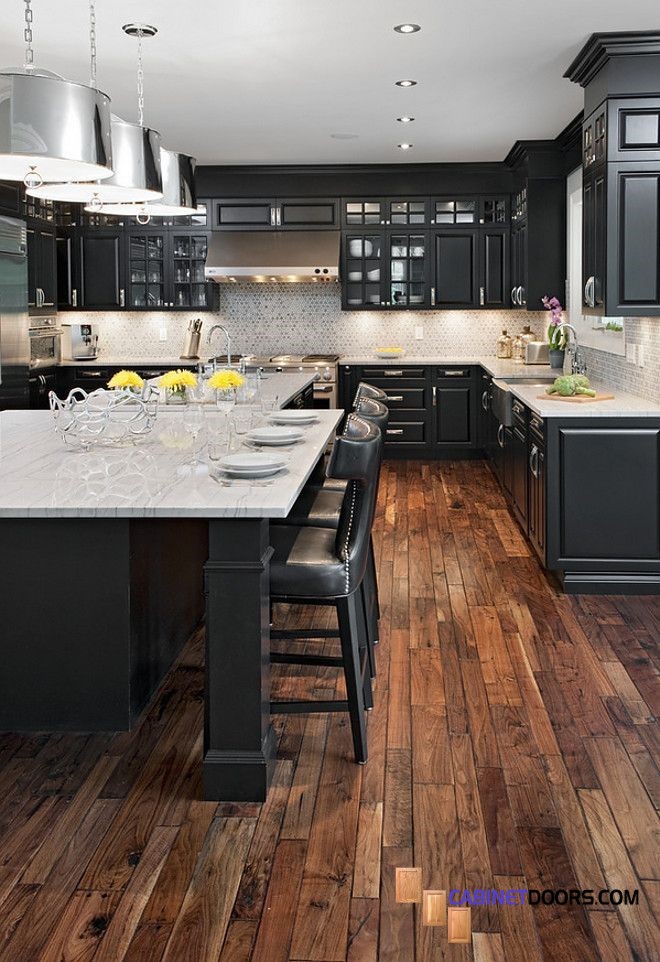 Our review of Tricorn Black and why we chose it: Tricorn Black is very close to true black. On the Light Reflectance Value (LRV) scale, 0 is true black, and 100 is pure white. Tricorn Black has an LRV of 2.45, meaning it's unabashedly dark. Designers and homeowners love this shade because it's a neutral black. We chose Tricorn Black due to the fact that it is the closest to a true Black as you can get!
---
How to choose a color
Getting paint samples from Sherwin Williams was never this easy.
Choose from two great ways to find your perfect color!
8" x 8" peel & stick NEW!
Available in Sherwin Williams most popular colors.
No mess. No dry time. Reposition anywhere.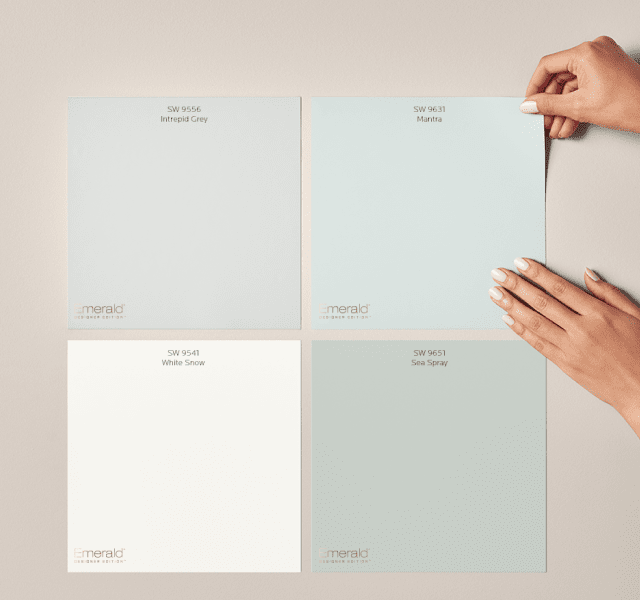 OR
2" x 3" color chips
Available in all paint colors.
Now, let's talk about the cabinet bases!
When it comes time to paint the bases our painter recommends using Sherwin Williams Emerald Interior Acrylic Latex in a Satin Sheen. We have been recommending this to our customers for as long as we have been offering painted doors (about 4 years now) and we have only heard good things from all that have used it!
---
Remember that Cabinetdoors.com only offers our paint colors in a Satin Sheen, so it's very important to make sure you order this in a Satin Sheen.
Update Your Kitchen with Cabinetdoors.com
When you order from Cabinetdoors.com, you're ordering directly from the factory. That means you won't have to pay the retail markup, and you won't have to waste time working with a sales associate in a storefront. You'll be able to complete the entire searching, selecting, and ordering process right on our website, saving you both time and money as a result.
You'll also be able to customize the look you want because we carry a wide selection of cabinet door styles in a variety of different wood species and finishes. Whether you want a sophisticated look designed around two color kitchen cabinets, or you want to design a space that feels artistic and unique, we can have the right cabinet doors for you. It's up to you to choose what you love, and the possibilities are endless.
Take some time to explore our inventory and learn about our easy ordering process. You can also peruse our blog and resources for helpful information and inspiration to get you started on your big project. Learn about remodeling your kitchen, the latest color trends, or even how to style your glass-front cabinets.
If you have any questions about choosing or ordering your cabinet doors and drawer fronts, feel free to contact us through our website or by calling 800-342-1010. We'll be happy to help you get the information and answers you need. When it comes to cabinet doors, whether they're mismatched or perfectly matched, Cabinetdoors.com always delivers.