New Paint Colors from CabinetDoors.com
Apr 22nd 2021
CabinetDoors.com is proud to announce the arrival of new Sherwin-Williams conversion varnish colors, available on our paint grade cabinet doors at CabinetDoors.com. With six new versatile paint colors, you can create a brand new look in your home or business with new cabinet doors professionally finished in striking shades of Sherwin-Williams conversion varnish.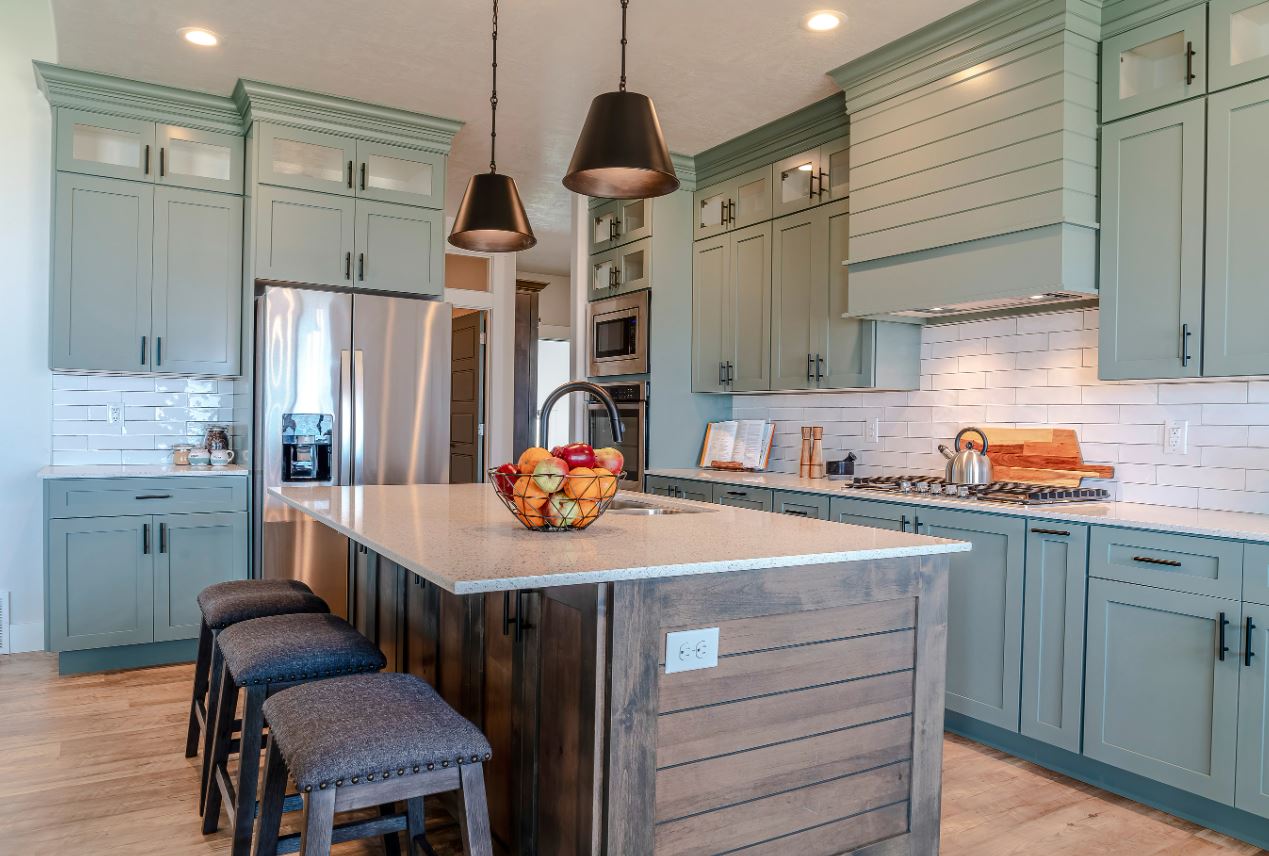 How to Choose Paint Colors and Types for Your Cabinet Doors
If you're interested in painting kitchen cabinets, color ideas abound, but deciding between types of paint and finishing can be a little overwhelming. So how do you choose? First, you should consider whether you'd prefer to paint your cabinet doors yourself, or whether you would rather have them professionally finished for you. In some cases, that distinction can make the paint type decision for you. However, there are a few other things to think about.
Believe it or not, there's probably more to consider than you might think when it comes to painting cabinet doors. Think about how frequently you use the cabinet doors in high traffic areas of your home. In kitchens, bathrooms, bedrooms, and home offices, you'll open and close certain cabinet doors over and over throughout the day. With this much use, your cabinet doors can start to show signs of wear and tear faster than you may think—particularly with paint that isn't made to stand up to frequent use or certain environments. When it's time to choose your cabinet door paint type, think about how you use those cabinet doors. You'll want to take into account the durability of the finish, whether or not the finish is easy to clean, and whether the finish has the ability to withstand high humidity environments, like kitchens and bathrooms. Once you've chosen a finish that works for the way you'll use those cabinet doors, it's time to decide whether you think you can, and should, apply it yourself.
For many people, having your cabinet doors professionally finished ensures a more even coat of paint, and can also allow you to get a more durable finish that may be harder to apply on your own. Conversion varnish, for example, is pretty difficult to apply on your own, but CabinetDoors.com can provide cabinet doors professionally finished with Sherwin-Williams conversion varnish in a number of different new paint colors. Sound good? Keep reading!
What is Conversion Varnish and What Are the Benefits?
Wondering how conversion varnish differs from other paint? Conversion varnish is different from your standard house paint meant for cabinets in that it offers a durable finish that can stand up to daily use in humid environments. Conversion varnish is more of a lacquer than a paint, consisting of a hardening agent that is mixed in with the lacquer, providing extra durability. Additionally, conversion varnish is chemical-cured and requires a specific temperature after application to ensure that it cures properly. That makes it tough to apply properly on your own, but also makes it an ideal product to have professionally applied and used in a high use and humidity environment like a kitchen or a bathroom.
If you do choose to have your cabinet doors professionally finished in conversion varnish, it's not only an easier option for you, but it also offers a number of different benefits. First, conversion varnish offers superior durability to home lacquer paint because it is a mostly solid coating that is then hardened once applied. The harder finish means it holds up better to regular, daily use and doesn't have that tacky feel that some home paint can have. Second, conversion varnish features a smooth and polished satin finish, which is not only attractive and elegant, highlighting your cabinet paint colors, but also makes cleaning much easier. This smooth, even finish wipes down easily and stands up to regular cleaning. Finally, conversion varnish works incredibly well in rooms with high humidity, like in bathrooms or kitchens, because it provides an a hard sealed finish. Any wood in these humid environments is subject to swelling and contracting as humidity and heat in the room rise and fall throughout the day. Additionally, conversion varnish helps protect the wood from being overly affected by the humidity and temperature changes, preserving the integrity of the wood for longer. That makes it an excellent choice if you want a painted finish that can hold up over time.
What Are the New Paint Colors for 2021?
When it comes to new paint colors for 2021, there are several color trends that stand out right now. Soft, muted colors are among the hot new paint colors for kitchens this year, allowing you to keep your kitchen bright and light, with the gentlest touch of green or gray. Moody blues and grays are popular kitchen cabinet paint colors for this year, too, ranging from pale gray to the deepest dark blue. Bringing these new paint colors into your room allows you to incorporate color, while still retaining a neutral feel. Think about your favorite jeans—whether they're light blue, deep navy, or a faded gray, they feel neutral enough to work with anything in your closet. Paint colors work the same way. Black and white also remain classic choices in paint colors for your kitchen, with the slightest variation in hue and tone making a surprising difference in your room. All white cabinet doors bring a freshness to the room, allowing even small kitchens to feel light and roomy. All black cabinets, on the other hand, offer a unique sophistication in the kitchen, grounding the room in sleek elegance. Whether you choose black or white, blue or gray, pale green or cream, the best new paint colors for 2021 are made to work in any kitchen, allowing you to bring in even more of your personality with all the other details.
No matter what new paint colors you choose for your room, think about how often those cabinet doors will be opened and closed each day. Whether you have sticky-fingered little ones in the home, or heavy-handed family members who are rough on everything, choosing conversion varnish can help ensure that your cabinet doors look great for as long as possible. Even better, going with conversion varnish can help ensure that the new paint colors you choose remain true and clean up beautifully even in your highest traffic rooms as they get daily, regular use.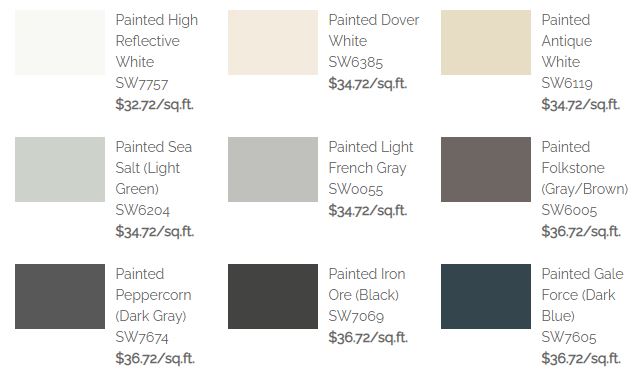 New Conversion Varnish Paint Colors Available at CabinetDoors.com
If you're interested in painting kitchen cabinets, color ideas might be the first stop to get you inspired. At The Door Stop, we are excited to be able to offer six new paint colors for 2021 in our high quality Sherwin-Williams conversion varnish, in addition to the five colors that were previously available. Each of these beautiful colors will be professionally applied at our warehouse so that we can ensure a quality finish for you. Let's take a look at the latest kitchen cabinet paint colors available from CabinetDoors.com.
Our newest Sherwin-Williams conversion varnish paint colors are reflective of the hot new paint colors for kitchens in 2021, but they're also classic tones that will stand the test of time in your home. On the lighter end of the spectrum, you can now choose from Painted Dover White, a gorgeous creamy white, Painted Sea Salt, a pale sea green, or Painted Tipped Sage, a silvery gray, to help keep your kitchen cabinets light and fresh and on trend. If you're more interested in deep and rich colors, choose from colors like Painted Peppercorn, a dark cool gray, Painted Gale Force, a dark steely blue, or Painted Iron Ore, a warm black, to bring a lush sophistication to your kitchen. You can also choose from our previously available paint colors as well, including lighter colors like Painted High Reflective White, a bright true white, Painted Antique White, a rich cream, and Painted Light French Gray, a warmer light gray. For deeper tones, Painted Folkstone, a warm medium gray-brown, and Painted Salty Dog, a dark peacock blue, are rich, inviting choices as well. Whether you choose to try our new paint colors for 2021, incorporate our existing kitchen cabinet paint colors, or use a combination of the two, you're choosing a high quality finish made to last.
Get inspired by exploring your painted cabinet door options and checking out the available Sherwin-Williams conversion varnish paint colors at CabinetDoors.com. With new paint colors and fresh new cabinet doors custom-sized for your needs, you can create a whole new look in your room. Find out more about how we can help you create the kitchen cabinets of your dreams with kitchen cabinet paint colors that will not only look beautiful, but stand up to regular daily use. Contact us anytime for more information. When it comes to cabinet doors, The Door Stop always delivers.