Getting the Kitchen of Your Dreams: Cheaper Than You'd Think!
Jun 12th 2019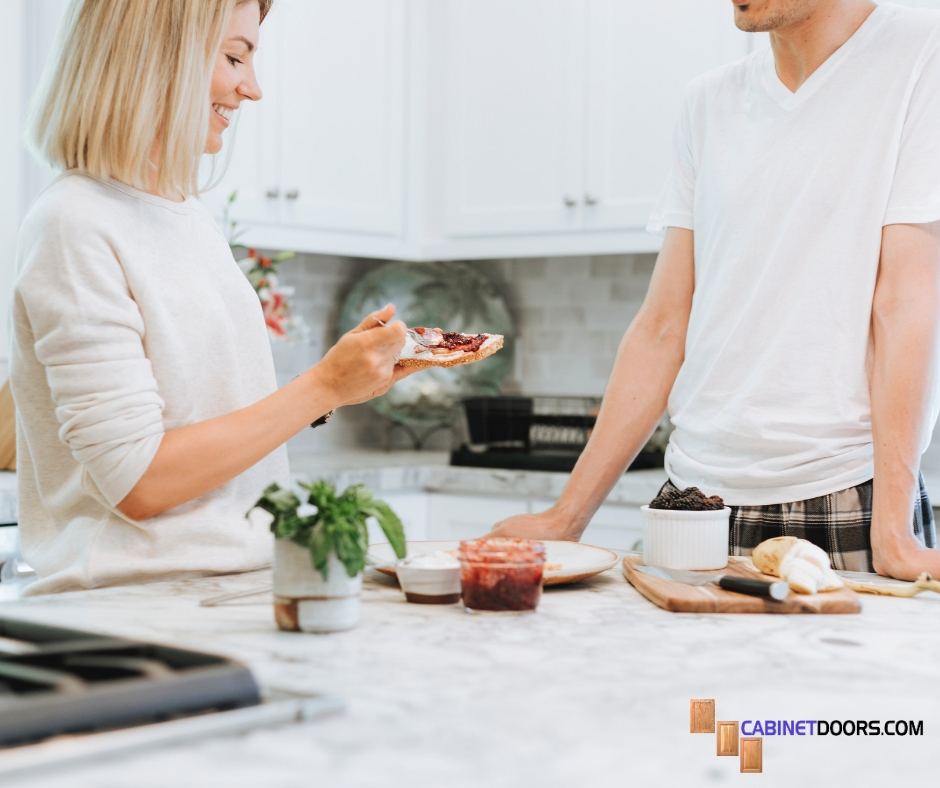 You spend so much time in the kitchen that it's only natural to imagine how the space could be updated and improved. The only problem is that a complete kitchen remodel is quite expensive. Plus, it typically leaves you without a working kitchen for weeks or even months. Wanting to avoid the cost and hassle, a lot of people put off kitchen renovations for as long as possible.
What if you could make big enhancements to the way your kitchen looks and feels without needing a huge budget, a long timeline, or even specialized contractors? Read on to discover how easy it really is to make your dream kitchen a reality.
Reface Your Cabinets with Replacement Doors
Replacing just your cabinet doors instead of replacing all your cabinets costs a lot less money and can make the entire space look new. Depending on how many doors you have, replacing them with doors of your choosing may cost only a few hundred dollars. With all the different door styles offered by CabinetDoors.com you can go from a classic to a contemporary style (or vice versa), try out a different color scheme, or simply refresh the style you currently have – the design options are endless. With a few hours of work, and some basic DIY skills, you can transform the atmosphere in your current kitchen.
Repaint the Walls
This is the kind of project that takes a lot more elbow grease than it does investment. For the cost of some paint, brushes, and rollers, you can put a new color on the walls and cover up years of accumulated grease and grime. You could also add or remove wallpaper to the kitchen, put in a new back-splash, or even just hang a bold piece of artwork on the walls. No matter what you decide to do, you can coordinate your new wall color with your new cabinet doors. When the two complement each other, it makes the kitchen feel cohesive and comfortable.
Add Open Shelving
If there is an empty wall in your kitchen, it's easy to install some DIY open shelving. Once the project is complete. your kitchen is improved in multiple ways. You have more storage space for everything from small kitchen appliances to cookbooks. You'll also have a new visual element in the kitchen that offers the perfect place to show off glassware or pretty china. Open shelving works in almost any kitchen.
Buy One New Appliance
A newer refrigerator or a better stove is a big-ticket item that still costs a lot less than a complete kitchen remodel. If your appliances are outdated or underwhelming, it makes it harder to prep and cook. Once you have the appliance of your choice, you will enjoy the space more even if nothing else has changed. Another option would be to buy a new appliance and replace the cabinet doors to make the space feel drastically different, even when you're on a very small budget.
Install Some Extra Lighting
You don't need to have any electrical expertise to make your kitchen brighter in all the right spots. Adhesive LED lights cost just a few dollars each and can be placed strategically around the kitchen. Put some under the cabinets to cast light on your counter-tops while you're chopping vegetables. Putting them over the cabinets pointed towards the ceiling creates a dramatic lighting effect that calls attention to your new cabinet doors as well. Lighting has become so easy and affordable that you can install it anywhere you want with literally no DIY expertise at all.
Clean and Organize
Sometimes, the reason you're dissatisfied with your kitchen is simply because you use it so much. Over time, cabinets get disorganized, grime builds up, and unwanted junk piles on top of each other. Consider doing a comprehensive cleaning focused just on your kitchen. Clean the space high and low, including the inside of your cabinets, refrigerator and oven. Get rid of anything you don't use regularly and take the time to reorganize everything from your silverware to your take-along containers. At the very least, the space will feel a lot fresher. Once you can see the space in perfect condition, you will also have a better sense of what does and does not need updating.
Try out one of these projects or all of them – you won't spend nearly as much as you would on a complete kitchen remodel. Along the way, rely on CabinetDoors.com for all your custom replacement cabinet doors. Please contact us with any questions.